Whether overseeing the daily operations of the office, managing course schedule preparation, orienting new lecturers to campus, or supporting an employee search, Lindsay Knell's dedication is unquestionable.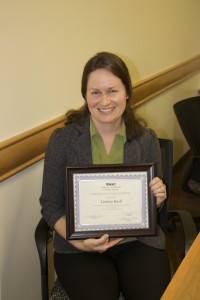 That dedication was recently rewarded when Knell, program assistant, School of Public Affairs, was named Employee of the Quarter.
"[Lindsay] is responsive to all of our constituents – students, faculty, staff, and guests – and she does so with utmost professionalism on a day-to-day basis," Crista Hill, outreach student services specialist, SPA, said.
While Knell's duties may be spread out, she will be the first to tell you where her passion lies: working with the students, faculty and staff.
"I've worked in higher education since 2004 and can't imagine a better work environment," Knell said. "Every day on this campus, students are connecting with mentors, developing skills, and discovering new interests. They are here to better themselves and that's very inspiring to be around. I am also lucky to work with talented staff and faculty who are making a positive impact both on- and off-campus."
Knell joined the SPA team in Nov. 2013 after previously working for the University of North Carolina School of Law.
While she says there is no such thing as a typical day, Knell acts as the school's  liaison to support human resource and payroll functions, updates the course inventory and academic catalog, and serves as the unit coordinator for textbooks, syllabi, course evaluations, and faculty reappointment, promotion, and tenure.
"Lindsay knows what is needed to keep SPA running smoothly and is able to head off potential problems in advance," Pam Sawyer, director of strategic initiatives and alumni relations, SPA, said in a nomination letter. "She's effective, efficient, and completely prepared."
Alongside her usual duties, Knell has repeatedly gone above and beyond to fill in.
"The summer of 2014 was very challenging semester for all of us for a number of reasons, primary due to the fact that our five person staff office was reduced to three full due to circumstances beyond our control," Mary Lou Kartis, finance and operations manager, SPA, said. "Lindsay volunteered immediately to help; she not only took it upon herself to learn how to upload documents to our webpages, she also went through several trainings on UCCS's website content management system so that she could understand the coding and other items related to keep the content on our pages current."
"These are tasks that are outside of [Lindsay's] responsibilities and comfort zone, yet she still stepped up to fill the void."
Outside of work, Knell is an avid hiker who regularly volunteers to help maintain Colorado Springs' trails, parks and open spaces.