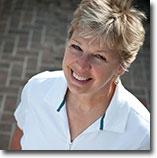 UCCS HealthCircle clinics will begin a free, monthly Community Health Education Series targeted to adults.
The first seminar, "A Balancing Act: Strategies to Enhance Balance and Prevent Falls for All Ages," will be presented by Mary Ann Kluge, director, Center for Active Living, from 5:30 to 6:30 p.m. April 7 at the Lane Center for Academic Health Sciences.
"We wanted to utilize the expertise of the UCCS HealthCircle faculty and staff to provide meaningful health education for the community," Michael Bigelow, senior executive for clinical activities, UCCS HealthCircle, said. "This series aligns with our mission to help empower people to live healthier and happier lives."
Kluge will focus her presentation to adults who want to improve balance and develop a plan to keep balance systems functioning at high levels as they age.
"A surprising number of people in their 20s and 30s show muscular imbalances, likely from sitting so much—and this can lead over time to a loss in range of motion in the joints," Kluge said. "When balance and mobility are compromised, long-term effects can eventually include physical deformity and disability. Early education can help people plan to exercise before it's too late."
Falling and injuries from falls are at epidemic rates, according to the Centers for Disease Control and Prevention. This presentation will provide attendees with practical strategies to help stay active and injury-free.
The second seminar in the series, "Nutrition for You: Strategies to individualize your nutrition plan for optimal health," will be presented by Julie Anderson, director, Peak Nutrition Clinic, from 5:30 to 6:30 p.m., May 5, at the Lane Center for Academic Health Sciences.
— Rebecca Tonn