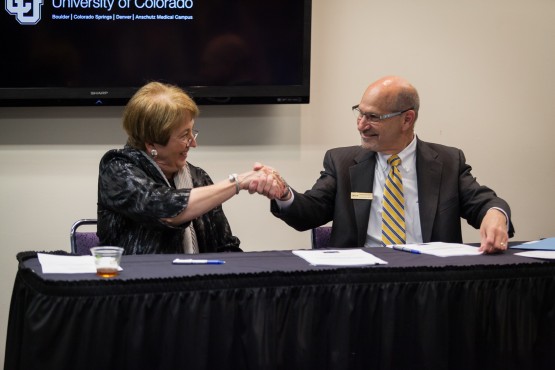 UCCS and Ent Federal Credit Union signed a 15-year marketing and operating agreement during a 3 p.m. March 31 ceremony at the University Center.
Chancellor Pam Shockley-Zalabak and Ent CEO Randy Bernstein signed documents that name the soon to be constructed UCCS visual and performing arts venue the Ent Center for the Arts. As part of the agreement, Ent will receive the right to construct a free-standing service center at the corner of Austin Bluffs Parkway and North Nevada Ave.
This agreement extends for an additional 15 years the current Ent/UCCS partnership where students, faculty, and staff have the option of having an Ent checking account and debit card as part of their university photo identification. The original Ent/UCCS Lion OneCard agreement began in 2006. This 15-year extension agreement is valued at $12.6 million.
"We are pleased to extend our partnership with Ent Federal Credit Union," Shockley-Zalabak said. "Together, as community leaders, we will take arts in our community to new levels and continue the revitalization of North Nevada Avenue and our regional economy."
"We recognize the key role UCCS plays in our community – both as an educator of tomorrow's leaders and as a growth engine for our local economy," Bernstein said.  "This extension of the Ent/UCCS partnership allows Ent to continue providing high-quality financial services to UCCS students, faculty and staff, support the continued growth of the University and provide added service center convenience to our membership."

Groundbreaking for the arts complex estimated at $60 million in total costs is scheduled for August with opening scheduled for Jan. 2018. The venue site is located on the west side of the UCCS campus on North Nevada Avenue across from University Village Colorado shopping center.
Design of the Ent Center for the Arts is led by H3 Hardy Collaboration Architecture, New York, with Semple Brown Design, Denver, serving as the architect of record. The venue will be designed to encourage and support working relationships with community cultural organizations and to provide direct public access to performances, exhibits, and classes.
The Ent Center for the Arts will include a 750-seat main theater, a 250-seat recital hall, the university's 250-seat Dusty Loo Bon Vivant Theatre, home to the UCCS resident theater company, Theatreworks, the Osborne Theater, to be used by the theater and dance program, and the Gallery of Contemporary Art.
Ent Federal Credit Union, established in 1957, is the leading financial institution in Southern Colorado with more than $4.0 billion in assets and more than 240,000 members. The credit union provides a full range of financial solutions through 27 service centers throughout Colorado Springs, Woodland Park, Pueblo and Denver. They offer members online, mobile and telephone banking services, a Colorado call center and both a consumer and mortgage loan center. Ent is a not-for-profit, community-chartered credit union with membership open to businesses and individuals living or working in Denver, El Paso, Pueblo and Teller counties, as well as select communities in Weld, Adams and Arapahoe counties. Ent is federally insured by the NCUA. Ent.com.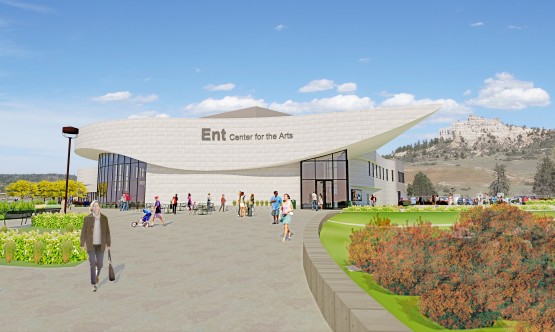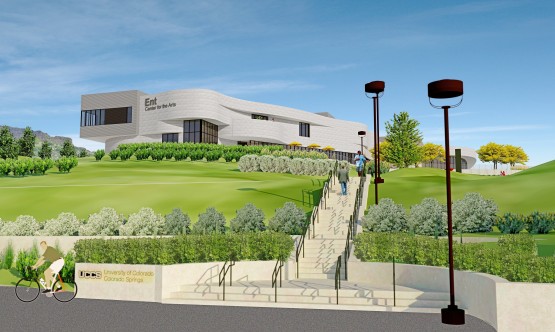 — Photo by Jeffrey M Foster