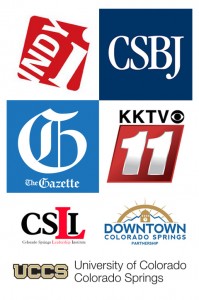 In concert with local mass media and community partners, UCCS will host a Colorado Springs mayoral candidate forum at 7:30 p.m. March 19 in Berger Hall.
UCCS will join with KKTV, the Colorado Springs Gazette, Colorado Springs Independent, Colorado Springs Business Journal, the Regional Leaders Forum, Downtown Partnership and the Colorado Springs Leadership Institute to produce the forum. The event will open to faculty, staff, students and community members at no charge. Tickets will be required and will be available at http://events.uccs.edu/event/mayoral-forum. Those who attend should plan on being seated by 7:10 p.m.
Both KKTV and the Gazette plan to live stream the event at their websites.
"The leaders who are elected will be responsible for directing our city's future," Stephannie Finley, executive director, University Advocacy and Partnerships, said. "It is important for the campus community to get to hear candidate views on issues affecting our city."
Invitations have been issued to four leading candidates. They are:  Amy Lathen, commissioner, El Paso County; Mary Lou Makepeace, a former Colorado Springs mayor; John Suthers, former Colorado Attorney General; and Joel Miller, a former Colorado Springs City Council member. Each is vying to replace current Colorado Springs Mayor Steve Bach. Bach is not seeking re-election.
Faculty and students from the School of Public Affairs at UCCS, along with the UCCS Student Government Association, will be involved in organizing the event and selecting the questions asked of the candidates. Questions will also be asked by a panel of media members and from questions submitted by media outlet readers/viewers and by the event's sponsorship partners. KKTV's Don Ward will moderate the discussion.
Faculty are encouraged to announce the event in classes and to encourage students to attend.
In October, UCCS hosted a debate between Colorado gubernatorial candidates Bob Beauprez and John Hickenlooper.