Nancy Taylor does not enjoy being at the center of attention. In fact, she thinks that is why she's able to do her job supporting the UCCS Aging Center.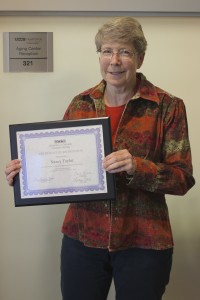 But after recently being named Employee of the Quarter, Taylor, office manager and assistant to the director, UCCS Aging Center, may have to deal with a little extra attention.
The six-year UCCS veteran was surprised when she was notified of the award and the accompanying day of administrative leave, $100 stipend, certificate of recognition and three months of free and reserved campus parking.
"I had no idea I'd even been nominated," Taylor said. "I'm just amazed that everyone would take the time to do that for me."
While Taylor may be surprised, the staff she works with was not.
"She's awesome, really the go-to person in the office," Michael Bigelow, senior executive of clinical activities, UCCS Health Circle, said.
It is this attitude that allows Taylor to support the UCCS Aging Center staff, students and clients.
"Nancy is the rare employee who, like the Energizer bunny, just keeps on giving," Michael Kenny, director, UCCS Aging Center, said. "New students rely heavily on [her] during their orientation, and her smooth handling of budgetary and operational details leaves our staff free to focus on clinical matters."
But according to Taylor, it's her fellow staff members, the student therapists, and her student employees that enable her to succeed.
"Their support makes me look good and makes it easy for me to keep a smile on my face," Taylor said. "We could go through this entire office and give the same award to all of them. They've all earned it in my eyes."
That has been especially true since the UCCS Aging Center moved into the Lane Center for Academic Health Sciences. While the move and integration has been positive for staff, students, and clients, there are many challenges to being the first to occupy a new building.
Outside of work, Taylor enjoys spending time with her family and her two rescue dogs. When the weather cooperates, Taylor enjoys joining her husband on his motorcycle and touring the area.
— Photo by Philip Denman