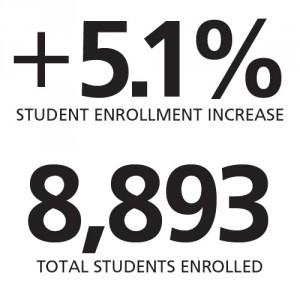 Student enrollment at UCCS this fall is the highest in the university's history with almost 9,000 students enrolled, university officials announced Sept. 14.
Chancellor Pam Shockley-Zalabak made the announcement following the university's Sept. 10 official census.
Enrollment for fall 2010 increased by 429 students to 8,893, a 5.1 percent increase from fall 2009. This is the largest enrollment at UCCS since its founding in 1965. Since 2000, UCCS enrollment increased by 2,291 students or 35 percent, making UCCS one of the fastest growing universities in the nation.
"More students are recognizing the value of a degree from the University of Colorado at Colorado Springs," Shockley-Zalabak said. "The university offers high-quality teaching, personalized classes and a variety of outstanding programs."
Student credit hours, a measure of the number of students and the number courses in which they are enrolled, increased from 97, 546 last fall to 102,070 this year, a 4.6 percent increase. UCCS continues to have a mix of full- and part-time students.
The UCCS freshman class is strong with 1,155 new freshmen, a 58 student or 5.3 percent increase from last year. While continuing to analyze this year's enrollment data, officials believe the freshman class is among the strongest in UCCS history based on high school grades and scores on entrance exams. The campus also increased the number of transfer students, many from the state's community colleges. This fall, 921 students transferred to UCCS, a 96 student or 11.6 percent increase from a year ago.