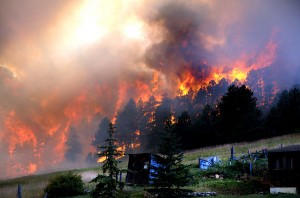 The worst fire in Colorado history has officials at CU-Boulder on high alert and has already affected some campus employees and those at the CU System.
The Coors Events Center at CU Boulder has hosted meetings with those affected by the fire, a sign of the magnitude of problems caused by the Fourmile Canyon fire burning west of Boulder.
The fire has destroyed at least 169 homes, three outbuildings and damaged 25 other structures, according to media reports. Hundreds of residents were evacuated and the fire is only 30 percent contained. A Friday forecast of winds and continued dry weather has the Boulder campus on high alert. Though classes and activities are continuing on schedule, faculty, staff and students were encouraged to be vigilant in checking e-mail and cell phone text messages for evacuation orders and to cooperate with authorities.
While the fire does not pose an immediate threat to UCCS, Brian Burnett, vice chancellor, Administration and Finance, encouraged the UCCS community to be prepared to reach out to faculty and staff on the Boulder campus and the CU System. He also encouraged patience.
"We know of at least two CU System employees who have been evacuated from their homes west of Boulder," Burnett said. "I can only imagine what they are going through as they wonder if their homes have been destroyed and when – or if — they will be able to return."
Burnett encouraged patience and empathy in working with CU System offices or with colleagues at CU-Boulder during this time of high anxiety.
"You never know if the person on the other end of the phone just got news that his or her home has burned to the ground," Burnett said. "Or maybe someone isn't returning your call or e-mail because they've been given orders to evacuate their homes. We need to be understanding that while this fire is a long way away from us, several members of our extended CU family are affected."