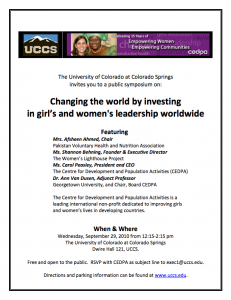 A panel of prominent woman leaders will discuss how global poverty issues affect the lives of girls in a Sept. 29 symposium at UCCS.
"Changing the World by Investing in Girl's and Women's Leadership Worldwide" will begin at 12:15 p.m. Sept. 29 in Dwire Hall room 121. The event is sponsored by the Office of Diversity and Inclusiveness.
Four members of the Centre for Development and Population Activities will offer an hour-long panel presentation followed by breakout discussions with the individual panelists. CEDPA is an internationally recognized non-profit organization dedicated to improving the lives of girls and women in developing countries. The organization strives to deliver health services, improve education programs, and advocate policy reform internationally.
Chancellor Pam Shockley-Zalabak serves as a board member for CEDPA, which has provided $100 million in grants to local organizations and has trained more than 5,200 women, men and youth since 1975.
"My work with CEDPA is fulfilling," Shockley-Zalabak said, "because I see the change education and leadership can make in the lives of people throughout the world. As a board member, I hope to develop opportunities for UCCS students to expand their awareness of global issues and the importance of both local and global education."
CEDPA works in partnership with local leaders and national and international organizations to give women tools to improve their lives, families and communities. Through its programs worldwide, CEDPA increases educational opportunities for girls and youth, and ensures access to information and services regarding reproductive health and HIV/AIDS. CEDPA strengthens women's ability to become leaders in their communities and nations.
CEDPA has its headquarters in Washington and offices in India, Nepal, Nigeria, and South Africa.
Abby Ferber, director, Matrix Center for the Advancement of Social Equity and Inclusion, said the event is an amazing opportunity for students.
"We are thrilled to have these visionary women leaders here on campus," she said. "The panel is not only relevant for our students in Women's and Ethnic Studies, but for all of us as citizens in a global community."
"In addressing issues of diversity and inclusiveness, we should not focus narrowly on U.S. society, but consider conditions throughout the world.  Girls and women suffer the most extreme conditions of poverty, but also bring vision and leadership for change," Kee Warner, UCCS associate vice chancellor for Diversity and Inclusiveness, said.  "We hope a number of faculty will consider integrating this symposium into their class curriculum," he added.
Space in the symposium is limited. Reservations are required. Guests should e-mail exec1@uccs.edu by Sept. 24  with "RSVP CEDPA" as the subject line.
For more information about CEDPA, visit www.cedpa.org