More than 200 toilets replaced in Summit Village this summer will soon come back to campus as part of the Village at Alpine Valley development.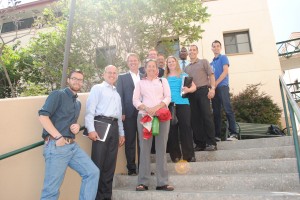 This summer, 233 toilets in the 1997-era Summit Village student housing were replaced with new  high-efficiency models. The new models use 1.28 gallons of water per flush, more than two gallons less that the old versions while maintaining effectiveness. The installation was significantly funded through the Green Action Fund following a proposal from three students in the Gateway Program Seminar course "Sustainable Me."
In addition to $29,000 from the GAF, the Department of Residence Life and Housing provided the labor for the retrofit and Colorado Springs Utilities provided a $29,000 rebate.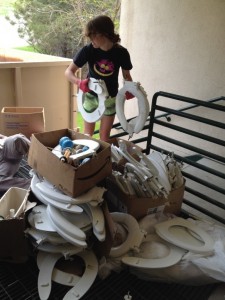 The cost of the installation and savings from reduced utility bills will be calculated and shared with other campuses considering similar projects, according to Linda Kogan, director, Office of Sustainability. An earlier project to retrofit showerheads is yielding more than $10,000 in annual water savings.
The old toilets will also soon return to campus as part of theVillage at Alpine Valley student housing development, but not in the form they were originally constructed. As part of Colorado Springs Utilities Commodes to Roads program, the toilets will be crushed and bits of porcelain used as base for sidewalks. The first phase of the Village at Alpine Valley is expected to open in Aug. 2015.
"Full circle, that's sustainability," said Mae Rohrbach a UCCS student who, along with students Oren Facey and Zach Jensen, made the original proposal.
Rohrbach and Kogan attended the Association for the Advancement of Sustainability in Higher Education conference in Portland in November to share project details.
See a  video of how high-efficiency toilets are tested