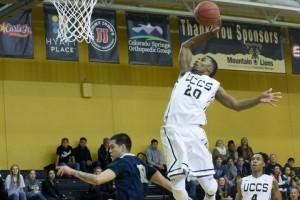 With a pair of top-20 teams in the latest national rankings for the first time in school history, the UCCS athletic department has established general ticketing guidelines for the benefit of  students, faculty and staff.
All UCCS faculty, staff and students receive free admission to all regular season home events in all sports. Any fans may purchase tickets before the game until noon on gameday at UCCSTickets.com, but free tickets will be allocated using the following process in basketball:
A minimum number of seats for students have been reserved for the UCCS student body on the west side of the Gallogly Events Center. If that section sells out and there are remaining seats on the east side of the Events Center, UCCS students will be provided tickets to that section until the arena sells out.
The east side will be reserved for online ticket sales and for complimentary faculty and staff tickets. Once the student section sells out, the east side will accommodate the remaining fans (general public, faculty, staff, students) until arena sells out.
Faculty and staff tickets will only admit one person. Spouses and children will be required to pay for their ticket. Children 12 and under will be admitted for free.
All complimentary tickets will be made available on a first-come, first-serve basis one hour before the start of the first game of a session or doubleheader. Tickets are good for both games of a doubleheader or session.
Once all tickets are distributed, the game will be listed as sold out and no tickets will be available for purchase or pick-up. Only those who have pre-purchased tickets will be admitted at that point.
The athletic department recommends that all fans without physical tickets before the game, including those eligible for complimentary tickets, to arrive early to secure their seat. Once the arena reaches fire code capacity, no additional fans will be allowed into the arena.
Members of the Ent UCCS Booster Club will be able to secure their complimentary ticket as a part of their membership until noon on gameday. Booster Club members should have already received instructions on how to secure their advance tickets, but any questions regarding booster ticketing can be referred to UCCS Sports Information at 255-3003.
The Ent UCCS Booster Club directly funds the scholarship needs of Mountain Lion student-athletes. Any fans may register for membership at GoMountainLions.com. Faculty and staff may join the Booster Club as a way to secure advance tickets for games.
The UCCS men's basketball team is ranked eighth in the latest NABC Division II Coaches' Poll is the top-ranked team in the RMAC, ahead of ninth-place MSU Denver. The Mountain Lions open the conference season on Friday against Fort Lewis, who is receiving votes in the same poll. UCCS will then play Adams State on Saturday. Both men's games will start at 7:30 p.m.
The UCCS women's basketball team is ranked No. 18 in the latest Division II Media Poll is also the top-ranked team in the conference in that poll. The Mountain Lions will take on Fort Lewis on Friday and Adams State on Saturday. Both women's games will start at 5:30 p.m.