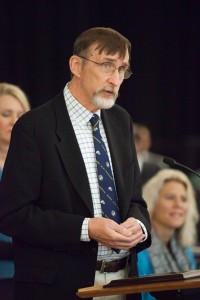 Tom Wynn, distinguished professor, Department of Anthropology, will be honored during a 4 p.m. Dec. 10 reception in University Center 303.
Wynn, a member of the faculty since 1977, was named a distinguished professor at the Nov. 20 CU Board of Regents meeting, one of six selected for the university's highest honor for faculty this year. At that meeting, Wynn shared a 300,000-year-old hand axe, as well as his passion for cognitive archeology,  with the regents.
The reception is an opportunity for the broader campus community to celebrate Wynn and his award, according to Chancellor Pam Shockley-Zalabak. Wynn is one of only five UCCS faculty members to earn the distinguished title.
Other UCCS distinguished faculty members include Robert Camley, Physics Department, Donald Klingner, School of Public Affairs, and Tom Pyszczynksi, Psychology Department. Former faculty member Dan Cougar, College of Business, also received the honor.
To attend the reception, please respond to chancellor@uccs.edu by Dec. 5.
Related post:
— Photo by Jeff Foster, University Communications and Media Relations