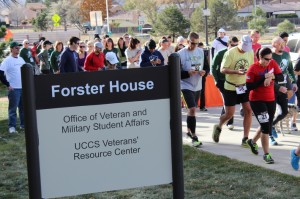 The Office of Veteran and Military Student Affairs will begin Veteran's Day celebration with the Second Annual Student Veterans 5K Run and 3K Walk Nov. 1.
The event will begin at the Forster House, continue west to the Recreation Center and loop back to the Forester House. Runners will continue to University Hall before returning to the Forster House. Participants will receive t-shirts and winners in gender and age categories will receive prizes from local businesses and the UCCS Bookstore, according to Johnny Garcia, student assistant, Office of Veteran and Military Student Affairs.
"We hope to have 75 to 100 participants," Garcia said. "It would be ideal if we had more than that – the more people who participate, the more people who are helped."
Entry fees are $25 or $20 for veterans or active duty military members. To register, visit http://tinyurl/com/uccsvets5k or call 255-3253.
Proceeds from the event will benefit two local organizations, The Home Front Cares and Phoenix Multisport. Home Front Cares provides emergency grants to pay essential life expenses and financial, family and emotional counseling for veterans. Phoenix Multisport fosters a supportive, physically active community for individuals who are recovering from alcohol and substance abuse.
UCCS students will benefit directly from the support of Phoenix, Garcia said. Funds raised will pay for training sessions for UCCS students.
Other planned Veteran's Day Activities include
Veterans Day National Roll Call and Resource Fair. Beginning at 11 a.m. Nov. 11 on the Upper Plaza, West Lawn and El Pomar Plaza faculty, staff and student volunteers will read the 6,836 names of those Americans killed since Sept. 11 2001 in the Global War on Terror. For more information or to volunteer, visit http://tinyurl.com/rollcall14 or call 255-3253. A resource fair highlighting services available for veterans and student veterans is from 11 a.m. to 3 p.m. in University Center 116.
Honoring Women Veterans luncheon. Chancellor Pam Shockley-Zalabak will host an invitation-only luncheon for women student veterans to celebrate the success of women veteran scholars and their contributions to the campus and broader community.
 Monument to Military Service Mosaic . A dedication ceremony is planned for 2 p.m.  Nov. 10 near the University Center. Refreshments will be served.
"Unsung Heroes" screening and panel discussion. The movie "Unsung Heroes, the story of America's female patriots" will be shown at 5 p.m. Nov. 13 in UC 302. A panel discussion will follow.
–Photo courtesy of Office of Veteran and Military Student Affairs