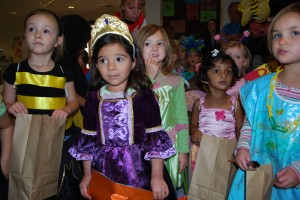 Two campus departments will combine efforts to create a safe, fun Halloween holiday for faculty, staff, students and their young children.
From 5:30 p.m. to 7 p.m. Oct. 30, the Office of Residence Life and Housing will sponsor safe trick-or-treating in the student residences on the west side of campus. Those interested in participating should begin at Monarch Hall. A residence life staff member will lead groups through the student residence halls every 10-15 minutes.
From 6 to 8 p.m. Oct. 30 in Berger Hall, UCCS student-athletes will lead Boo-zar, an evening of candy and games as part of a safe trick-or-treat activity for children.
The BOO-zar is sponsored by UCCS Student-Athlete Advisory Committee. Each Mountain Lion team will put together games and activities for kids. Children of all ages are encouraged to arrive in their Halloween costumes. There is no charge for admission for the evening.
On Oct. 31, anyone in costume will receive free admission to the UCCS v. Colorado Christian University volleyball game at the Gallogly Events Center. There will be trick-or-treating before the game, a halftime costume parade and pictures with Clyde, the athletic mascot. The game begins at 7 p.m.
For more information about the volleyball game or BOO-zar, visit http://gomountainlions.com.