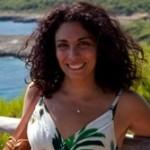 Some of the top mathematicians in Colorado will be on campus Nov. 1 in celebration of Colorado Nonlinear Day.
Nonlinear wave phenomena are ubiquitous in science and they manifest in nature as hurricanes and tsunamis, as well as in innovations such as high-speed data transmission across the globe, according to Barbara Prinari, associate professor, Department of Mathematics.
Prinari, Radu Cascaval, associate professor, Department of Mathematics, and Sarbarish Chakravarty, professor, Department of Mathematics, organized the conference that is expected to draw a dozen speakers from the faculty of UCCS, Colorado School of Mines, CU Boulder, Colorado State University, the University of Northern Colorado, the University of Wyoming and Colorado State University, Pueblo. In addition to the speakers, about 40 students and others interested in the topic are expected to participate.
Mathematical investigations of nonlinear phenomena are important in the physical and engineering sciences, Prinari said. By analyzing nonlinear waves, scientists can make important discoveries and predictions. In organizing the meeting, the Math Department hopes to encourage interaction and share information.
For more information, visit
http://www.uccs.edu/math/math-events/colorado-nonlinear-day.html