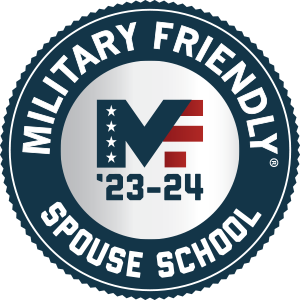 For the second year in a row, UCCS has been named a Military Spouse Friendly® School. The recognition is given to universities that create sustainable and meaningful education paths for military spouses.
"Almost half of our military-affiliated students are spouses or family members," said Crista Hill, Director of Veteran and Military Affairs. "We are proud to offer resources to these students in recognition of the sacrifices they make and the role they play in supporting our military."
Military Spouse Friendly schools are noted for instituting policies to address the concerns and needs of military spouses and their families. They have constructed their admissions, retention, career counseling and mentoring programs to help alleviate the difficulties faced by military spouses. They also offer flexible learning options and degree continuation programs that are designed to accommodate deployments and relocation.
To determine if a school is Military Spouse Friendly, the organization Military Friendly collects and processes vast amounts of data that on schools that have developed and sustained strong programs for military spouses on campus.
The Military Friendly ratings are determined through the evaluation of public data and proprietary data gathered through the annual Military Friendly survey process. Survey topics and questions are reviewed and developed with the assistance of an independent advisory council comprising independent subject matter experts and industry partners representing the field of veteran education.