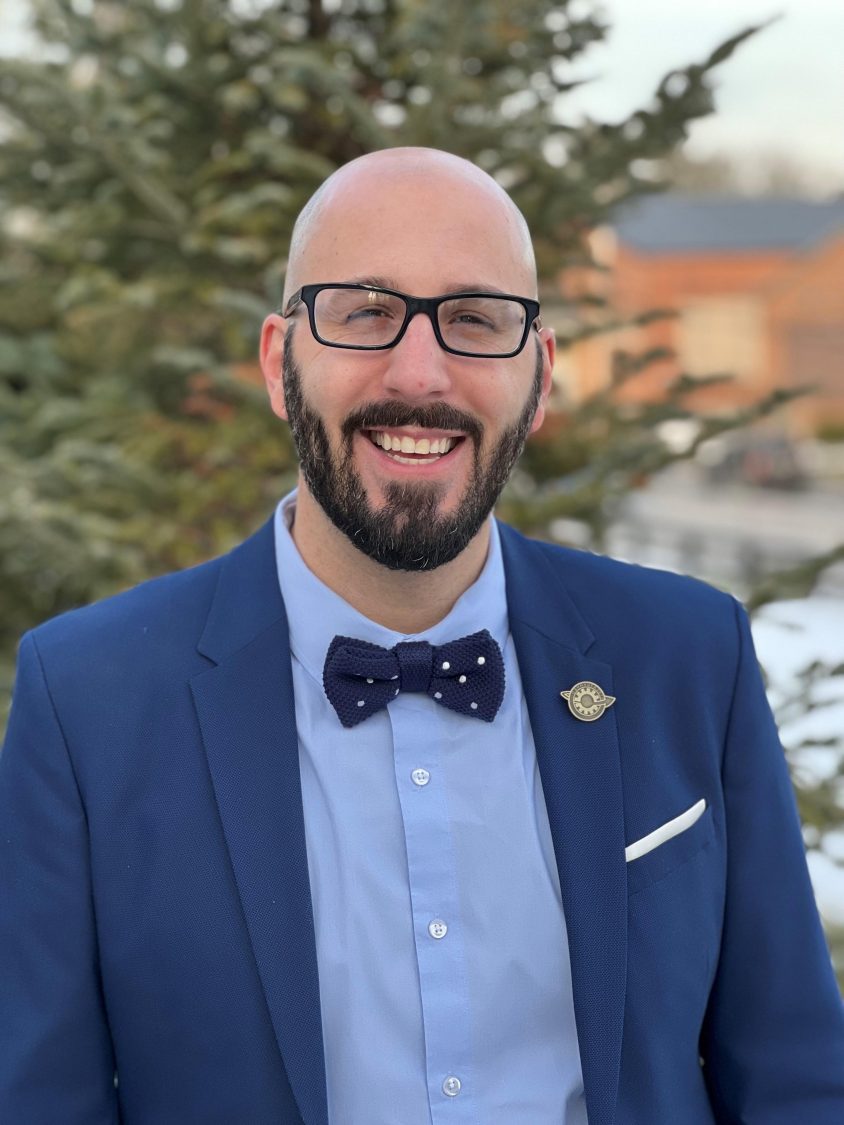 I would like to extend a warm welcome to our new and returning community members as we head into fall and commence the academic year. For those who are new to the Mountain Lion community, my name is Rame Hanna and I serve as the Vice Chancellor for Diversity, Equity, and Inclusion (DEI) at UCCS. In this capacity, I guide and lead campus-wide community efforts to foster a culture of inclusion and belonging on campus.

With the beginning of a new semester, I invite you to take a moment to reflect on your future goals and aspirations, as well as the many new opportunities and experiences that await you. I also encourage you to take the time to center your mental health and wellness, as well as connect with our many campus resources available to empower your success.

As members of the Mountain Lion community, we believe it is our collective role to uplift and support one another as well as help foster a culture of belonging where we can be our best selves. Through acts of compassion and care, we can all help cultivate safer spaces, empowering greater agency and making UCCS a campus where all members of our community can belong and flourish.

The Division of DEI has many exciting initiatives and events underway to foster greater community connections and inspire positive social change.

DEI Strategic Initiatives
The Inclusive Excellence and Belonging (IEB) Action Plan is UCCS's strategic mission-driven approach to engaging the entire campus community in greater efforts to enhance DEI and advance a culture of belonging. Over the past year, colleges and divisions across campus engaged in establishing DEI goals that connect to the five DEI strategic framework pillars. This coming academic year, we will begin implementing strategies to achieve these goals. To learn more about these DEI goals we invite you to check out our forthcoming IEB webpage, which will be launched later this year.

Additionally, this past year, the Division of DEI (in collaboration with the Northern Ute, the Southern UTE, the Ute Mountain Ute People, as well as Indigenous community members from our own campus) created UCCS's first Land Acknowledgement. This land acknowledgment demonstrates UCCS's continuing respect, and it honors the original inhabitants of the land the campus now occupies.

Signature Divisional Programs and Team Awards
This past summer the Division of DEI hosted our campus signature programs, including UCCS's PRIDE Celebration and the Juneteenth Lunch & Learn, as well as commemorated our first year as an Inaugural Division of DEI with a wonderful gathering of campus partners and community members.

Several staff within the Division were also honored with awards for their work in fostering inclusive belonging at UCCS. Telma Frumholtz, Senior Education Abroad Advisor was awarded the Lifetime Achievement Award and Karlye Enkler, International Student & Scholar Advisor was awarded the Innovative Program Award at 2023 International Educator Conference. Sloan Gonzales, Director of DEI Education & Outreach was awarded the Emerging Community Leader Award at the 2023 Leadership Pikes Peak Conference.

DEI Educational Opportunities
The Office of DEI Education and Outreach has been developing new educational programs for the campus community, including four new DEI training courses on key DEI concepts and innovative approaches to fostering a culture of belonging at UCCS. You can learn more about each training and request trainings for you and your team on the new DEI Programs and Training website. The Office of DEI Education and Outreach will also be launching two new educational program series geared towards building our institution DEI capacity:
The Inclusive Belonging Spotlight Series explores the impactful DEI efforts of UCCS departments, individuals, and organizations in Colorado Springs. Each month, members of our community can learn over a cup of coffee and pastries about DEI initiatives happening across campus and engage in insightful conversations on creating a deeper sense of belonging at UCCS.
The Munch and Learn Series is focused on DEI education and awareness centered around each heritage and identity month. Participants will learn from UCCS faculty members and local community organizations on the work they are doing that centers diverse identities and cultures. Participants will also be able to engage in discussion and enjoy themed food around the month's topic.
Additionally, the International Affairs Office is partnering with the Career Center this fall to provide specialized support for UCCS international students. The Career Center will host an International Career Success Day; a full day dedicated to International Affairs affiliates that will include resume review, mock interviews, workshops focused on international experience in the workplace, CPT and OPT training opportunities, and career development for the global job market.

Finally, I wanted to thank the UCCS community for your commitment to centering DEI in all that you do. I am confident that together, we will foster a culture that is supportive and affirming for all. I wish you a wonderful semester ahead and very much look forward to seeing you at some of our wonderful programs and events this semester.
About the Division of Diversity, Equity and Inclusion
The Division of Diversity, Equity, and Inclusion aspires to strengthen DEI innovation, impacts, and practices as integral components of inclusive and academic excellence. The Division is committed to fostering an inclusive learning and work environment where all at UCCS feel a sense of belonging and can thrive. The DEI Division promotes the principles of inclusive excellence, multicultural education, and social justice that both enhance the University's service to the public and contribute directly to the work environment and the quality of learning for all who participate. Additionally, the Division seeks to elevate the impact UCCS has as a regional and national leader in preparing students for success in a diverse global society and workforce.
You can also learn more about the Division of Diversity, Equity and Inclusion online.