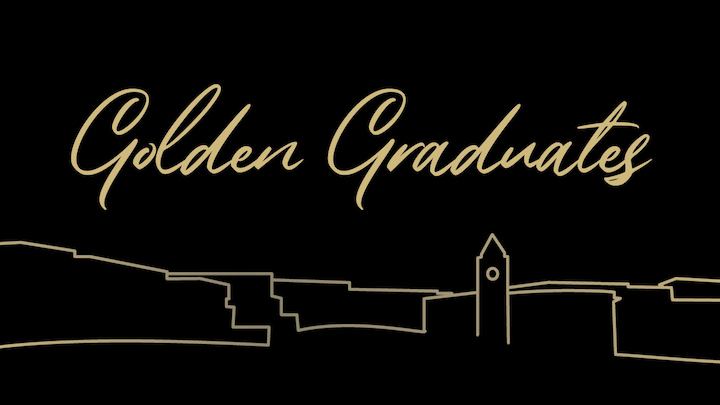 Since 2012, UCCS has honored Golden Graduates – alumni who graduated 50 years ago – and Silver Graduates – alumni who graduated 25 years ago – during Commencement ceremonies in May and December, respectively.
This year, UCCS will recognize 11 Golden Graduates, each of whom graduated from UCCS in 1973.
Read stories from each of the Golden Grads below.
Jan Adams Crimin
Jan Adams Crimin graduated from the Beth-El College of Nursing and Health Sciences in 1973 with a nursing degree and married a USAFA graduate.
"We relocated to Lubbock, TX, thus starting my life of an Air Force wife and eventually making nine military moves."
Jan worked in nursing in the maternal/fetal fields and worked at every place her husband was stationed, along with working in Salt Lake, UT for 30 years before retiring.
"We moved to the home I grew up in in Victor, CO in August, where I am enjoying life."
Elizabeth Bishop-Martin
Elizabeth Bishop-Martin earned not only one, but two bachelor's degrees from UCCS. After graduating in 1973 with a psychology degree, she returned in 1981 and received her Bachelor of Fine Arts. She then moved to Athens, Georgia after graduation and returned to school to pursue a Master of Fine Arts from the University of Georgia and teach middle school, which she did for 14 years.
"I retired from teaching when my husband died, remarried and widowed again, and I have enjoyed traveling and volunteering in several countries and states since retirement."
In addition to traveling and volunteering, Elizabeth stays busy in her retirement by visiting friends and family in Michigan, Canada and other places, and spending time with her six grandchildren, two step-grandchildren and five great-grandchildren. She also continues to paint and draw, and enjoy music as both a listener and performer through her position of Choir Director at Unitarian-Universalist Fellowship of Athens, which she's held for 14 years.
"My studies at UCCS gave me a wonderful education and changed my life. Continuing on to get my master's degree and teaching were experiences I wouldn't have had without my two BAs from UCCS. The knowledge gained in my majors and in all the wonderful Spanish and Lit courses I took have enriched my life."
Christine Carlson Hall
Christine Carlson Hall graduated from high school in a rural Nebraska community in 1960 and attended a "Finishing Girls' School" for a year in St. Louis, Missouri before transferring to the University of Colorado in Boulder. She pledged the Alpha Phi sorority and began working toward a degree in English literature when her life took a turn in 1963 after her Marine Corps sweetheart, Richard V. Hall, returned from a 13-month tour in Okinawa and proposed in the parking lot of the little church that Christine had been raised in. Christine decided to put her last nine hours of academics on hold and married Richard in February, 1964, then moved to Camp Pendleton where he was stationed.
"I had another semester to go before I would have graduated, but we talked it through and I learned that his unit was preparing to deploy to Vietnam sometime relatively soon."
Christine and her family moved to Colorado Springs in 1968, where she gave birth to a third son and then a daughter in 1969, with a grand total of four small children by 1970.
"I have always been a domestic type who loves home, kitchen, and babies…who were underfoot, clinging to my knees, and in my arms, to be sure…I nevertheless felt blessed, busy and satisfied."
Christine remembers reading in the newspaper that the University of Colorado was starting a branch in Colorado Springs, and she realized she might be able to finish those remaining nine hours.
"I had to take it slowly and could only take courses in the evening since my husband would be home for the children, but that is what I did. I remember how my thoughts turned from making little bib-overalls for the children on my sewing machine to reading Geoffrey Chaucer and making notes about the pilgrims on horseback traveling to Canterbury…in Middle English. My graduation exercise in 1973 was during the day, something that was not available to me, but I recall being very satisfied when the mailman delivered my diploma while I was gardening one afternoon, and I sat among my geraniums as I opened it."
Christine went on to eventually get her Colorado teacher's license and worked primarily as a substitute teacher for several years before going back to reclaim a degree in nursing, and ultimately worked at Pikes Peak Hospice for twenty years attending to the needs of the terminally ill.
"I am 80 years old now, and look back on my life as an adventure. UCCS gave me the opportunity to expand my adventure beyond my home and walk into the fullness of two careers that criss-crossed each other as teacher of English, mentor of nurses, teacher of immigrants through the library's Literacy Program and ultimately nurse who works on a volunteer basis with the Homeless at the Marion House…even to this day. Thank you, UCCS."
Jamie Catherine D'Amico
After graduating with her fine arts degree from UCCS in 1973, Jamie Catherine D'Amico explored a few work experiences before landing a job at Cheyenne Village, a community for developmentally delayed adults in Manitou Springs, initially as a counselor and eventually as a supervisor.
After five years of employment there, she did some traveling before returning to Colorado Springs to work at an OB/GYN medical practice for eight years. During those years at the medical practice, Jamie trained to become a massage therapist and eventually made the decision to pursue a degree in nursing.
"I had completed most of my Bachelor of Arts degree at CU Boulder and due to unplanned circumstances, I needed to return to Colorado Springs at the end of the summer of 1973. UCCS provided an opportunity for me to complete my final semester seamlessly and with exceptional faculty. UCCS also offered pre-nursing course work required for acceptance into the nursing program at CU Anschutz, where I completed a Bachelor of Science in nursing degree in 1992."
Jamie was then hired as a public health nurse and worked at El Paso Department of Public Health in the Springs with a primary focus in maternal-child health with underserved populations for eight and a half years, while also returning to school.
"In 1996, UCCS offered a nursing graduate program, and I completed a master's in nursing with a clinical specialty in holistic nursing in 2003. Toward the completion of my graduate level education, I moved to Florissant in Teller County in 2001 and worked at Teller County Public Health for three and a half years."
In 2004, Jamie was hired as a nurse consultant in the Immunization Branch at the Colorado Department of Public Health and Environment in Denver, where her primary role was to provide education and consultation to Colorado's child cares, schools and colleges/universities regarding required vaccines. After 18 years at the state department, and 30 years in the public health arena, she retired from CDPHE on Dec. 31, 2022. Jamie now looks forward to a few months of self-reflection before again moving forward as an advanced practice nurse.
"UCCS again supported my desire to pursue nursing by offering math and science courses that I needed to apply for CU Health Sciences Center in Denver, and with the incorporation of Beth El College of Nursing, UCCS addressed the need to effectively support the growing nursing deficit. UCCS offered both an undergraduate program as well as a creative and innovative graduate program which I enthusiastically took advantage of and has supported my education goals over the decades. I am grateful!"
Delores Heersink Mendell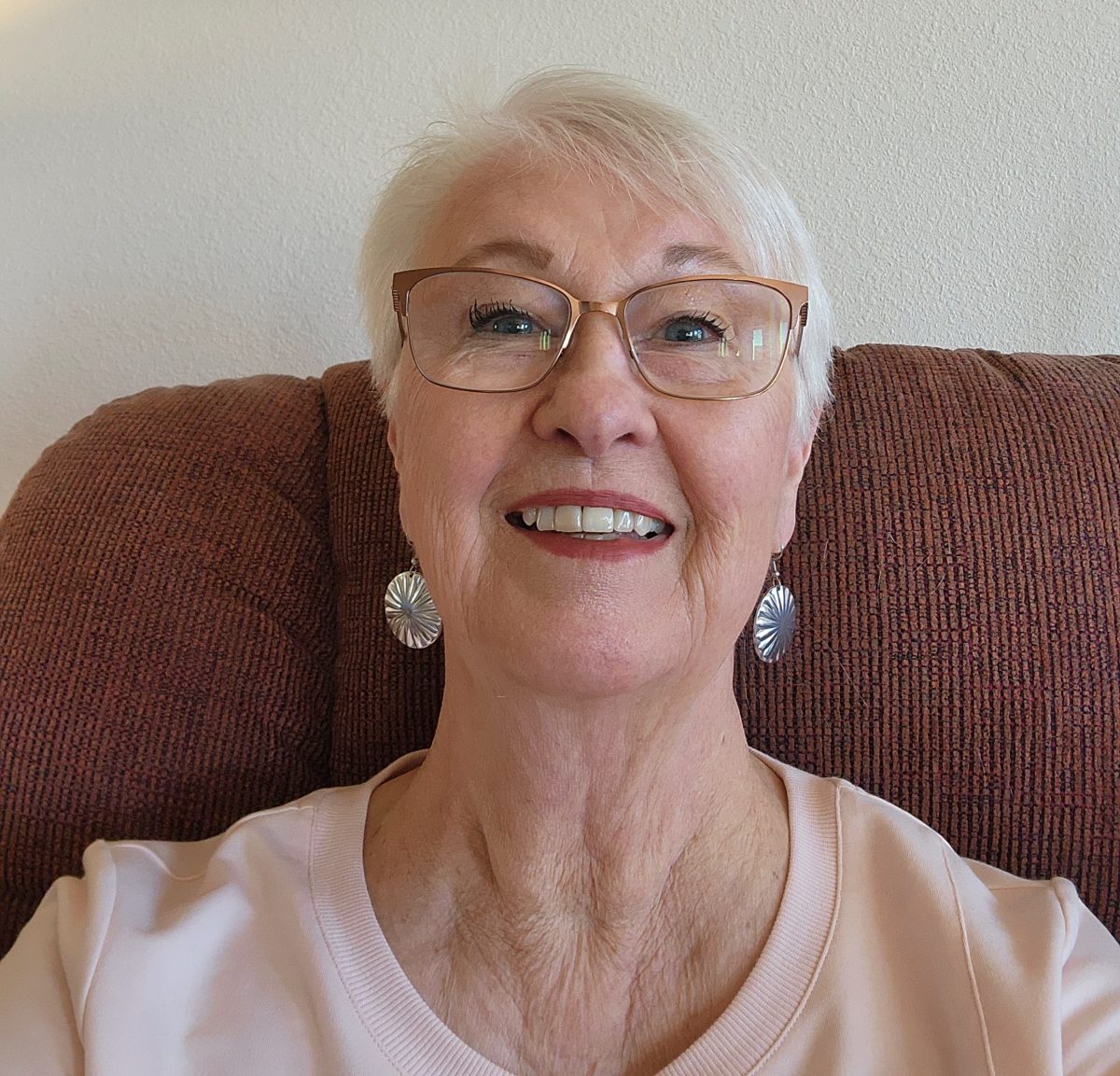 Delores Heersink Mendell graduated from Beth-El with a diploma in nursing that provided a solid base she built on in the coming years as she returned for her Bachelor of Science in Nursing, followed by a master's in organizational management from the University of Phoenix.
"I had a wonderful career that began with delivering babies to taking care of the often neglected elderly in the home environment. Nursing was an excellent career choice for me and I wholeheartedly recommend it for those wanting to serve and have a meaningful career."
Delores started as a Labor and Delivery nurse at the old St. Francis hospital, before expanding her career as manager of an inpatient rehabilitation and therapy unit nurse liaison, Vice President of Patient Care for a long-term acute care hospital and culminating as clinical director of a home health care agency.
"Looking back, when I attended nursing school from 1970 to 1973, UCCS was a very small campus. The classrooms were located in the old Tuberculosis Sanatorium building and we were bussed from Memorial Hospital to the UCCS campus in a small blue bus that we fondly referred to as 'Dr. Blue.' The Colorado Springs area has grown and changed so much from when I was a student nurse and luckily, with the grounding provided by my nursing education and with hard but rewarding work I was able to grow with it. My, how times have changed."
Rich Johnson
After graduating high school, Rich Johnson spent four years in the U.S. Air Force and went on to earn both his bachelor's in industrial psychology and MBA at UCCS while teaching business courses at National College of Business at night.
"Thanks to age and experience, my studies at UCCS were much more focused. Smaller class sizes and professors who all had practical experience in industry were of great benefit."
Rich also sold office furniture and supplies for Capital Office Supply in Colorado Springs for three years
and contracted with the City of Colorado Springs Human Resources as Training & Development Specialist for one year.
Wanting more independence, Rich decided to obtain a Real Estate Broker license as Owner/Broker of Realty Forum for three years and marketed new homes for both Kambridge Homes and Classic Homes from 1988 until 2010, when he retired.
"Marketing, and especially new home marketing, allowed me to apply my training and development skills on a daily basis in a constantly changing environment. This turned out to be my dream job of training and developing both fellow marketing personnel and customers."
Gwen McKinney
Gwen McKinney married her husband, who was stationed at the Air Force Academy, in 1972 and graduated from UCCS with her bachelor's in education in 1973.
"I had completed two and a half years of my degree in Tucson and believed UCCS to be a two-year program, but I was thrilled to learn it had expanded to a four-year degree program, so I could finish my degree there. UCCS was still located in an old tuberculosis hospital, so it was not the beautiful campus it is today. I spent time in local schools, Mitchell High School and Washington Irving Junior High, in preparation for teaching. We loved Colorado Springs. When my husband left the USAF, we returned to Tucson and I had a diploma in hand so I could begin teaching."
After Gwen and her husband moved back to Tucson, she began her career of English teaching in 1975. Gwen quickly learned that most of her high school students were reading at the fourth and fifth grade level, which prompted her to pursue an master's in literacy at the University of Arizona that she completed in 1979.
Gwen and her husband raised two sons who are captains in the Tucson Fire Department, following their father's career as a firefighter/paramedic there. She retired in 2005 and spent a few years volunteering as an ESL teacher.
"We spend our time with our five grandchildren, camping, traveling, riding our three-wheel motorcycle and studying or leading Bible studies. I'm blessed with good health and dear friends."
Lynn E. Miller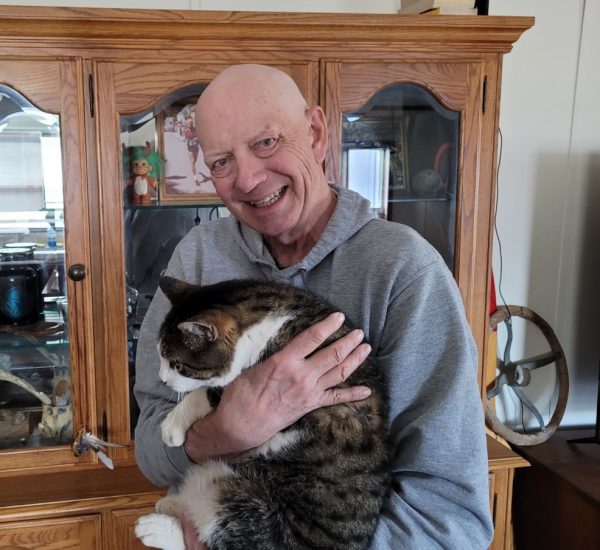 After graduating from UCCS with a history degree, Lynn E. Miller worked at Albertson's for 10 years. in 1988, he went back to school and earned two master's degrees from University of Northern Colorado. Lynn then spent 19 years teaching in District 60 while running marathons in his spare time, including the Pikes Peak race that he participated in seven times (with a finishing time of 5 hours and 29 minutes in 1979!).
"From 1968-1973, when I graduated, I had an incredible life. Not so smart, but always made it thanks to some incredible professors. Books, music and cats are still essentials to my happy life. 72 years old and I found the dream."
Lynn is now retired and stays involved in cycling.
Ray Miller
After graduating with a geography degree from UCCS, Ray Miller spent 38 years hiking, climbing, and skiing in 17 national parks and 16 US Forest Service wilderness areas for hire, and working as a wilderness ranger, after meeting a National Park ranger who thought he was the perfect candidate to be one himself.
"I was vagabonding in search of the meaning of life, and as luck would have it, I met an iconic National Park ranger. He required that I read Edward Abbey, after which I passed through a doorway through which I never returned."
In Ray's spare time, he spent ten years as a pro ski patroller.
"I went to college to become an educated person rather than to acquire credentials for earning income. Not withstanding that, my curriculum in natural and social sciences prepared me well for a career in public lands management, addressing habitat, species diversity and watershed and climate issues."
Susan R. Townsend McPherson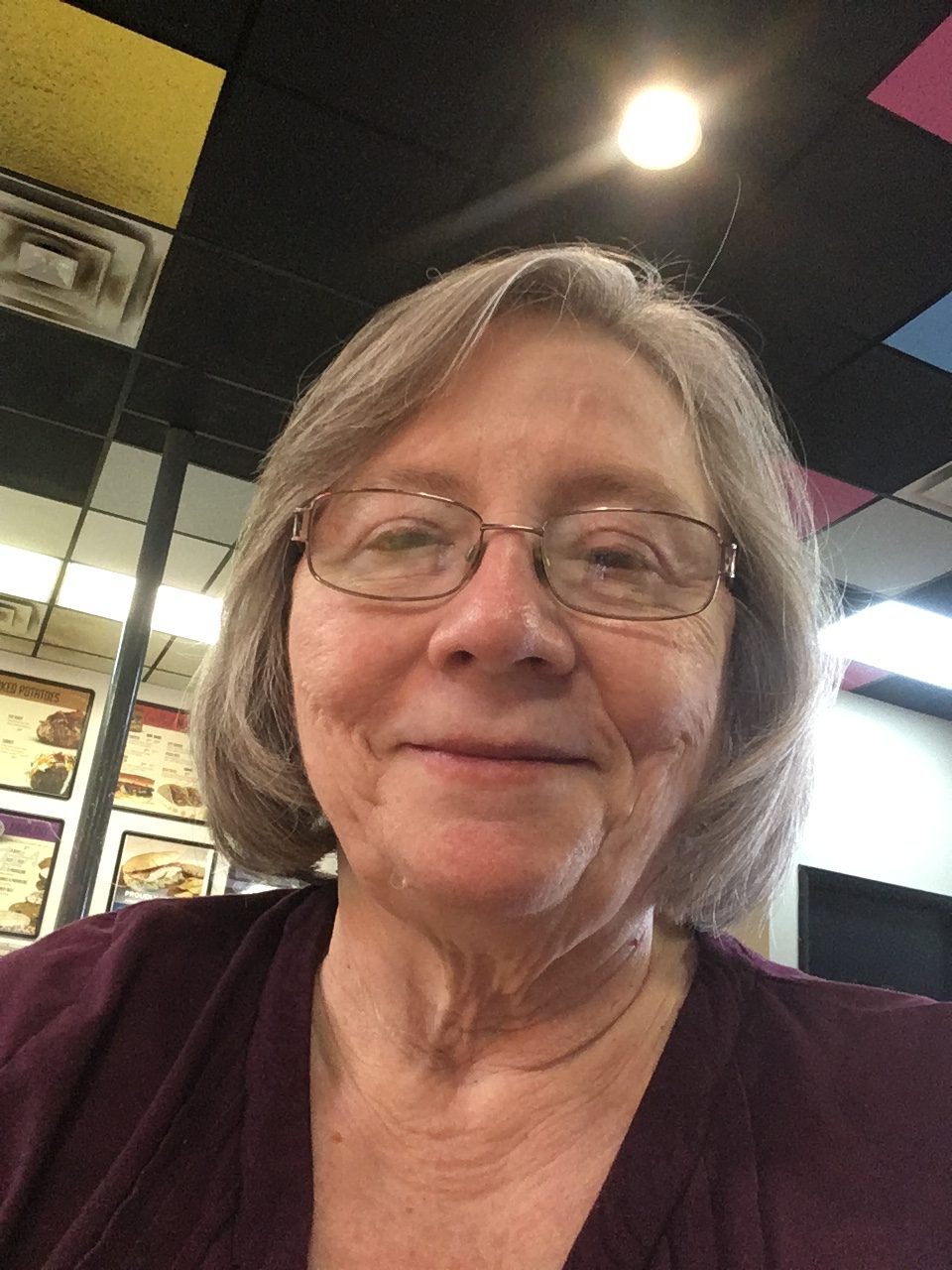 After graduating from Beth-El School of Nursing at Memorial Hospital in 1973, Susan R. Townsend McPherson continuously worked primarily as a staff nurse and supervisor in Adult Critical Care for 40 years, and is now enjoying a slower pace as a PACU nurse in a free-standing ambulatory surgical center.
In addition to celebrating 50 years in June 2023 as a registered nurse, Susan will also be celebrating 50 years of active nursing.
"I volunteer in mission work, having traveled to over 23 countries, and enjoy spending as much time as possible with my three daughters and six grandchildren."
Alicia Wemmer
Alicia Wemmer graduated with her bachelor's in education and then worked a a schoolteacher for 20 years, while raising two children with her husband. They also traveled as much as possible throughout the U.S.
"We were making wonderful memories. We now have one grandson and live in a small senior community, where we just celebrated 65 years of marriage."
Alicia has served on the community board for many years and helped care for sick family members, while also staying involved in her local church.
"Since I grew up on a farm, and attended a small school, UCCS opened my eyes to how big the world really was. There were many opportunities to expand one's horizon. I met many different people, which I enjoyed. I listened and applied what I felt was beneficial to apply to myself. I know I became a better parent. I did not change my core nature, but became a better person."
About the UCCS Spring 2023 Commencement Ceremony
The UCCS Spring 2023 Commencement ceremonies will celebrate degrees conferred to more than 1,500 graduates. More than 1,200 will attend the ceremony at the Broadmoor World Arena on May 12, 2023, along with family and friends. See the full Commencement program online. View the livestreamed ceremony on YouTube.