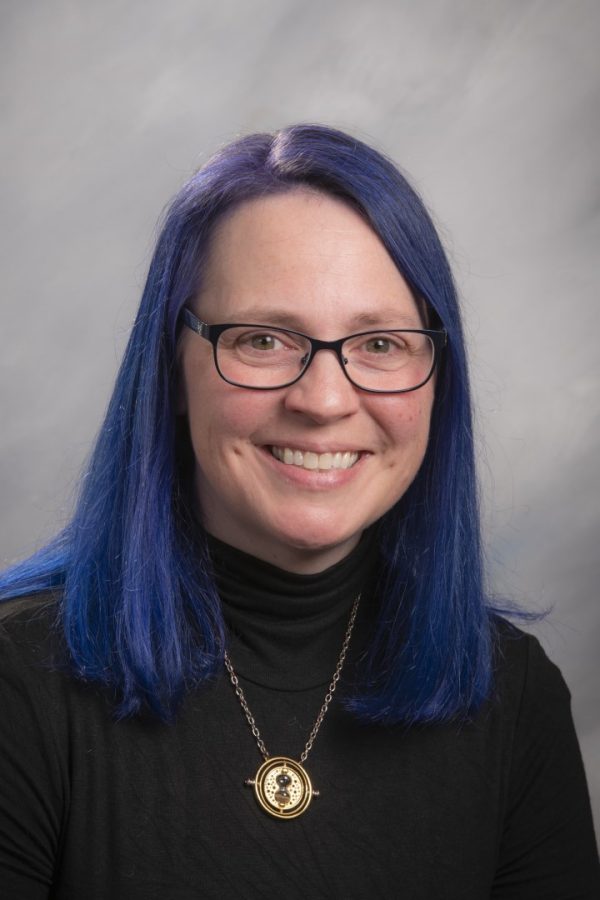 Katie Anderson-Pence has been named Associate Dean for the College of Education (COE).
Anderson-Pence first came to UCCS in 2014 as an assistant professor in the College of Education and went on to coordinate the UCCS elementary education programs from 2018-2021, while also teaching undergraduate and graduate courses in mathematics teaching methods. In the summer of 2021, she was awarded tenure and became department chair for the Department of Teaching and Learning and then Interim Associate Dean in summer 2022, preparing her for this permanent appointment.
"My time as Interim Associate Dean has been an invaluable learning experience," Anderson-Pence said. "Over the past few months, I have become more familiar with college processes, identified ways to optimize our work efficiency and have increased my understanding of programs outside of my home department of Teaching and Learning. I have cultivated key relationships with community partners who provide field experience sites for our students. My experience as a program coordinator and department chair has also helped me to develop skills that are applicable to the role of Associate Dean."
Prior to UCCS, Anderson-Pence spent several years as an elementary teacher at Alpine School District in Utah before transitioning to higher education at Utah State University where she was a university supervisor of student teachers, university instructor and graduate research assistant until coming to UCCS.
Anderson-Pence earned her B.S. in Elementary Education from Brigham Young University in 2000 and went on to receive her M.Ed. in Elementary Mathematics Education at Southern Utah University in 2007. She then completed a Ph.D. in Curriculum and Instruction with an emphasis in Mathematics Education and Leadership at Utah State University.
"Katie Anderson-Pence did an excellent job as the interim associate dean, and we are looking forward to her moving into the permanent leadership in this role," said Henrietta Williams Pichon, Dean of the College of Education. "She truly understands the needs of the college as it relates to academic programming, curriculum development, assessment, and accreditation. She has been a great asset in the college and within the communities, and we are all looking forward to our continued work with her."
In addition to co-authoring several publications, Anderson-Pence has been awarded multiple grants, participated in many research projects and received the UCCS Outstanding Teacher award in 2019 and the UCCS Outstanding Researcher award in 2016.
"I am thrilled to engage with the college faculty and staff in this new role," said Anderson-Pence. "The landscape of preparing educators, leaders, and counselors is changing, and the COE at UCCS is positioned to provide exciting and innovative experiences for our students. This work certainly involves a team effort, and I am honored to be supported by so many incredible colleagues on this journey!"
Anderson-Pence has many ideas and goals for her role in the COE and its departments, such as supporting assessment and accreditation efforts in the college, working behind the scenes to coordinate student success efforts, supporting faculty in research projects and collaborating with them on program improvements and new programs and much more.
"Overall, my goal is to support the amazing work in which our faculty and staff engage."
About the UCCS College of Education
The College of Education offers undergraduate and advanced degrees, initial and advanced licenses and additional endorsements across three departments: Teaching and Learning, Counseling and Human Services and Leadership, Research, and Foundations. The college is home to more than 1,000 students and offers 12 bachelor's degrees, master's degrees and doctoral degrees. It is accredited by the Council for Accreditation of Counseling and Related Programs (CACREP). Learn more about the College of Education at UCCS.