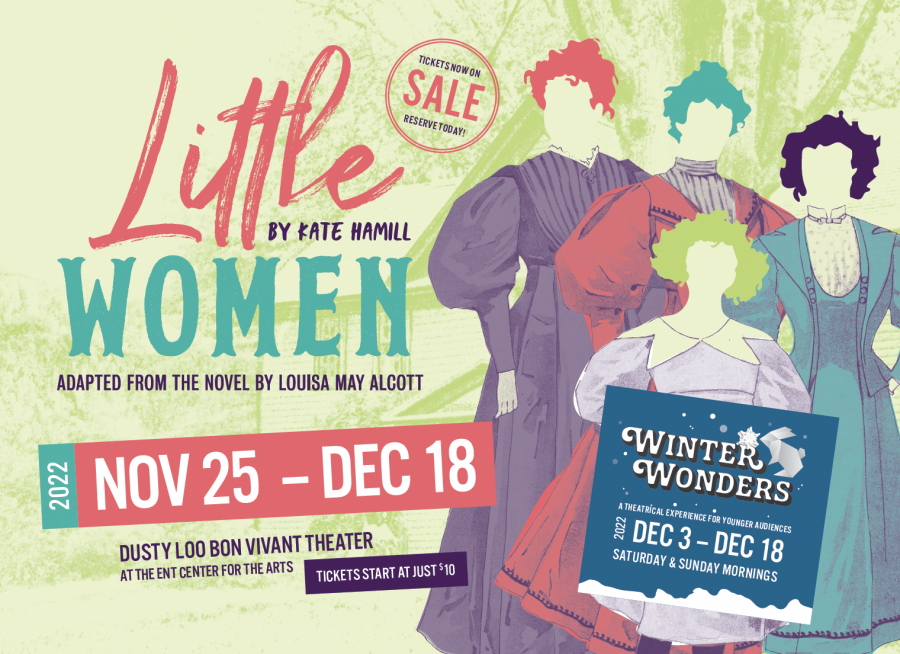 This holiday season, gather your family and treat them to a night out at the Ent Center for the Arts, where Theatreworks opens their production of Little Women on Nov. 25 at 7:30 p.m., running through Sunday, Dec. 18.

You may think you know the story of the iconic March sisters, but Kate Hamill's newest stage adaptation offers a fresh perspective on Alcott's timeless tale of family, growth, and sisterhood. Generations of readers have come to identify with Jo, Meg, Beth and Amy March, and now you and your loved ones can experience this story together like it's the very first time.

Hamill's new adaptation pulls themes from Alcott's other writings, including letters and journals, to
explore the classic text for a new era; inviting audiences of all generations to see themselves in these
characters like never before. Directed by Chicago-based Theatreworks veteran Kathryn Walsh, the
production arrives to share with your family just in time for the holidays!

"This adaptation highlights something that I love about the book: the way everyone in the family is
imperfect and struggling in their own way, and how they lift each other up without the need to fix one
another," explains Director Kathryn Walsh. "As we start to come back into the theater, there is
something that makes me hungry to tell stories about ordinary human life and the way we connect to
one another."

Theatreworks' production of Little Women will appeal to all families, whether it be "the family we were
born into, the family we find over the course of our lives, or the people that make us better versions of
ourselves," says Walsh. So, after a Thanksgiving filled with extravagant feasts and lively conversation,
relax together – or on your own! – in the Ent Center's Dusty Loo Bon Vivant Theater, where you will
follow the March siblings' coming of age and reflect on the rousing joys and trials of finding your place:
in a family, in a calling, in the world.

Adding to the local appeal, a variety of talented Colorado actors join the cast and crew. On the stage,
you will see UCCS student Kaley Corinaldi in the role of Beth March. Kaley will be familiar to audiences
who attended the wildly popular musical "Lumberjacks in Love," which opened Theatreworks' 2022-2023 season. Alumni Dastán Harrison, in the role of Laurie Laurence; Sean Verdu, in the roles of John
Brooks and Parrot; and longtime UCCS faculty member Tom Paradise, in the roles of Mr. Laurence,
Mr. Dashwood, and Mr. March, round out the UCCS presence in the theatre this fall. Faithful Theatreworks community members may also recognize Cheerish Martin (Lady Day at Emerson's Bar and Grill, The Bluest Eye) as Meg March, Jane Fromme (House Arrest, Pride and Prejudice) as Aunt Josephine, and Lynne Hastings (Every Brilliant Thing, A Raisin in the Sun) as Marmie. To learn about the full cast and crew, visit entcenterforthearts.org.
Tickets start at $10 as part of Theatreworks' economic accessibility program, $20 for youth, and extend
to $43.75 based on showtime and seating area. Show times are Thursday-Saturday at 7:30 p.m., with
matinees Saturday at 2 p.m., and Sunday at 4 p.m. Morning matinees for school groups, senior
centers and community organizations will be held every Thursday at 10 a.m.
Take your experience to the next level with programming surrounding performances and featuring
experts in the arts industry! Attend on a Thursday night to catch a Scholar and Designer chat starting at
6:45 p.m., on Dec. 4 for a Prologue Framing Panel starting in the theater at 2:30 p.m., or
the first and third Sundays for an Artist Conversation with the actors immediately following the
performance.

Tickets and information: Visit entcenterforthearts.com or call the Box Office at 719-255-8181.
About Theatreworks
Theatreworks Colorado Springs connects, empowers, and delights our communities through diverse performances and educational experiences that are mirrors for ourselves and windows into others. We create in service to our audiences, our staff and artists, the UCCS students and community, and the people of Southern Colorado to envision a better world. Founded in 1975 by artistic director Murray Ross, costume designer Betty Ross, and an ensemble of passionate artists, today the program is led by artistic director Caitlin Lowans, who was appointed in 2018 – the same year the Ent Center of the Arts opened its doors to the community. Learn more at entcenterforthearts.org/theatreworks.
About the Ent Center for the Arts
This first-class arts facility, located on the University of Colorado Colorado Springs campus serves the community as a hub for the arts and an inspiration in academics. The vision for the facility was and is to foster a creative environment to house arts that will serve the Pikes Peak region, allowing artists to inspire and amplify one another rather than compete against one another. Art brings together diverse peoples and ideas in ways no other discipline can, and the Ent Center will be a pillar of the arts community within Colorado Springs. Learn more at entcenterforthearts.org.