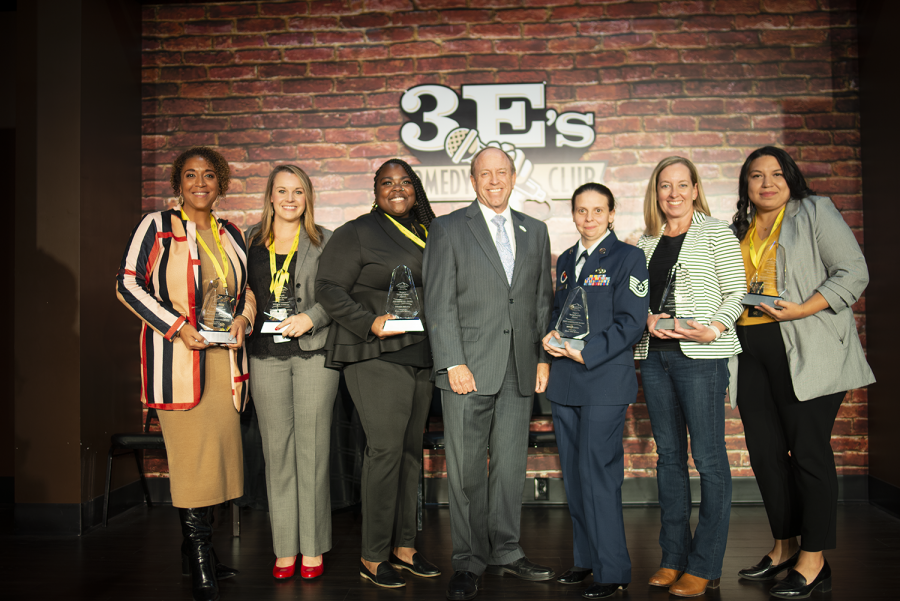 In a ceremony on Oct. 27, Sloan Gonzales was honored with the 9th Annual Mayor's Young Leader Award in the Education category.
The Mayor's Young Leader Awards highlight the outstanding achievements of young professionals (ages 40 and under) who live or work in Colorado Springs, making a positive impact through their professional and volunteer activities, stepping up to current challenges and serving as leaders in our community.
According to the city's website, as the program director for the Chancellor's Leadership Class and UCCSlead, Sloan Gonzales is helping to develop future leaders in the Pikes Peak region. Her leadership development program helps students engage and build relationships with the community, instilling civic pride and a stronger connection to Colorado Springs. Sloan's volunteerism includes hosting a variety of community trainings, working with Leadership Pikes Peak, Pikes Peak United Way, the Colorado Springs Rising Professionals Group, and many other local organizations. She is an advisory board member for the Pikes Peak United Way Family Center and committee chair for the Pioneer Technology Arts Academy and UCCS Family Development Center.
"I am beyond honored to have won the Mayor's Young Leader Award for Education," said Gonzales. "The work I am privileged to be able to do at UCCS and in the Colorado Springs community is work I have dreamed of doing. I cannot believe I get to be a small part of some of the most amazing students' stories and that I get to work with the phenomenal humans that make up the UCCS community. I am looking forward to the amazing work ahead and continuing to be a part of the future of UCCS."
Gonzales is currently the Program Director of CLC & UCCSlead, but will be taking on a new role as the Director of Diversity, Equity and Inclusion Education and Outreach.
UCCS was proud to have multiple staff nominated for this year's Mayor's Young Leader Awards. Other nominees included:
Creative Industry
Caitlin Lowans, University of Colorado Colorado Springs
Education
Dr. Sarah Long, University of Colorado Colorado Springs
Jesse Perez, University of Colorado Colorado Springs
Many of this year's nominees were also alumni of UCCS. Alumni nominees included:
Community and Economic Impact
Samantha Chapman, Sentinels of Freedom
Creative Industry
Jeresneyka Rose, Trust for Public Land and ArtByRizzo (winner)
Education
Cordelia Feess-Armstrong, Food to Power
Sports, Heath, and Wellness
Justin Hayworth, Ent Credit Union
Technology and Sustainability
Mackenzie Tamayo, Catalyst Campus for Innovation and Technology
View a list of all past recipients on the City of Colorado Springs website.