For the first time in UCCS history, the best word to describe the annual State of the Campus address was "cozy."
On Sep. 28, Chancellor Venkat Reddy pulled up a comfortable armchair and settled in for a talk about the state of the UCCS campus in 2022. Held in Berger Hall and attended by live and virtual audiences, the address covered the progress made over the past year at UCCS, the current moment at the university and dreams for its future. The event also gave an opportunity to introduce new cabinet members at a personal level to the campus.
Chancellor Reddy welcomed participants with remarks reflecting a feeling of a "new beginning" at UCCS.
"Each year, I stand before you to deliver this address. This year feels different from any year before," Reddy said. "I have spent 31 years at UCCS. And more than any other year, 2022 feels like a new beginning."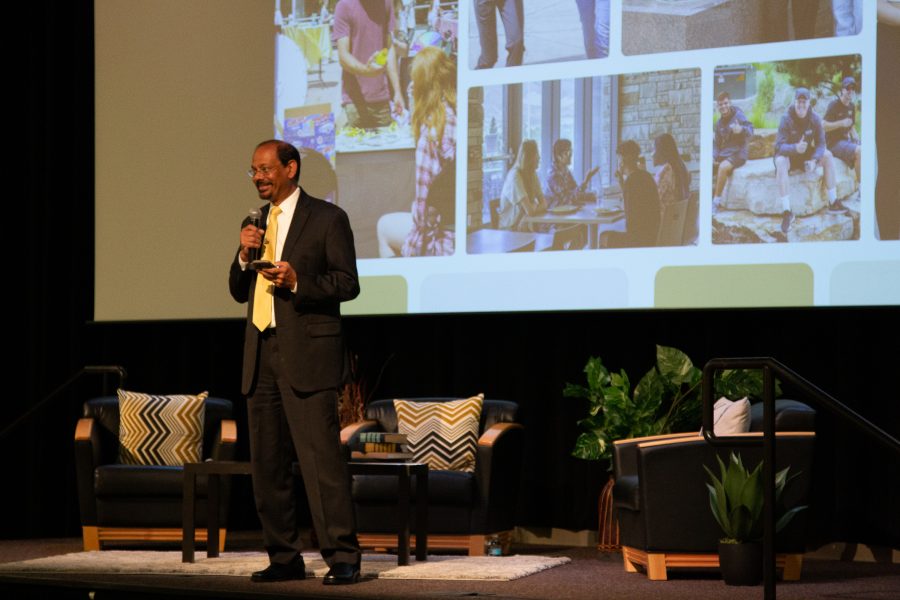 "This past year has brought in both challenges and opportunities," Reddy continued. "We have worked so hard to take the lessons we learned from the pandemic and use them to make UCCS a better place. Now we are seeing the fruits of our labor. I am so excited, and proud, to share what we have accomplished."
Reddy sat down with Chris Valentine, Assistant Vice Chancellor for Marketing and Communications, to review the past year's successes. Reddy and Valentine discussed the return to pre-pandemic levels of activity of community-facing programs, like those at the Ent Center for the Arts and UCCS Downtown.
Then the conversation turned to the present moment at UCCS. Reddy reviewed the ongoing construction of the Anschutz Engineering Center and the university's new incentive-based budget model. He also discussed the continued impact of the Great Resignation at universities like UCCS — and the many institutional changes the university has implemented to address it. Those include six flexible work arrangements, wellness breaks, flex time, meeting-free times on Mondays and Fridays, an institutional compensation analysis, merit increases and one-time bonuses in January 2022, and an upcoming merit pool and bonus for regular faculty and university staff.
A burst of applause greeted Reddy's reminder of free parking for faculty and staff during the 2022–23 academic year, which UCCS funded with the help of the University of Colorado Board of Regents.
Finally, Reddy turned the focus of the conversation to the future of UCCS.
"This campus is good at dreaming, and then making those dreams happen," he remarked. Those dreams include a new nursing and health sciences building, a "wellness village" on North Nevada Avenue, new partnerships with regional community colleges collaborations with fellow CU campuses.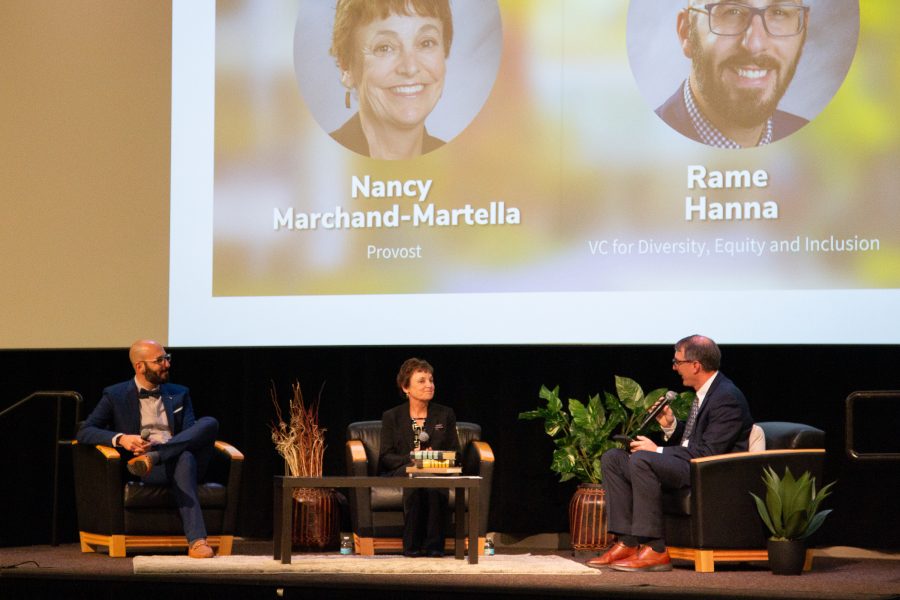 Next, Nancy Marchand-Martella, UCCS' new Provost, and Rame Hanna, UCCS' inaugural Vice Chancellor for Diversity, Equity and Inclusion, took the stage to share their visions for academic affairs and diversity and inclusion at UCCS.
"The spirit of collaboration on this campus is unparalleled," Hanna said. "What I love about UCCS is that all of our efforts are guided by our North Star: everything we do is in service of students, and increasing access and equitable opportunity is central to our university's core mission and values."
Hanna's vision for diversity, equity, and inclusion (DEI) at UCCS, they shared, "is one that is collaborative, innovative, intersectional, dynamic and sustainable. A big part of that is working in partnership to foster a culture of compassion and care for one another — where people feel seen, heard, valued, and feel a strong sense of belonging."
On her vision for academic affairs at UCCS, Marchand-Martella spoke to the role of the Office of the Provost in leading positive change.
"I would like the Provost's Office to be a resource for the rest of campus," Marchand-Martella said. "We're zooming in on faculty development. We're partnering with the Faculty Resource Center to ensure that our faculty, both IRC and tenure-track, are getting support in the area of teaching, so that we can make a difference in the lives of our students. We also want to zoom in on hiring faculty from diverse backgrounds. We want to make sure we're supporting our tenure-track faculty with differentiated workloads. So, we're deeply invested in trying to be as supportive and proactive as possible."
The program then transitioned to answer questions from the audience.
A number of questions centered on UCCS' enrollments, which, like most colleges and universities across the country, dipped in 2022. Reddy shared that although overall enrollment was down, the ratio of UCCS' in-state and out-of-state and international students was highly favorable, resulting in a positive budget for the academic year. Reddy emphasized that student retention and a strong presence of out-of-state students — up to a 70/30 split between in-state and out-of-state students — will be the key to the university's continued success, even as the university continues to prioritize access and affordability for Colorado students.
Reddy also spoke to new collaborations between UCCS and regional community colleges, like Pikes Peak State College and Southern Colorado's two-year institutions. Over the past two years, Reddy has been hard at work creating new transfer agreements and advertising partnerships between UCCS and those institutions. "We need to continue to help our state prosper through collaboration," he said.
Reddy closed with heartfelt thanks to the UCCS community.
"From the bottom of my heart, thank you," he said. "I believe that the UCCS spirit is strong, and that light continues to guide us. There are great times ahead for our campus. Thank you for your dedication. Thank you for your talent. And let's go, Mountain Lions!"
About the University of Colorado Colorado Springs (UCCS)
The University of Colorado Colorado Springs (UCCS) offers 55 bachelor's, 24 master's and eight doctoral degree programs and enrolls about 12,000 students annually. Located in the heart of Colorado Springs, UCCS has a strong student focus and access mission, with a goal of transforming lives for the better. Learn more about UCCS at uccs.edu.