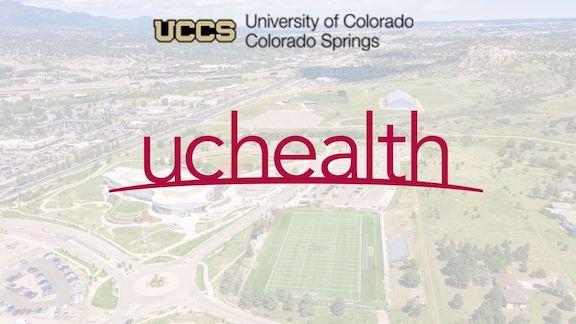 UCHealth is now the Official Health Care Partner for UCCS Athletics for the next five years.
According to the press release on Go Mountain Lions, the five-year partnership, which went into effect this month at the start of the fall sports season, makes UCHealth the Official Health Care Partner for UCCS athletics. UCHealth physicians with expertise in injury prevention, sports medicine and orthopedic surgery will serve as team doctors. Athletes also will be able to receive sports physicals, see primary care physicians and access other health care services, including behavioral health.
"UCHealth is a leader in health care, and we are excited to enter into this partnership," said Nathan Gibson, executive director of athletics at UCCS. "Their motto of 'Live Extraordinary' demonstrates a commitment to serve, treat and care for our student athletes. I'd like to thank leaders at UCCS and UCHealth for pursuing this partnership and believing in our outstanding athletic programs at UCCS. We are also excited to work with an amazing group of doctors including sports medicine experts and orthopedic specialists who will add a great deal to our team."
"We are proud to partner with the athletic department at UCCS. We look forward to helping each student-athlete achieve their best season possible by providing high-quality sports medicine and orthopedic expertise," said Joel Yuhas, president and CEO of UCHealth's Southern Colorado Region. "Our goal for every student-athlete is to stay healthy and injury-free."
Dr. Nicholas Piantanida will serve as UCCS head team physician. As a primary care sports medicine physician, he was vital in rolling out UCHealth's citywide concussion assessment centers and has a passion for developing a culture of safety for athletes. In addition to Dr. Piantandia, orthopedic surgeons Dr. Hanna Mendez, Dr. Ross Schumer and Dr. James Duffey will provide expertise and care to ensure athletes perform to their highest potential.
UCHealth also has a great complement of athletic trainers and physical therapists who will work side-by-side with the physicians to support UCCS Athletics and their vision to positively impact the lives of their athletes.
Members of UCHealth's orthopedic and sports medicine team have served as team physicians for the Broncos, Rockies, U.S. Olympic & Paralympic Training Center, United States Air Force Academy and various high schools across the state. Additionally, Dr. Piantanida and Dr. Schumer have also served as physicians for the U.S. Army and Air Force.
UCHealth is a Colorado-based nonprofit system; In the Pikes Peak region, it includes more than 6,000 employees and four hospitals: Memorial Hospital Central, Memorial Hospital North, Grandview Hospital and Pikes Peak Regional Hospital.
The Mountain Lions will open the 2022-23 with four home soccer matches this week. The season kicks off Thursday evening with two top-10 women's soccer teams facing off. No. 8 UCCS will play host to No. 3 Dallas Baptist University at 7 p.m. at Mountain Lion Stadium, followed by Friday's men's soccer matchup against Rockhurst at 7 p.m. Both teams will continue their home stand on Sunday, Aug. 28 beginning at 12 p.m.
As a member of the Rocky Mountain Athletic Conference, the University of Colorado Colorado Springs competes in 16 varsity sports in NCAA Division II intercollegiate athletics. For more information on UCCS Athletics, go to www.gomountainlions.com.