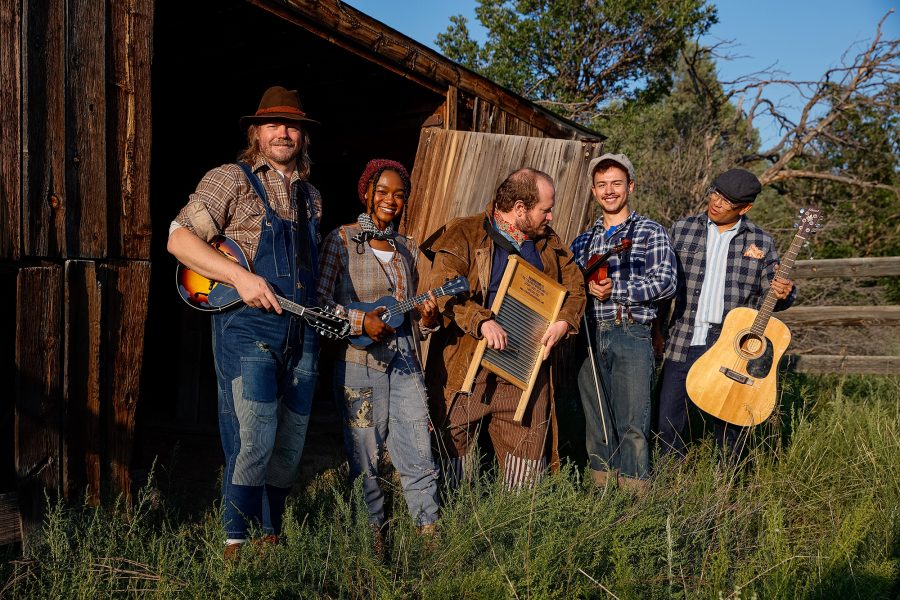 Following two seasons heavily impacted by COVID-19 restrictions and reduced capacity, Theatreworks is thrilled to return to its traditional six-show lineup with the 2022-23 season at the Ent Center for the Arts. Read on to discover a season of local favorites and national artists, all featuring stories of family – those we're born into and those we make ourselves.
If you're excited by this dynamic lineup of classic work, cutting-edge new plays, familiar favorites and more, you can get subscriptions to the Theatreworks season until Sept. 14. Single tickets to all shows in the season are also available now. Go to entcenterforthearts.org or contact the box office at 719-255-8181 for more information and to purchase. As always, tickets are free for UCCS students.
Lumberjacks in Love – Sept. 15, 2022
The 22-23 season kicks off Sept. 15 with "Lumberjacks in Love," the best musical about lumberjacks you'll see this year. This musical, featuring actors playing their own bluegrass instruments, tells the story of five lumberjacks living in semi-unwashed bliss at a remote lumber camp where each day is like the one before — until the arrival of a mail-order bride upends their idyll and shows that maybe all was not as it seemed.
Directed by Artistic Director Caitlin Lowans, with music direction by Jerry McCauley, "Lumberjacks in Love" promises a heart of gold wrapped in layers of cross-dressing, mistaken identities, romantic entanglements, high-country hijinks and, of course, more flannel than Breckenridge in September. The show closes October 9.
Little Women – Nov. 25, 2022
From Nov. 25 to Dec. 18, a favorite literary family comes to life on the Dusty Loo Bon Vivant stage with "Little Women." Revisit Alcott's timeless tale of family, growth and sisterhood through Kate Hamill's fresh stage adaptation. Follow the March siblings' coming of age and reflect on the rousing joys and trials of finding your place: in a family, in a calling, in the world.
This new adaptation pulls themes from Alcott's other writings (including letters and journals) to explore the classic text for a new era, inviting audiences of all generations to see themselves in these characters over again. Directed by Chicago-based Theatreworks veteran Kathryn Walsh, the production arrives to share with your family just in time for the holidays!
If you're interested in a theatrical experience for younger audiences, be sure to check out Winter Wonders, the return of Theatreworks' winter puppet show, running weekend mornings in rep with "Little Women."
Aubergine – Feb. 2, 2023
2023 begins with "Aubergine," a contemporary play by Julia Cho. A Korean-American chef cares for his dying father but struggles to connect. When his uncle arrives unannounced to cook an unexpected meal, they share more through food than they ever could in words. This poignant play explores food as nourishment, not only to the body, but also to our individual heritage and shared humanity.
Performed in English and Korean, and supertitled in both languages, "Aubergine" offers an intimate look at the ways that heritage, food and family can transcend language to share love across all kinds of barriers. This production will be directed by Lisa Marie Rollins of Colorado College, and promises a new perspective on the indelible link between food and family. Aubergine runs Feb. 2 to Feb. 19.
The Half-Life of Marie Curie – March 16, 2023
Starting March 16, the season will move upstairs to the Osborne studio theatre with "The Half Life of Marie Curie." At its core a tale of women's friendship, this play explores the hidden costs of progress and the relationships that hold us up when we can't stand on our own.
Directed by local favorite Sarah Sheppard Shaver, and featuring powerhouse local actors, this two-woman show will showcase the best of Colorado Springs artistic community, in a sharp new play by the most frequently produced playwright in America. "The Half Life of Marie Curie" closes April 2.
King Hedley II – April 27, 2023
Back in the Dusty Loo Bon Vivant theatre, King Hedley II opens April 27. The 1980s installment of August Wilson's acclaimed cycle, King Hedley II follows the title character as he rediscovers relationships with his mother, his wife and his community after a long absence. Examining legacy, destiny and free will, Wilson uses family ties (and long-kept secrets) to ask what most defines us: the blood we share, or the blood we spill?
"King Hedley II" represents Theatreworks' fifth production in the Pittsburgh Cycle, and we're proud to take another step towards completing all ten plays. This production will be directed by local artist and longtime Theatreworks collaborator Marisa Hébert. Witness the power of secrets and family legacy in this powerful offering from one of the 20th century's greatest American playwrights before it closes May 21.
Taming of the Shrew – July 6, 2023
Finally, to round out the season, Theatreworks brings back its beloved tradition of summer Shakespeare with "Taming of the Shrew." Will's original battle of wills, staged in an Elizabethan England every bit as stylized and strict as we always imagine it, with one key difference: this society is a matriarchy. This show reverses traditional hierarchies to breathe new life into the Shrew you thought you knew. Kate and Petruchio, equals in intellect, impudence and perhaps even infatuation learn to balance identity and belonging, with plenty of sniping, head-butting and comic brilliance along the way.
Enjoy the show alongside the beauty of Colorado summers from July 6 – July 30, and keep an eye out for more information on the return of Theatreworks' free touring Shakespeare production with Free-For-All: "Pericles."
About Theatreworks Colorado Springs
Theatreworks Colorado Springs connects, empowers, and delights our communities through diverse performances and educational experiences that are mirrors for ourselves and windows into others. We create in service to our audiences, our staff and artists, the UCCS students and community, and the people of Southern Colorado to envision a better world.
Founded in 1975 by artistic director Murray Ross, costume designer Betty Ross, and an ensemble of passionate artists, today the program is led by artistic director, Caitlin Lowans, who was appointed in 2018 – the same year the Ent Center of the Arts opened its doors to the community. Caitlin brings a passion for education and for community-engaged work, celebrating the diversity of human experience. Learn more at entcenterforthearts.org/theatreworks.
About the Ent Center for the Arts
This first-class arts facility, located on the University of Colorado Colorado Springs campus serves the community as a hub for the arts and an inspiration in academics. The vision for the facility was and is to foster a creative environment to house arts that will serve the Pikes Peak region, allowing artists to inspire and amplify one another rather than compete against one another. Art brings together diverse peoples and ideas in ways no other discipline can, and the Ent Center will be a pillar of the arts community within Colorado Springs. Learn more at entcenterforthearts.org.