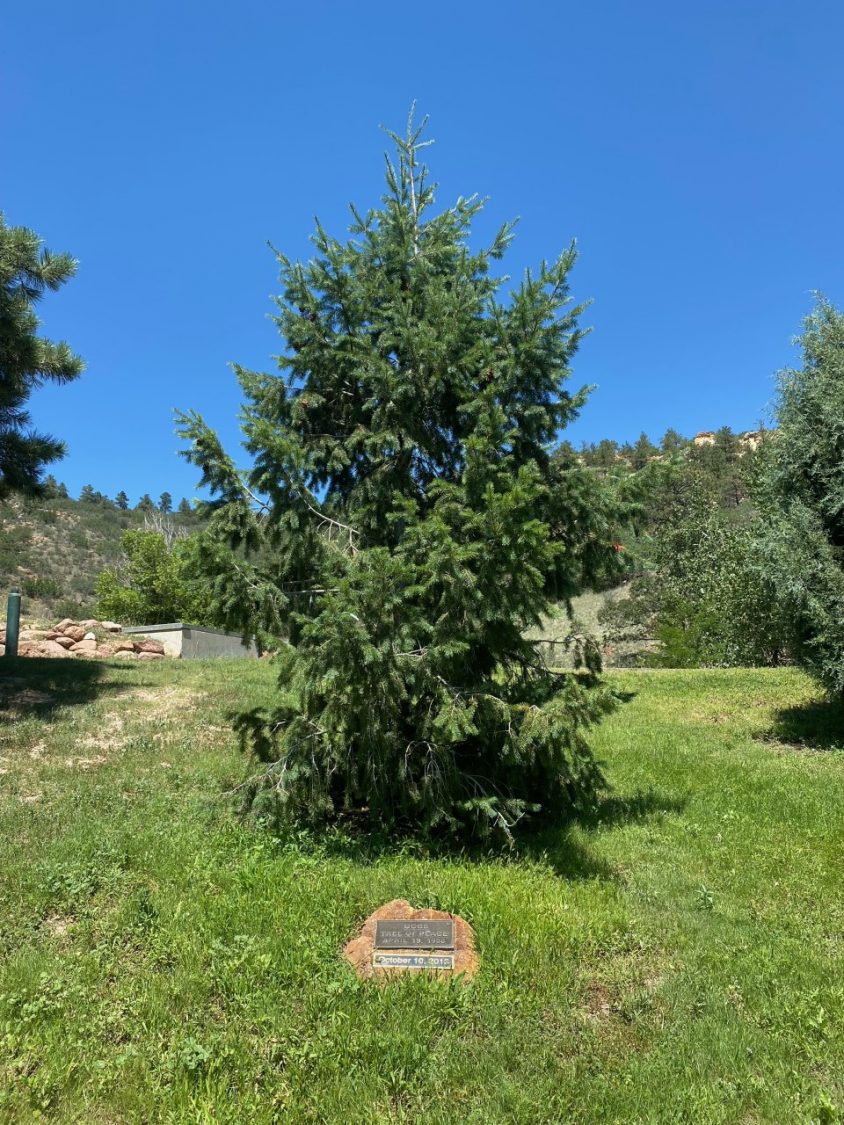 In October 2020 the expansion possibility of the Engineering Building became a reality. On Wednesday, August 3 members of the local Native/Indigenous community were on campus to bless the Tree of Peace on the site ahead of construction starting on the Engineering Annex.
A nationwide program conducted by the Tree of Peace society, dedicated to securing world peace through ceremonial tree plantings, first brought a tree to our campus in 1988; these plantings are a tradition dating back to the foundation of the Iroquois Confederacy, originating in the northeastern part of North America. The planting/rededication of the current Tree of Peace happened in 2013 (the original Tree was located in front of Centennial Hall – it was decommissioned in 2013 and still exists on that site).
In April 2021 Chancellor Reddy started a series of meetings with Native/Indigenous community members, most suggested by Sociology Professor Michele Companion and primarily of the Iroquois Nation (Mohawk) and including 84-year-old Eugene Redhawk Orner who conducted the rededication ceremony during the Tree of Peace planting in October of 2013. The first meeting was to address miscommunication about the timing start of the construction of the Annex and concern of the Tree's future existence, as well as acknowledge conversation with former Chancellor Pam Shockley-Zalabak that the site had been formally set aside for the Tree of Peace. Said Chancellor Reddy, "I learned a great deal more about the Tree and came to a more thorough understanding of the situation during this meeting and made him a promise that we will not relocate the Tree. I have determined, despite not finding any official documentation of previous promises made, that we should honor the word given by the campus and not to relocate the Tree."
Additional meetings provided opportunity for architects to share building annex design options that incorporated the Tree of Peace as part of the design. This was a wonderful collaboration, as the architects were able to get direct feedback from our community members as part of building trust and inclusion.
Unfortunately, Eugene Redhawk Orner was not able to attend the blessing due to a medical issue. With his instructions, Professor Companion performed a modified blessing ceremony for the Tree and the land, including smudging and making offerings to the Tree. Attendees were invited to tie ribbons to the Tree at the end of the ceremony.
"I was honored to be at the Tree of Peace blessing, said Chancellor Reddy. "It was great to see everyone gathering to celebrate this shared experience."