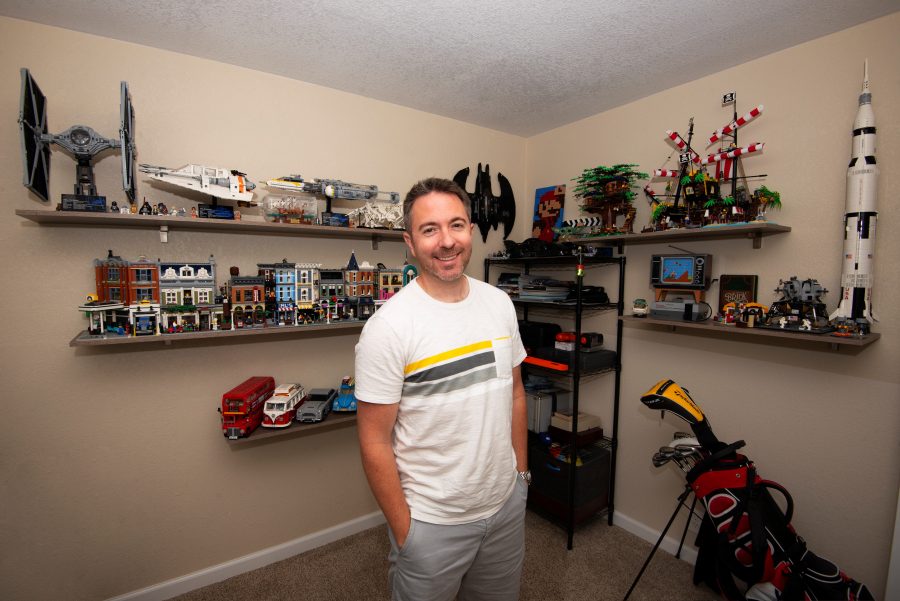 "Meet a Mountain Lion" is a series of stories introducing members of the UCCS community to campus. Meet Zak Kroger, Director of the UCCS Downtown Site.
1. Tell us about your background, and what brought you to UCCS.
I am originally from Tieton, which is a tiny apple orchard town in Washington state. I attended Central Washington University, and for a good chunk of my time there, was an RA, which I loved! After I graduated, I attended Vancouver Film School — something I had wanted to do since I was a kid. It may come as a shock, but the film industry turned out to be a bit sketchy and exploitative…which is not my style.
I then had to decide what to do with my life, job-wise, and seeing as how I had loved my RA job, I ended up getting a Hall Director job at Landmark College in southern Vermont. I did that for a bit, and (long story short) eventually ended up at Colorado College (CC) in August 2011, working in residence life as well. It was a BLAST, and it cemented my love for higher ed.
During my 10 years at CC, I was promoted a number of times, and eventually ended up in the President's Office. As cool as that was, I am a big people-person, and thrive in people-facing positions. I felt like I had done all I could at CC, and in October of 2021, accepted a marketing position at Nunn Construction (who built CC's new hockey arena). Nunn was an incredible place with wonderful people, but I realized I had gone from a non-people-facing position to another non-people-facing position. I then heard about the Downtown Site Director position, and the more I looked into it, the more exciting it seemed. The chance to be back in a people-facing role, working with students, staff, faculty, alumni, and community members was too good to pass up. It sounded like it touched on everything I was both good at, and enjoyed doing, which is such a rare thing to come across.
I was absolutely over the moon when Dean George Reed called to offer me the position. I honestly don't think I have ever been so excited for a job, which is a great feeling to have!
2. What do you do at UCCS?
The UCCS Downtown Site is the front door of the university. My job is to ensure that it is a space that is utilized by every member of the UCCS community (students, staff, faculty, alumni, etc.) as well as a space that is seen by the greater Colorado Springs community as a resource and location to host events, have meetings, and help contribute to the growing downtown culture.
3. What do you love about UCCS?
I realize this is likely cliché, but the people. Relationships are the most important thing to me in my life, and I work hard to develop and maintain them. People in higher ed are always so kind, passionate, and just truly wonderful. It always impresses me just how willing everyone has been to help me. So many people have already reached out to say hi and offer to help if I need it. It has been awesome to feel so welcome!
4. What are you working on right now?
I am currently trying to drink from a fire hose! My main goal is to get a strong understanding of how UCCS is structured — a university is WAY different than a small private college. Learning the ins and outs of who to talk to about certain things is something I am trying to get a grasp on. A lot of that has taken the form of just reaching out to people in order to introduce myself. On the flip side, I would LOVE if anyone reached out to me wanting to collaborate.
The other big goal is to get UCCS Downtown back up and running at full capacity. A lot of that means doing things like updating the website so people can start reserving spaces, brainstorming about how to continue integrating community partners, start meeting with various groups and organizations, and help utilize the space in order to fulfill the mission of the university by serving our students and greater community to the best of my ability.
5. What energizes you at your job?
Praise! But really, I love meeting new people, being able to help people get the most out of something, and feeling like I am helping others have a positive, meaningful, enriching experience.
6. What's an accomplishment you're proud of?
This is going to sound so silly. But for four years, I oversaw the predominantly freshmen residence hall at CC, Loomis. Of the three "dorm-style" buildings, it's the oldest, smelliest and most in need of a facelift. Despite that, I was able to create an incredibly tight community that was unrivaled on campus (ask Anna Squires and Beckie Pyles Muñoz — they were there and can confirm). I feel like I was able to have a massive impact on the lives of so many freshmen students, and was extremely proud of the community, programs, and engagement that I was able to build.
The popularity got to the point where incoming freshmen would request to live there (despite it not being as nice as other buildings). The residents were often accused of group narcissism, and I was teased/accused of being a cult leader HAHAHA! When the college would do yearly student feedback surveys, Loomis always had a response percentage rate in the high 90s, which is simply unheard of with such things.
Anyway, I could go on and on about how proud I am of that work, but I am probably being annoying already. Suffice to say, being able to help people have a wonderful and unique experience is extremely important to me, and I am excited to bring that same energy to this current position (minus the cult leader accusations)!
7. What's a goal you have for the future?
To go to Prague. I loooove the architecture, and planned to go during the summer of 2020, but then COVID hit. I was going to also go between my CC and Nunn jobs, but a friend of mine who is from there cautioned against it, as things were still a bit dicey, COVID-wise.
Prague has existed for a LONG time, so I am optimistic it will continue to exist for another year or two, and that I will be able to check it out!
8. What do you do with your free time?
I dabble in photography, graphic design and video production, and often volunteer such skills for small, local non-profits. I like to play golf and chess (though I'm bad at both). I am a big movie nerd, so love watching movies. I take the (very pretentious) position that movies are made to be watched more than once, as they are art — not just entertainment. (Well, SOME movies are art!)
I also read a bunch, and am a huge nerd for anything cognitive science related. Psychology, neuroscience, linguistics, critical thinking, and philosophy of mind are my JAM! Basically, the brain is the most complex and interesting thing in the universe (according to the brain). I am also a huge fan of New Testament history.
I also enjoy finding new places for happy hour, making dinner with friends, and thinking of stupid jokes/puns. Such as: what do food critics call their friends? Taste buds!
Lastly, I love doing LEGO sets…'cause I'm an adult and can do what I want. People often tease me until they see them, and then are like "This is awesome!"
9. What's the best compliment you've ever received?
This is going to sound so dumb, but about a year ago, a couple articles were written about me, stating that I created the best Tinder profile of all time. I THINK that's a compliment. At least I took it as such, and was very flattered to be told such a thing!
Back in my residence life days, a number of students told me I gave the best presentations they had ever seen, which made me feel really good. I try hard to make even the most boring topics interesting and fun.
Do you know a Mountain Lion that UCCS should meet? We want to hear all about them! Invite them to share their story, and we'll tell it to the UCCS community.