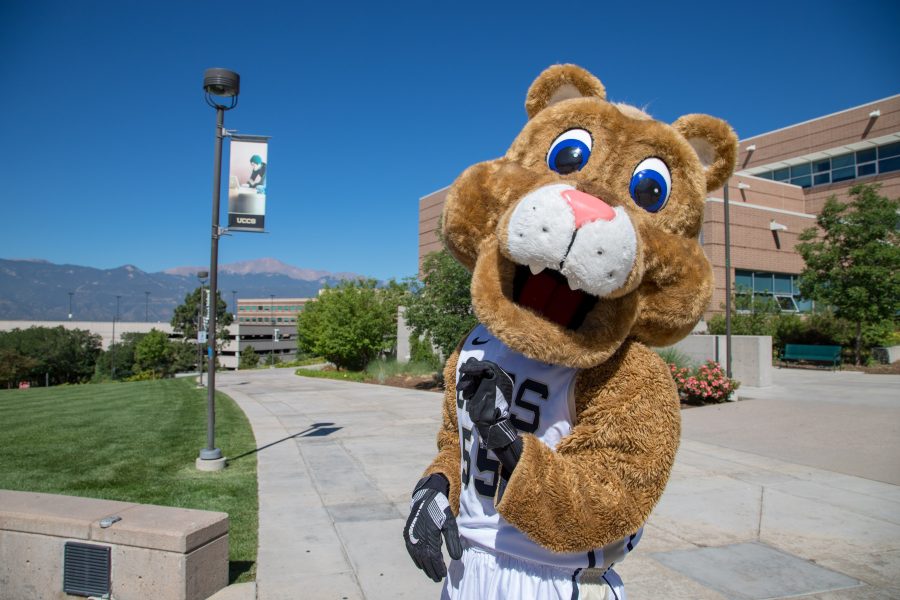 Lions, hawks and giraffes, oh my! (And prospectors, and gamblers, and gibbons…)
UCCS has a surprisingly storied mascot history.
The Kraemer Family Library currently houses a great display of this history, summarizing the saga of UCCS symbols that began back in 1934. This display runs through the end of September, so check it out in the next two months.
The beginning of mascots for the University of Colorado takes us all the way back to 1934, when the CU student newspaper "Silver and Gold" held a contest to decide on a mascot, with five dollars going to the winning submission. Previous contests had been held, though none of the choices from these caught on, with submissions like "Silver and Gold," "Wolves," "Yellow Jackets," "Fifty-niners," (a nod to Colorado's mining past), "Grizzlies" and more.
Entries for the 1934 contest were diverse, from straightforward suggestions like "Boulders" and "Flatirons" to more ludicrous ideas such as "Puddle Jumpers" and "Submarines." One passionate submitter included a fourteen-page letter explaining why "Lions" was the best choice and though this wasn't enough to sway the committee, perhaps the eventual adoption of "Mountain Lion" would vindicate that student's efforts. From over 400 considered entries, the committee chose the now well-known "Buffaloes," submitted by Andrew Dickson of Boulder.
Though the buffalo has endured as the mascot for CU Boulder, UCCS students wanted their own colors and mascot as they officially became a separate campus from Boulder in 1972. Students chose "Mountain Hawks" in 1986 after polls to determine a new, separate mascot. In June 1987, Chancellor Dwayne Nuzum, along with other UCCS officials, proposed to CU regents that UCCS be allowed to fly the coop and officially become the green and white Mountain Hawks. The regents ultimately decided against allowing an official change and instead suggested UCCS adopt an unofficial spirit symbol to retain ties to CU.
In October 1987, following the regents' ruling, UCCS athletics teams officially became CU Gold. "Gold" beat out the other top choice of "Springs," in part because Student Government felt Gold would be easier to symbolize, for which a prospector spirit symbol was suggested.
While CU Gold had been established as the title for UCCS athletics, they still needed a spirit symbol. To allow for student input, UCCS Student Government held a vote in December 1990 with five options – accompanied by illustrations that can be seen in the library – on the ballot: Fighting Longnecks (for which the example sketch includes a surprisingly buff giraffe), Eagles, Prospectors, Gamblers and Gibbons.
Results from this poll were released in the January 1991 issue of "The Scribe" with the Fighting Longnecks as the winning choice, with a giraffe costume to be worn at sporting events. This spirit symbol's popularity varied over the years, as some students and staff loved it while others felt it was a bit of a "Stretch."
In hopes of strengthening the UCCS name and identity, "Project Mascot" was formed in 1997 to find a new spirit symbol that better represented the university and athletic programs. Student input was encouraged, with the decision ultimately left up to representatives from various organizations on campus.
By 1998, a ballot asking students to vote on changing the mascot to a Mountain Lion was circulated by Student Government, with an overwhelming majority voting yes. The next year, CU Gold officially became the Mountain Lions.
A few years later in 2003, Student Government asked students to once again help make a mascot decision. While Mountain Lions had been established, complete with an adoption of Dakota the Mountain Lion from the Cheyenne Mountain Zoo, they needed a name for the costumed mountain lion. Ballots poured in with "Boomer" emerging victorious and debuting at the 2003 Fall Fest on October 4.
Boomer lived a long life as the UCCS mascot before passing the torch to our current Mountain Lion, Clyde, in a name-change election in 2011, based on the adoption of Clyde the "real" mountain lion from a local sanctuary.
For a short time, both Clydes could be seen attending various campus events when the non-costumed version was up for it. The "real" Clyde resided for a few years at a local wildlife sanctuary before being relocated to Wildlife Rescue & Rehabilitation in Texas where he now can lounge and prowl in retirement among 4.5 acres of nature, complete with a rocky bluff perfect for mountain lions. Though he can no longer attend UCCS events, costumed Clyde and the mountain lion statue on campus serve as great reminders.
Such is the (mascot) circle of life.
Check out the display now through September, located in the Kraemer Family library on the third floor. The display was compiled by Mary Rupp, Archives Librarian. You can view past displays here.
About the University of Colorado Colorado Springs (UCCS) 
The University of Colorado Colorado Springs (UCCS) offers 55 bachelor's, 24 master's and eight doctoral degree programs and enrolls about 12,000 students annually. Located in the heart of Colorado Springs, UCCS has a strong student focus and access mission, with a goal of transforming lives for the better. Learn more about UCCS at uccs.edu.