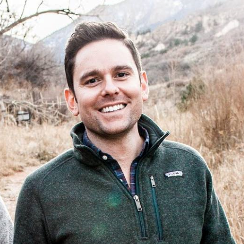 In the IT and development world, the front end gets all of the attention. It's the final product – the graphics, color palette, navigation, images and more that create a visual experience for the end user. But it's the back end where the magic happens – where professionals like Senior Associate Registrar Todd Casey work behind the scenes to ensure that the final product delivers more than just eye candy. While Casey prefers to stay behind the scenes, we're pulling back the curtain long enough to recognize him as the Employee of the Quarter.
Casey is in his 15th year at UCCS, where he started as a temporary worker in the registrar's office before working for more than four years as an academic adviser. He is in his tenth year in the registrar's office, where he serves as a liaison between university information systems and UCCS students, faculty and staff. Or, as one of his nominators refers to him: Director of When Things Don't Seem Quite Right.
"Starting in the registrar's office was huge in terms of understanding academics and interdepartmental business processes and student records from admissions through graduation," Casey said. "And then working with students on a daily basis in student advising and academic departments was great for getting to know academic regulations and helping students get to graduation. You have to work and rely on so many people across the campus in each position."
Casey's understated approach to solving problems is important when handling complex issues. "I always ask a lot of questions, be patient, and make sure I understand what the user's need is," he said. "I want to put it in terms that make sense to the everyday user rather than use system lingo that makes zero sense to anybody. I don't like being that guy."
And while his approach is understated, it doesn't go unnoticed. His genuine commitment to helping the campus community was noted by multiple nominators.
"Regardless of the nature of the situation, when a colleague seeks Todd's input or assistance, they are enlisting a partner who is equally invested," one nominator wrote. "While much of Todd's work is at the system and campus level, he never loses sight of how it can directly and meaningfully impact individual students."
It's a sentiment that Casey echoes in his own comments: "I just do the work because it's about the students and helping faculty and staff do their jobs. My approach is always, 'How does everybody win, myself included,' and I go from there."
For Casey, a lack of recognition is a feature, not a bug, of his position as Senior Associate Registrar. "That's one thing I like about my current position is that it is very behind the scenes, and I know people don't always understand the projects and how much work goes into them, so I really don't think about the recognition," he said.
We hope Casey forgives us for his brief time in the spotlight, but he's clearly more than deserving of UCCS Employee of the Quarter.
About the Employee of the Quarter Award
The Employee of the Quarter program is designed to promote and reward outstanding performance by staff at the university. In recognition of his efforts for UCCS, Casey will receive one day of administrative leave, a $100 stipend, three months of a free and reserved parking space and a $40 voucher to the UCCS Bookstore. Congratulations, Todd!
Do you have a colleague whose extraordinary efforts at UCCS deserve to be recognized? Nominate them for the Employee of the Quarter award.