The future of cancer research will be localized and non-invasive, says Bob Camley, Chair of the Department of Physics at the University of Colorado Colorado Springs (UCCS). And he's been awarded a Fulbright Scholar Award to the University of Newcastle in New South Wales, Australia to develop methods that could make it possible.
Camley, a Distinguished Professor of Physics at UCCS, is also the Director of the UCCS BioFrontiers Center, which is dedicated to research collaborations between multiple disciplines to improve bio-technology and address health issues. And in the spring 2023 semester, he will temporarily relocate to the University of Newcastle to pursue research in magnetic nanoparticles — tiny, magnetic materials that could nevertheless revolutionize cancer therapies.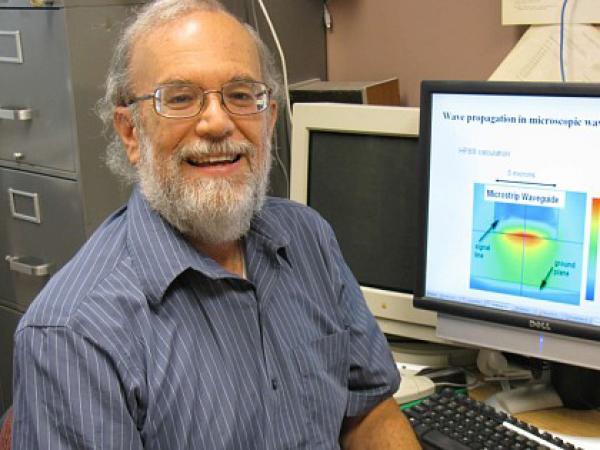 The research Camley will pursue is related to localized hyperthermia treatments. Cancer tumors begin to die at about 45 degrees Celsius, Camley explained — significantly hotter than the human body, which rests at about 37 degrees Celsius. Current hyperthermia treatments heat human body tissue to temperatures that cause cancer tumors to die. But issues arise when the tissue and bone around the tumor heat up too much: treating cancer tumors with heat near the skull, for instance, can cause the brain to overheat as well.
Camley's Fulbright research will study how to localize the treatment more narrowly than existing methods by injecting magnetic particles into the tumors themselves, then heating them with low-frequency oscillating magnetic fields. The fields, like radio waves, can heat the magnetic particles, but pass harmlessly through the rest of the body.
"Most cancer treatments today are either chemotherapy or conducted with a scalpel. Chemotherapy is brutal because it kills the human body — it just kills cancer tumors sooner," Camley explained. "The idea we're pursuing in our research is to create directed mechanisms for killing only what we want to, which is the cancer tumor, rather than the rest of the body."
The concept sounds simple in theory, though Camley stresses that there are difficulties in the line of research. One of the main challenges is to characterize the magnetic nanoparticles correctly, in order to create a uniform set that will respond evenly to the same frequency. That's why Camley's research will focus on techniques to analyze the nanoparticles more precisely — and it's where his long-time collaborator, Karen Livesey, comes in.
Livesey, a former Professor of Physics at UCCS who now teaches in the School of Information and Physical Sciences at the University of Newcastle, specializes in magnetic nanomaterials. She and Camley, both theorists who focus on biomedicine, will spend the duration of the project working to solve the scientific (and practical) questions the research poses: from characterizing the nanoparticles, to studying how to rid the body of them after the treatment.
Many researchers are studying how to use temperature in cancer treatments, Camley noted — in fact, Medicare has billing and coding information for freezing cancer tumors, though none exist for heating them. He is excited about this line of research because it's focused on less invasive techniques, ones that damage cancer tumors rather than tissue, and cause fewer side effects than full-body treatments like chemotherapy. He is also excited because the research he and Livesey are pursuing could help to push related cancer treatment methods forward, too.
"We're trying to make tools available so that the new treatments that are starting to become more popular can improve — so there are better ways to measure temperature, better sets of particles to heat tumors, and so on," Camley said. In fact, he's already pursuing related biomedical research, like new methods to measure temperature for MRI-guided surgeries, with UCCS collaborators Zbigniew Celinski, Distinguished Professor of Physics, and Janusz Hankiewicz, Senior Research Associate in the UCCS BioFrontiers Center.
"I see the future as being localized treatments of cancer that don't impact the entire body, that only impact a small region where the tumor is, and might not even require cutting into the body to do it," Camley said. "You could say we're not even on the cutting edge of this research. We're way ahead of the cutting edge, in the sense that we're trying things that are not ready for prime time yet. But five years from now, it could be an entirely different story."
About the Fulbright U.S. Scholar Program
The Fulbright U.S. Scholar Program offers more than 400 different opportunities to teach, research and conduct professional projects in over 135 countries. Opportunities are available for higher education faculty and administrators as well as for professionals outside of academia, artists, journalists, scientists, and independent scholars. UCCS faculty, staff and students interested in learning more about Fulbright awards should contact Mandy Hansen in the Office of International Affairs.
About the University of Colorado Colorado Springs (UCCS)
The University of Colorado Colorado Springs (UCCS) offers 55 bachelor's, 24 master's and eight doctoral degree programs and enrolls about 12,000 students annually. Located in the heart of Colorado Springs, UCCS has a strong student focus and access mission, with a goal of transforming lives for the better. Learn more about UCCS at uccs.edu.