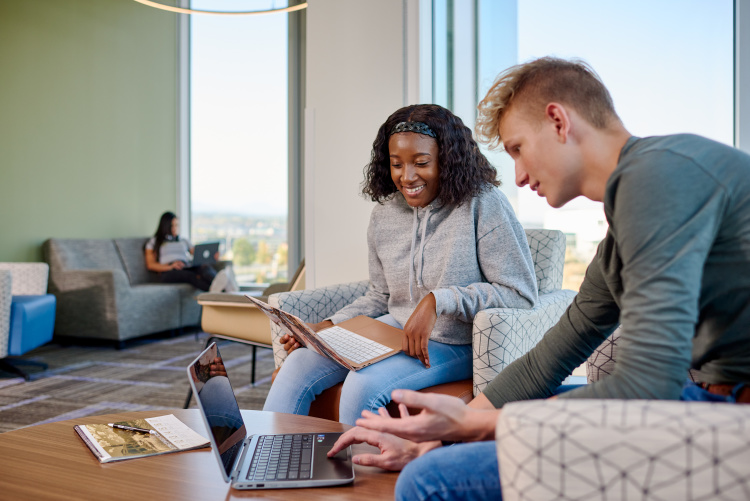 Using funding from a $300,000 CU Next award, UCCS will work alongside CU Boulder and CU Denver to pilot a new Learning Assistants program to bring peer tutoring to UCCS classrooms.
Learning Assistants are undergraduate students who collaboratively tutor fellow students after extensive and ongoing pedagogical training. They work directly with students within their specific disciplines, offering lecture and laboratory support, and often checking in with students to build a sense of community over the course of the semester. Originally launched at CU Boulder, then implemented at CU Denver, the program will next expand to UCCS to engage undergraduate students in facilitating and improving the learning experiences of their peers.
The project team will be led by Laurel Hartley, Associate Professor of Integrative Biology at CU Denver, Valerie Otero, Professor of Science Education at CU Boulder and David Weiss, Associate Professor of Chemistry and Biochemistry at UCCS.
The team plans to pilot the Learning Assistants program within the Department of Chemistry and Biochemistry at UCCS. In successive years, the program will expand to additional departments within the College of Letters, Arts & Sciences at UCCS, including the Department of Geography and Environmental Studies and the Department of Philosophy. To support Learning Assistants' ongoing professional training, the team plans to create a cross-campus CU Teaching and Learning course. The course will equip prospective Learning Assistants with pedagogical and technological skills to support their peers' learning.
"Learning assistants work directly with students as peers in order to build a sense of belonging, support student success, and ultimately improve retention and graduation rates," said Weiss. "We hope that the outcomes observed at Boulder can be expanded on here at UCCS with our diverse group of students in multiple areas of study."
Additional team members include Robert Talbot, Associate Professor of Science Education at CU Denver; Raphael Sassower, Professor of Philosophy at UCCS; Cerian Gibbes, Associate Professor of Geography and Environmental Studies at UCCS; Betsy McIntosh, Associate Director of Learning Assistant Development at CU Boulder; and Laurie Langdon, Co-Director and Research Associate for the Learning Assistant Program at CU Boulder.
"What started as a casual conversation between Cerian Gibbes and Laurel Hartley, newly selected President's Teaching Scholars, at the program's last spring retreat, turned into a full-fledged inter-campus collaboration under the mentorship of Valerie Otero, another President's Teaching Scholar," said Sassower. "It shows that expertise from one campus can be easily transferred to other campuses with minimal costs and great outcomes."
The project was funded by the CU Next Awards, which provide up to $300,000 in funds for innovative, technology-focused faculty projects. Learn about the 2022 CU Next Award recipients online.
About the UCCS College of Letters, Arts & Sciences
The College of Letters, Arts & Sciences at UCCS is the university's largest college, enrolling nearly 6,000 students across 21 departments and programs. The college offers 19 majors and 53 minors in the arts, humanities, social sciences and natural sciences. Students can also choose from five accelerated bachelor's and master's degrees, nine full master's degrees and three Ph.D. degrees, as well as pre-medical and pre-law programs. The mission of the college is to position graduates for success in their personal and professional lives, with a focus on thinking, creating and communicating — skills vital to employers and graduate and professional schools. Learn more about the College of Letters, Arts & Sciences at UCCS.