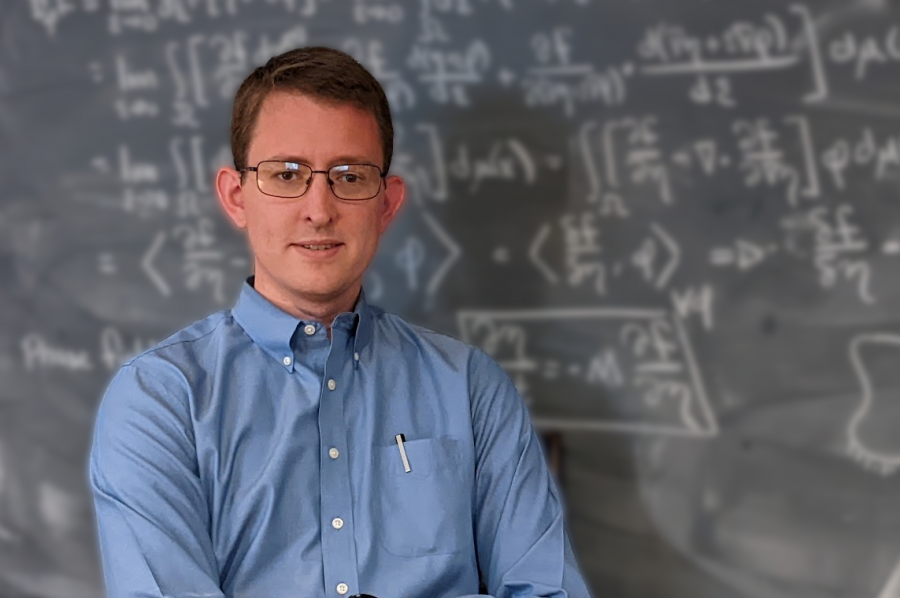 Have you ever seen a commercial showing a computer simulation of what happens when a car crashes? That simulation is an example of computational solid mechanics: using a computer model to predict how a material or object will behave, without having to run an expensive or dangerous test. Brandon Runnels, Assistant Professor of Mechanical Engineering at UCCS, wants to take it a step further — using artificial intelligence to identify why and how materials break, in order to make the world a safer place.
Runnels has been granted a National Science Foundation CAREER Award, one of the most prestigious awards available to early-career academics, to develop faster and more reliable techniques for assessing damage likelihood in materials. The project, called "CAREER: A Multichannel Convolutional Neural Network Framework for Prediction of Damage Nucleation Sites in Microstructure," has been funded with more than $500,000 over five years.
"How long can a bridge last before it is at risk of collapse? Or how can we design lightweight materials that will resist catastrophic failure when impacted by space junk or bullets? We've understood these questions for a long time, but we still have a very difficult time predicting when failure occurs," Runnels said. "With this project, we'll use 'computer vision' technology, combined with materials science models, to create a tool that can quickly and accurately identify failure risk in materials."
Like Geordi La Forge's VISOR in Star Trek, Runnels explains, which allows La Forge to see beyond the visible electromagnetic spectrum, the technology will be able to "see" subtle trends in materials that are invisible to the naked eye. Eventually, it could provide a way to rapidly screen materials to assess their safety.
These technological advances affect the very fabric of our lives: "Structural materials affect everything from the cars we ride in, to the military armor protecting the soldiers keeping us safe. Many engineering disasters that we read about in the news can be traced back to structural material failure — a fatigue fracture causing a jet fan blade to break, or a high-speed impact with a piece of foam fatally damaging the heat shield on the Columbia space shuttle. Even though some disasters are the result of human error, others are the result of our limited understanding of how and when materials fail."
"So," Runnels said, "making sure materials behave properly is very much a matter of life and death."
In addition to the technical aspects of the project, a key part of the CAREER Award is to make a broader impact by combining research and education. Runnels plans to develop an online environment called "Solid Genius," where users can learn about machine learning and mechanics.
"One of our goals is to make our research accessible to a non-technical audience," Runnels said. "This includes children who may be considering a career in STEM, and also 'citizen scientists' — people in the community who are not trained as scientists but have an interest in scientific research. They will be able to interact directly with our model, using it to design their own microstructures and make their own predictions."
Runnels is looking forward to expanding his research focus into the rapidly advancing world of machine learning, and applying it to the real-life problem of damage assessment.
"My research goals for the future involve the continual pursuit of fundamental knowledge to advance the fields of solid mechanics and materials science," he said. "While my research group has a broad range of interests ranging from microstructure evolution to solid rocket propellant, they all follow the common theme of developing computational methods to solve problems in solid mechanics."
But, he added, "One of the exciting things about research is that you can never know too far in advance where it will take you."
Runnels now joins an exclusive list of early-career faculty who have earned NSF CAREER Awards during their time at UCCS, including Michael Calvisi, Department of Mechanical and Aerospace Engineering, and Gedare Bloom, Department of Computer Science.
---
About Brandon Runnels, Assistant Professor of Mechanical Engineering
Runnels directs the Solid Mechanics Research Group at UCCS, which conducts cutting-edge research at the intersection of computational physics, mechanics and materials science. Visit the research group's website to learn more. Learn about Runnels' CAREER award through the National Science Foundation website.
About the UCCS College of Engineering and Applied Science
The College of Engineering and Applied Science enrolls more than 1,700 students and offers 23 engineering and computer science degrees, ranging from bachelor to doctoral. The college is a National Security Agency Center of Academic Excellence in Cyber Defense and works closely with the National Cybersecurity Center and with more than 250 aerospace and defense, information technology, cybersecurity and engineering organizations in the Pikes Peak region. Learn more about the College of Engineering and Applied Science at UCCS.