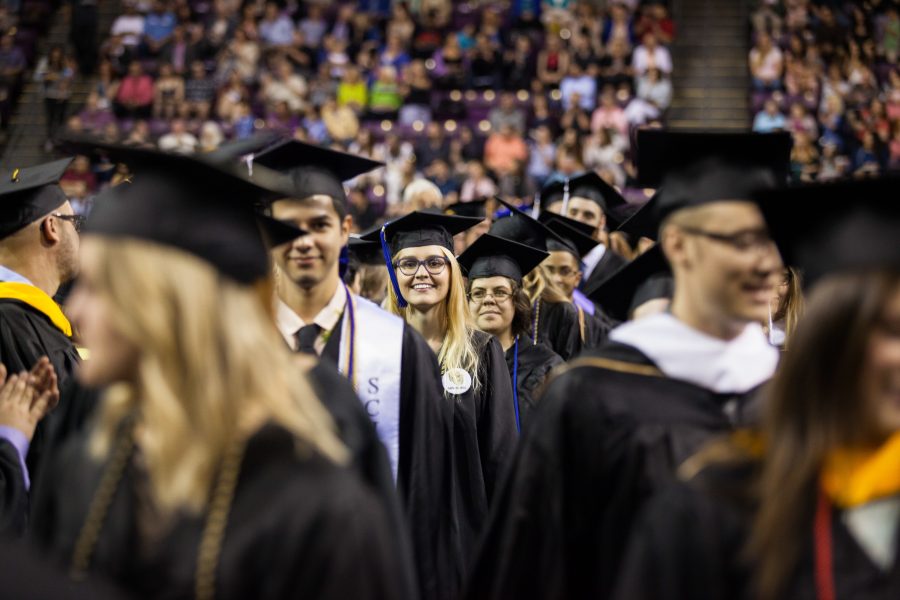 When the first Bachelor of Social Work and Master of Social Work graduates cross the Commencement stage at the University of Colorado Colorado Springs' May 13 ceremonies, they'll be the cause of celebration for many — and not just their families.
The graduation of these 29 students represents a win for Colorado Springs social service programs, counseling centers, psychiatric hospitals, criminal justice facilities and the many Colorado Springs community members who benefit from community services.
Launched in fall 2020, the UCCS Bachelor of Social Work (BSW) and Master of Social Work (MSW) programs were an immediate success. Two years in, the BSW program, part of the UCCS School of Public Affairs, had surpassed its five-year enrollment projections.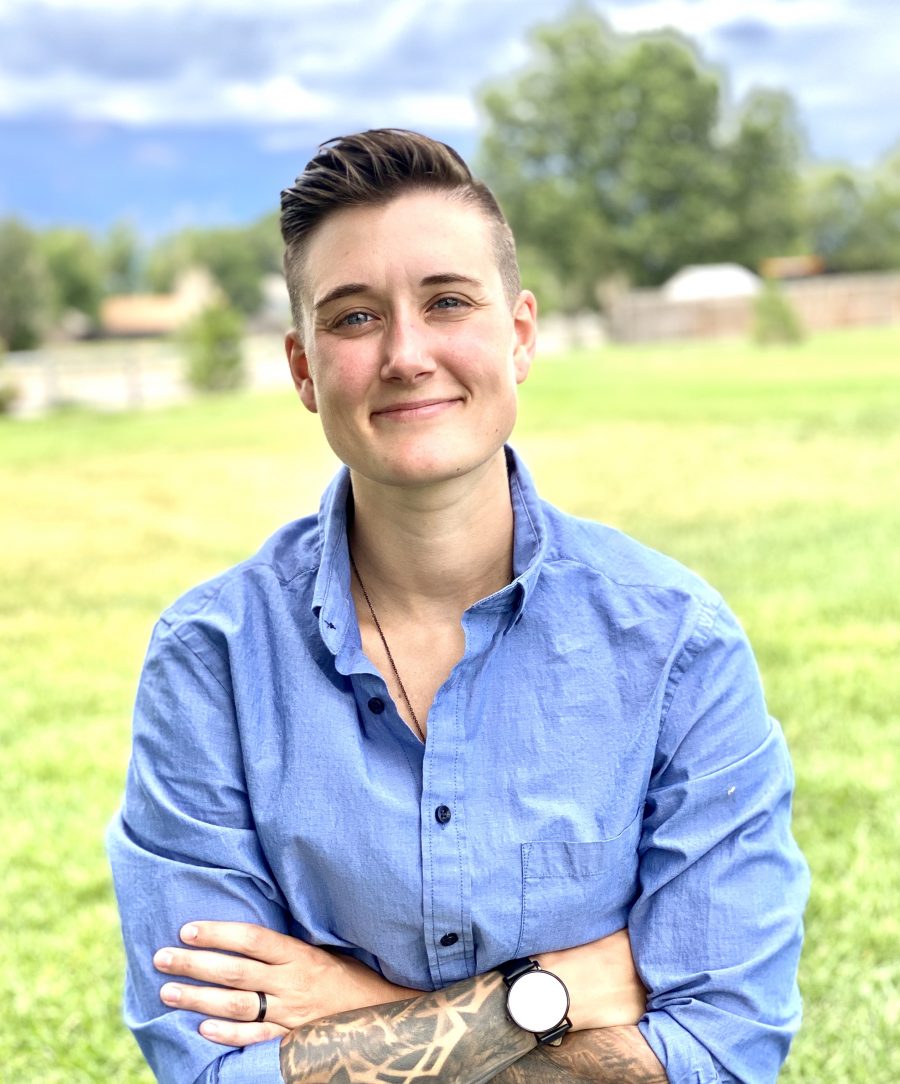 The program's draw hinges on its practical, hands-on skills, as well as the potential to create positive change for individuals, communities and even entire systems. That was the case for Amber Wilson, a U.S. Air Force veteran who was searching for purpose and meaning in civilian life.
"I tend to be very existential in life about my purpose, and social work grounds me," Wilson said. "It is rooted in social justice, advocacy, human rights, theory, ethics, placing people first to empower them and giving oppressed populations a voice. Pursuing my MSW at UCCS became the only option that made sense to me, so I can utilize my past life experiences and education to make meaning and change in this world."
For Wilson, the program has been both life-changing and humbling.
"This MSW program is not your typical higher education experience," Wilson said. "It will force you to look inward. It will force you to challenge your views, call upon yourself to rise and do better, be better, to recognize your privilege, and to also recognize the need for grace and self-compassion. It's been an honor to be part of the first MSW cohort at UCCS."
For Noah Ruybal, named the Outstanding Bachelor of Social Work student of his graduating class, the reasons to pursue a career in social work are personal.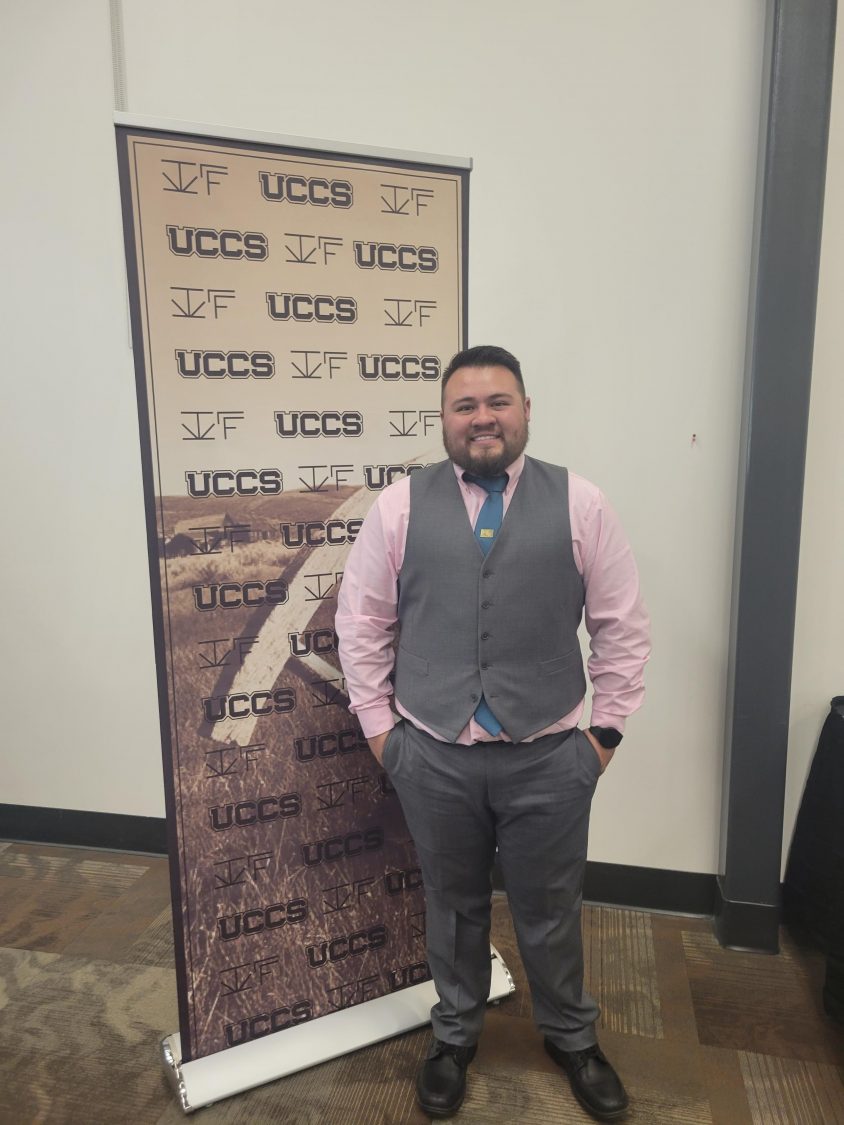 Ruybal remembers a childhood marked with mental health struggles — but also the help of a long-term social worker, who served as his counselor for more than a decade.
"When she retired and closed her practice, I thought, 'I want to help at least one person the way she helped me,'" Ruybal said. "A licensed clinical social worker is recognized through Medicare, but a licensed professional counselor generally isn't, and I wanted to be able to help as many people as I could. I chose social work so I could have more access to help more people."
The BSW and MSW programs at UCCS are both rigorous. In addition to four years of coursework, BSW students at UCCS perform 400 hours of field work at local social service agencies. MSW complete more than 900 hours of field work. Together, the graduates of the two cohorts served in schools, libraries, the child welfare system, local psychiatric hospitals and criminal justice facilities — and completed nearly 20,000 hours of field work for the benefit of the Colorado Springs community.
Stephanie Gangemi, Clinical Assistant Professor and director of the Bachelor of Social Work program at UCCS, knows that the graduates of both programs will go out into the world and make a difference.
"As communities around the country experience a growing need for social workers, we are proud to launch our inaugural graduates," she said.
"UCCS Social Work has trained these first cohorts of students to integrate the skills for developing helping relationships, theories on human behavior and perspectives on social policy, all while considering power, privilege and social difference. They have succeeded in completing their coursework and field placement practice through these times of unprecedented challenges, and will head out into our communities to use their knowledge and skills to make a difference."
Indeed, Wilson and Ruybal are already poised to create positive change in the Colorado Springs community.
As Wilson works toward her clinical license in social work, she's accepted a position as a therapist for Mindful Springs Counseling, where she will provide treatment for trauma, eating disorders, body dysmorphia and more.
Ruybal has been accepted to UCCS' Master of Social Work Advanced Standing Program, and will continue to work for Community Corrections in substance abuse recovery. As he works to become a licensed clinical social worker, he's also planning how to achieve his long-term dream: to open an animal rescue center that incorporate rescues into animal-assisted therapy.
For Catherine Simmons, Professor of Social Work and director of the MSW program at UCCS, the graduates of both programs showcase the kind of grit that will help them to be successful in their careers.
"Especially because we are a new program that launched during the pandemic, we are proud of the amazing work and strong resilience shown by every one of the UCCS Social Work graduates," Simmons said. "Our first cohort of trained social workers are excited to use their knowledge and skills to improve our communities, and make a difference in the lives of the clients they serve."
About the UCCS Spring 2022 Commencement Ceremonies
The UCCS spring 2022 Commencement ceremonies will celebrate degrees conferred to more than 1,500 graduates. More than 1,200 will attend the morning and afternoon ceremonies at the Broadmoor World Arena on May 13, 2022, along with family and friends. See the full Commencement program online. View the livestreamed ceremony on YouTube.
About the UCCS School of Public Affairs
The UCCS School of Public Affairs is one of the premier schools of public administration in the Rocky Mountain West. Its relevant and flexible programs prepare students for leadership in the public and nonprofit sectors, including criminal justice and social work. The School of Public Affairs offers both traditional and accelerated undergraduate and graduate programs, with options to earn dual degrees and graduate certificates. Learn more about the School of Public Affairs at UCCS.