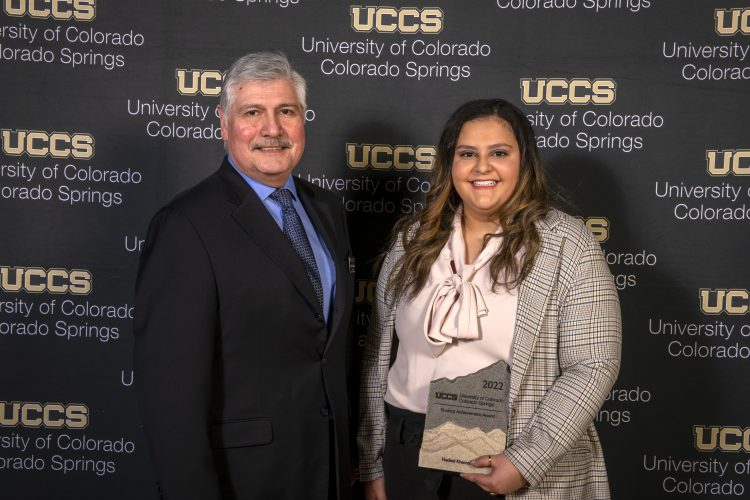 Since 1982, the UCCS Student Achievement Award has been recognizing students who have made substantial contributions to the quality of student life at UCCS in conjunction with earning a degree.
Hadeel Khammash, who is majoring in Biomedical Sciences with a minor in Leadership, was nominated by two separate faculty members for the award. She will be speaking at the morning ceremony for the College of Letters, Arts & Sciences.
"I really hope to give credit to all the students for how far they've come," she said. "They've all challenged themselves through school, and they also had to persevere for some of the hardest times we've ever seen, so I want to give credit there."
During her time at UCCS, Hadeel was involved in a wide variety of programs, from working in the biology department doing research and grading, serving as a campus tour guide, volunteering as a peer mentor for the GPS program, and being a part of the Chancellor's Leadership Class, to name just a few. During her summers, she is also part of an international nonprofit that takes necessary items like school supplies and hygiene items to refugee camps in Jordan. On top of that, Hadeel also started the Middle East and Northern African club (MENA) with her sister and most recently served as the vice president.
"I knew I wanted my college experience to be more than a bachelor's degree," Hadeel said. "I didn't want to just come for the classes. As soon as I became part of the campus, I learned that the classes are amazing, the faculty are amazing, but I wanted to be a part of something bigger than just my degree. I just got to see campus in so many different lights and so I got to appreciate it in all of those different ways."
Hadeel treasures all of her experiences at UCCS, but her involvement with the Chancellor's Leadership Class has particularly stood out to her.
"I have made some of my closest friends, almost family, through the Chancellor's Leadership Class, and they have become such an important part of my life that I don't know what these four years would have looked like without them," she said.
Her academic journey was not without its troubles, however. During the last four years, Hadeel has faced medical challenges that range from multiple leg and heart surgeries to being diagnosed with Multiple Sclerosis (MS) in 2019.
"My college career has kind of been lined with a lot of medical problems, but they've made me stronger," she said. "I was lucky enough to have some really understanding professors who were willing to work with me."
Despite the medical challenges she faced, Hadeel managed to stay on top of her classes and extracurricular activities, consistently making the Dean's List.
"Tenacity. There is no better word to describe Hadeel," said Sloan Gonzales, Program Director of CLC & UCCSlead. "I do not think I can truly express how challenging these past few years were for her and how in spite of all of it, she kept showing up. Showing up to help others, to help me and the Chancellor's Leadership Class program, and showing up for herself and who she knew she wanted to be. I am in awe of her and so beyond proud. I have watched her take back-to-back medical diagnosis and a pandemic and turn it into an impressive undergraduate experience that she is taking on to medical school. She embodies the Student Achievement Award and has earned it in countless ways."
After getting diagnosed with MS, Hadeel started getting interested in medical research and reached out to Amy Klocko, who is now her research mentor, and got a position working on a genetics project.
"As soon as I started, I felt like that was exactly what I wanted to do," Hadeel said.
Her love of science is what brought Hadeel to UCCS in the first place.
"I knew I really wanted to be part of the sciences, and I knew UCCS was growing in that area," she said. "I was also a very introverted person growing up, so I knew the big college scene was not for me. But I also didn't want to go to a school that felt like I was just going to High School 2.0, and so UCCS was the perfect middle ground – big enough where I felt like I was part of a big community and college campus, but not so big that my professors wouldn't know who I was."
Hadeel has taken advantage of those opportunities at UCCS and spent the past four years doing research in multiple areas.
"I have gotten the best education I could have asked for," she said. "I've gotten so many different exposures, from immunology and virology to genetics and cell biology, just this really well-rounded education. Being given the opportunity to do research helped me define what I wanted to be doing. I was extremely blessed with all of the opportunities I was given, and just being able to test the waters really gave me a lot of freedom to decide what I wanted to do."
"Hadeel is dedicated, enthusiastic, willing to take on challenges, has excellent scientific and critical thinking skills, is always professional, and is just an all-around wonderful scientist and person," said Amy Klocko, who is an assistant professor in the biology department. "She was very successful here at UCCS and I am very excited to see what she will accomplish next."
Upon graduation, Hadeel will be going on to CU Anschutz to study biomedical sciences and biotechnology. Her dream job is working on research medicine in a hospital setting, doing what she describes as "behind-the-scenes research" on diseases of the immune system and how to treat, delay or prevent them.
Hadeel's advice to students?
"I would say, it's daunting at first, and it seems like these four years are going to drag out to what feels like 20-30 years, but balance all of the hard work you have to put into your degree with the things you enjoy doing, whether that be on or off campus," she said. "It's not just the transcript you get at the end. Take the time to appreciate everything around you and be a part of something you maybe wouldn't have tried before. Those four years, they're going to fly by. The end is closer than you think, so enjoy all the moments in between."
About the UCCS Spring 2022 Commencement Ceremonies
The UCCS spring 2022 Commencement ceremonies will celebrate degrees conferred to more than 1,500 graduates. More than 1,200 will attend the morning and afternoon ceremonies at the Broadmoor World Arena on May 13, 2022, along with family and friends. See the full Commencement program online. View the livestreamed ceremony on YouTube.