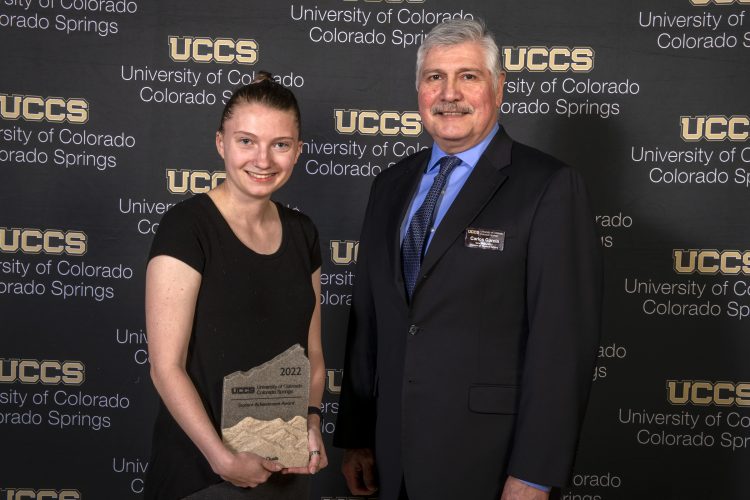 Since 1982, the UCCS Student Achievement Award has been recognizing students who have made substantial contributions to the quality of student life at UCCS in conjunction with earning a degree.
Melia Qualls, a Mechanical Engineering student who is also minoring in Aerospace Engineering, is one of the 2022 Student Achievement Award winners and will be speaking at the afternoon commencement ceremony.
"I feel a little overwhelmed," she laughed. "I want to say something that we'll all remember."
In addition to excelling academically during her time at UCCS, Melia was also a part of the Society of Women Engineers Club, serving as their treasurer, worked as a teacher's assistant and lab instructor and was a peer leader for the Gateway Program Seminar (GPS), something she described as a highlight.
"You're kind of a mediator," she explained of her role in the GPS program. "You're not as intimidating as a professor, but you still know all of the resources around campus, and freshman can ask for you for advice."
Melia was nominated for the Student Achievement Award by Sarah Long, the Associate Director of the Gateway Program Seminar.
"The only thing that might rival Melia's intellect is her authenticity," Long said. "Melia has become the unsung hero in the countless times she has volunteered for different organizations, courses, departments, research groups and institutes with the primary purpose of making students feel like they matter and they belong. She has proven there is no limit to what can be accomplished."
Melia started taking classes at UCCS during her senior year of high school, including photography and math, and enjoyed them so much she decided to pursue her degree here. She cites a lifelong interest in planes and space as the reason she chose engineering.
"Once I started, I kind of fell in love with the whole program," she said.
Melia also recognizes her professors as a source of inspiration, including her time working with a faculty member who was part of the Cassini–Huygens space-research mission.
"I have had a really good time getting to know my professors and hearing about what they've done out in the world," she said. "You can go to them and ask them pretty much anything. It's given me a better idea of what I'll be able to do."
Melia currently works part-time at Schriever Air Force Base with the Missile Defense Agency and is hoping to transition to full-time work after graduation.
Her advice to current students?
"Don't give up," she said. "You're going to be stressed and you're going to be tired, but don't give up. It's going to be hard, but just push through and ask for help when you need it."
About the UCCS Spring 2022 Commencement Ceremonies
The UCCS spring 2022 Commencement ceremonies will celebrate degrees conferred to more than 1,500 graduates. More than 1,200 will attend the morning and afternoon ceremonies at the Broadmoor World Arena on May 13, 2022, along with family and friends. See the full Commencement program online. View the livestreamed ceremony on YouTube.