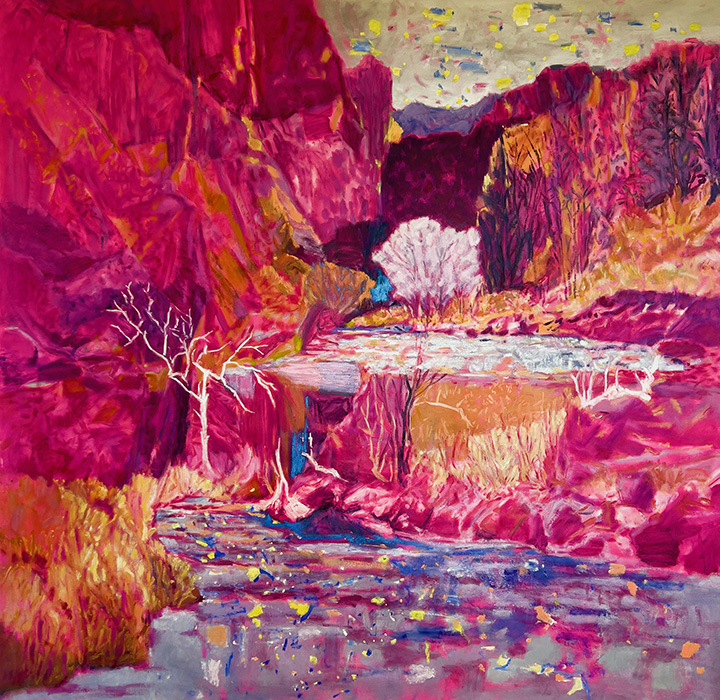 The UCCS Galleries of Contemporary Art (GOCA) will be presenting a solo exhibition, "Deep in Land," featuring the paintings of Australian artist Jo Bertini, with collaborative music, sound and video imagery of musician and composer Thomas Studer. The exhibition will be on view May 5 – July 14 at the Ent Center for the Arts.
A Visiting Artist & Critics Series lecture will take place in the Chapman Recital Hall on Thursday, June 30 from 4 – 5 p.m., followed by a music performance by Thomas Studer and a reception for the artist until 6 p.m.
The project is co-presented by Smokebrush Foundation for the Arts and will include an accompanying catalog publication.
About the exhibition
"Deep in Land" is inspired by the deserts of the American Southwest. The artworks emanate from Jo Bertini's many decades of research and field work into the unique and fragile beauty of remote desert landscapes and the peoples and cultures that have flourished there. The exhibition explores the extraordinary intrinsic value, interconnectedness and essential nature of desert landscapes through a particularly female perspective, distinct from the established historical archive of desert understanding.
For the artist, these desert places simultaneously invoke a sense of the vastness of space and a personal intimacy while retaining a fierce, unexpected wildness. These seemingly harsh and inhospitable environments inspire in Bertini a primary instinct to create. Artworks become a type of elegy, a memorial, extending the traditions of landscape painting and oral storytelling. Trees can talk – mountains can move – rivers hold secrets – grains of sand weave myth, knowledge and culture from past to the present.
About the artist
Jo Bertini is an award-winning, established Australian artist. She is a painter, art educator, lecturer and writer, known internationally for her paintings and drawings of desert landscapes, people and animals. Her work is the focus of the publication "Fieldwork – Jo Bertini," celebrating her long and intimate engagement with the Australian desert. She continues to focus her artistic interests on desert people and places, painting and working in some of the most remote and inaccessible desert regions of the world. For ten years, Bertini worked as an Expedition Artist on scientific and ecological survey expeditions into the most remote and inaccessible desert regions of Australia. Her exhibition record is extensive and her art is in numerous private and public collections, including museums and institutions.
Instagram: @Jo Bertini (@jobertini)
About the UCCS Galleries of Contemporary Art (GOCA)
UCCS Galleries of Contemporary Art (GOCA) is a regional hub of contemporary art, culture, and conversation. By featuring world-class artists, hosting artist and expert talks, and independently producing and offering meaningful events, GOCA engages UCCS students, faculty, staff and Pikes Peak Region community members in discussions about contemporary culture and life. GOCA is a contemporary arts organization with two galleries, at the Ent Center for the Arts and a satellite downtown location in the Plaza of the Rockies building, as well as an outdoor public sculpture program, Art WithOut Limits.