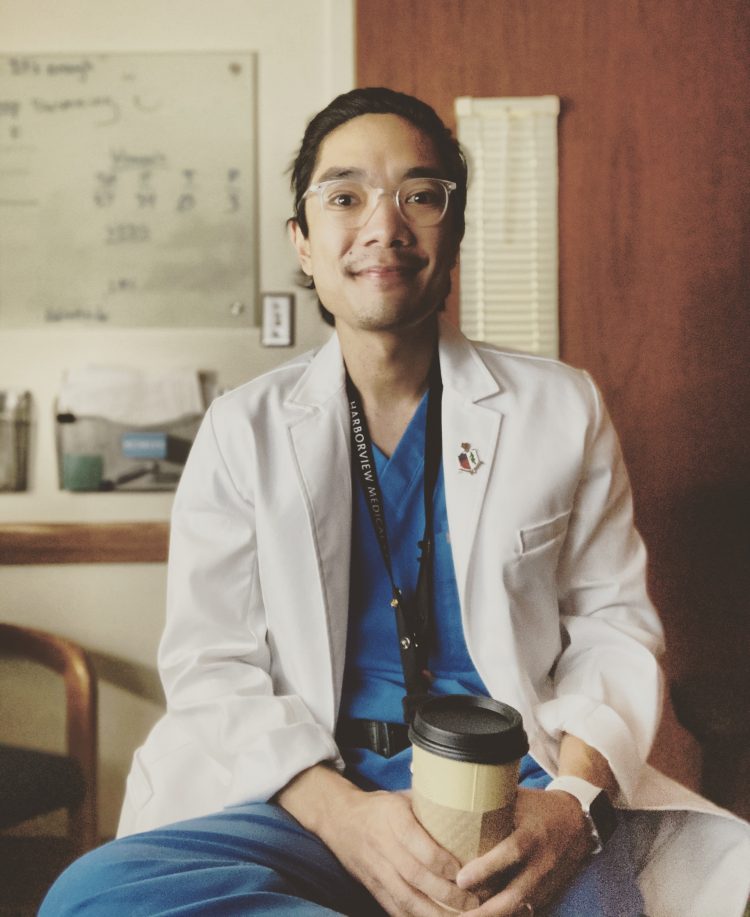 Angelo "Ajay" Jamora is an Army veteran, a nursing instructor and an alum of the Helen and Arthur E. Johnson Beth-El College of Nursing and Health Sciences (Johnson Beth-El) Bachelor of Science in Nursing (BSN) program. Jamora has a long history of providing care for those in the service and now works educating the next generation of nurses and midwives, all with a Bachelor of Science in Nursing background from Johnson Beth-El.
Jamora started at UCCS in 2008 and was enrolled in the UCCS Reserve Officers' Training Corp (ROTC) program and as a nursing student with Johnson Beth-El. Jamora shared, "I enjoyed the campus life and liberal arts education that I received alongside my professional nursing training. I believe that it has made me a more well-rounded clinician and person."
Upon graduation, Jamora continued his career with the Army. He first served at Fort Gordon, GA as head nurse of the obstetrics and gynecology (OB/GYN) clinic and as assistant head nurse for Family and Community Medicine. His career then took him to Honolulu, Hawaii, where he worked as a clinical staff nurse at Tripler Army Medical Center.
Following his nursing career in the Army, Jamora traded in his military fatigues to pursue an advanced degree in nurse-midwifery, his new career calling.
Jamora shared some insight into his desire for a career change: "There are many ways to think, and do things in order to get to the same outcome in nursing and midwifery. Learning about why others think and do what they do has been more important than why they do not think or do in my way. I feel that now more than ever, it is important for all of us to be kind, compassionate, and love one another. Although we think or do differently, we live and exist together as one unitary being with our world. I have been lucky and privileged to have been able to pursue my chosen profession, and to have the honor of serving others in the hope of bettering or helping in any way. UCCS was a big part of my journey to do what I get to do, and I am ever grateful."
Jamora is on track to complete his Doctorate in Nursing this spring and will complete his Master of Public Health this fall. With his Doctor of Nursing degree, he plans to become a positive change agent in health care – not only at the bedside, but for his community as a whole.
"My love of learning has led me to learn more about myself, than anything else," he said. "The more I study, the more I realize the non-existence of 'truth,' and the unitary connection we as people have to the world we are a part of. I have found that an inquisitive and open mind has served me better than a closed and stagnant one. I find that academic and scholarly discourse has been somewhat therapeutic in my practice as a clinician and academic."
Jamora, is a veteran, Johnson Beth-El alumni, graduate and doctoral student and is also a nursing instructor at a university and community college. Jamora instructs at Seattle University as a full-time faculty member. He teaches public health, obstetrics theory, and clinicals at the university and the local community college.
"I enjoy the discussions I have with the faculty, staff, and students that I work with," he said. "I also love to be able to teach about topics that I am passionate about. There is also an intrinsic pleasure in being around inquisitive minds, and new ideas. Being a part of a future nurse's education is truly an honor and a privilege that I do not take lightly."
"Through everything, seeing my students graduate has been one of my greatest career accomplishments," adds Jamora.