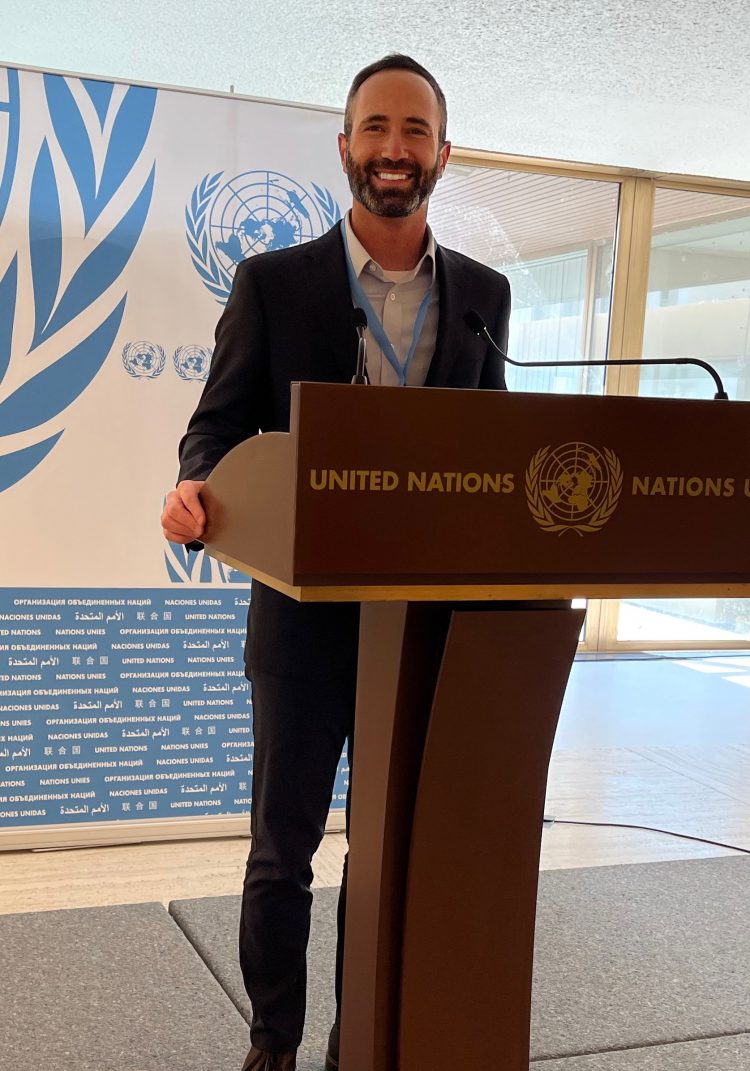 Scott Kupferman, Associate Professor in the Department of Teaching and Learning at UCCS, has been awarded a prestigious Fulbright Scholar Award to research and teach about accessible technology for individuals with disabilities. He will be hosted by the University of Tokyo in Tokyo, Japan for five months, beginning in fall 2022.
Kupferman is an internationally recognized scholar in the field of accessible technology for people with disabilities. Examples of accessible technology include video captions for people who are deaf, alternative text that describes images for people who are blind and wheelchairs for those with physical disabilities.
International travel is nothing new for Kupferman, who has conducted research projects on inclusive education and accessible technology across 37 nations. In addition to his Fulbright Scholar Award, Kupferman recently served as a delegate at the 2022 United Nations session on the Convention on the Rights of Persons with Disabilities in Geneva, Switzerland, and was selected as a U.S. Department of State specialist to advance inclusive education in Kazakhstan.
While at the University of Tokyo, Kupferman will research and develop accessible technology that enhances access to education, employment and independent living for people with disabilities. These efforts will engage people with disabilities as co-researchers — a method based upon a Japanese concept called "tojisha kenkyu," which translates to "study by interested persons themselves." In this way, Kupferman aims to engage people with disabilities and engineers in Japan to co-develop accessible technology that removes barriers to access in the daily lives of people with disabilities.
The research project aligns with his experience as Director of the National Collaborative for Disability and Technology (NCDT), a federally funded effort established to facilitate the co-design process between people with disabilities and engineers. To date, NCDT has facilitated the co-design of over 100 widely used apps, websites, software and hardware. Kupferman will also teach two courses at the University of Tokyo on the subjects of disability, access and inclusion.
"In alignment with the Fulbright-Hays Act, I hope to strengthen the ties that unite the United States and Japan by developing and sharing meaningful strategies to improve the lives of people with disabilities in both countries," Kupferman said.
Fulbright Scholar awards are prestigious and competitive fellowships that provide unique opportunities for scholars to teach and conduct research abroad. Fulbright scholars also play a critical role in U.S. public diplomacy, establishing long-term relationships between people and nations. Kupferman has been granted a Fulbright-Hays Seminar Abroad Program award, which provides short-term study and travel seminars abroad for U.S. educators for the purpose of improving their understanding and knowledge of the peoples and cultures of other countries.
Fulbrighters engage in cutting-edge research and expand their professional networks, Kupferman emphasized, often continuing research collaborations started abroad and laying the groundwork for forging future partnerships between institutions. Upon returning to their institutions, labs and classrooms in the United States, they share their stories and often become active supporters of international exchange, inviting foreign scholars to campus and encouraging colleagues and students to go abroad. As Fulbright Scholar alumni, their careers are enriched by joining a network of thousands of esteemed scholars, many of whom are leaders in their fields.
Kupferman will join the ranks of many distinguished program participants. Fulbright alumni have become heads of state, judges, ambassadors, cabinet ministers, CEOs and university presidents, as well as leading journalists, artists, scientists and teachers. Their ranks include 61 Nobel Laureates, 89 Pulitzer Prize winners, 76 MacArthur Fellows and thousands of leaders across the private, public and non-profit sectors.
Kupferman also joins more than 35 UCCS faculty members who have received Fulbright awards since the founding of the university.
About the Fulbright U.S. Scholar Program
The Fulbright U.S. Scholar Program offers more than 400 different opportunities to teach, research and conduct professional projects in over 135 countries. Opportunities are available for higher education faculty and administrators as well as for professionals outside of academia, artists, journalists, scientists, and independent scholars. UCCS faculty, staff and students interested in learning more about Fulbright awards should contact Mandy Hansen in the Office of International Affairs.
About the University of Colorado Colorado Springs
The University of Colorado Colorado Springs (UCCS) offers 55 bachelor's, 24 master's and eight doctoral degree programs and enrolls about 12,000 students annually. Located in the heart of Colorado Springs, UCCS has a strong student focus and access mission, with a goal of transforming lives for the better. Learn more about UCCS at uccs.edu.