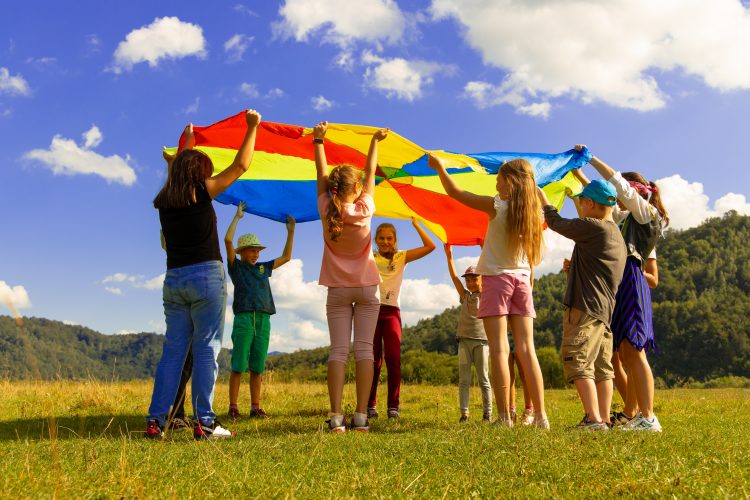 When Katherine Daniel '20, '21 was diagnosed with skin cancer in 2016, she realized she'd never thought seriously about protecting herself from the sun. And when the cancer returned, she realized she needed to think seriously about protecting her child, too.
Now, Daniel, a two-time UCCS alum and a current student in the university's Master of Science in Health Promotion degree program, is taking sun safety efforts to the children of Teller County, Colorado.
Skin cancer rates are higher in Colorado than nationally, and Teller County, Colorado residents have almost double the rate of skin cancer compared to the state of Colorado as a whole, Daniel said. And children are a source of special concern, because unprotected exposure to the sun during a child's early years puts them at increased risk for skin cancer throughout their life.
"Prevention is key, and early intervention is essential," Daniel said.
To help make sun safety a part of young children's lives, Daniel is working to bring the National Environmental Education Fund's SunWise sun safety program to pre-school students at Gateway Elementary School, located in Woodland Park, Colorado.
The National Environmental Educational Foundation's SunWise program is specifically designed for school incorporation, Daniel explained, and it encourages schools to provide a sun-safe infrastructure. That can include shade structures, like canopies and trees, as well as policies, like wearing hats and sunglasses and using sunscreen.
The initiative is a real-life application of Daniel's classwork in community health. During a fall semester program planning and evaluation course, Daniel channeled her interest in sun protection into an assessment of Teller County's existing programs. After finding them lacking, she started to research intervention strategies that the county could implement for young children.
"I started diving into Teller County's statistics and was beyond disappointed," Daniel said. "There are absolutely no measures are in place to prevent a preventable disease. I decided this project was important enough to spearhead this on my own time, under my own efforts."
Daniel began researching grants to fund physical sunshades at Teller County schools, but found money in short supply. One grant required the implementation of a sun protection program for a year before schools could even apply.
Then she found the Sunwise program — a research-backed, evidence-based initiative that aims to teach children and their caregivers how to protect themselves from overexposure to the sun. Data from nearly 6,000 student program participants showed significant improvement in understanding of how to avoid sunburns, and a decrease in the number of sunburns the students suffered.
"Teachers are tasked with enough, and schools are stretched from a budgetary and manpower standpoint, so I decided the SunWise program was a fabulous solution," Daniel said. "It carries a recognized and trusted name, it's founded in research, it has statistics touting best practices, it produces good results, and — most importantly — it's free."
Research in hand, Daniel approached Gateway Elementary School to pitch sun safety education using the SunWise program. Together, Daniel and school administrators are working to implement the program this spring. Their goal is to provide hats and sunglasses for students spending time outside and to introduce a sun safety week at the school. Once the school has had sun safety education in place for a year, it may become eligible for grant funding to expand the program in the future.
But Daniel hopes that positive change may even happen a little closer to home.
"My hope is that children will bring home the message to their families and care providers," she said. "I believe sun safety should be practiced by all, and the middle-aged and older populations need support in Teller County, too. Research shows that children have the ability to influence their parents in health behavior changes, so if we can positively influence the kids and they can in turn take that message home, we can reach even more residents."
About the UCCS College of Nursing and Health Sciences
The Helen and Arthur E. Johnson Beth-El College of Nursing and Health Sciences provides both traditional and accelerated undergraduate nursing, graduate nursing and health sciences degrees. Established in 1904, the college offers state-of-the-art facilities, including the Johnson Beth-El Clinics at the Lane Center, sports medicine programs through the William J. Hybl Sports Medicine and Performance Center and advanced clinical rotation supplementation through the Simulation Learning Center. Learn more about the Johnson Beth-El College of Nursing and Health Sciences at UCCS.