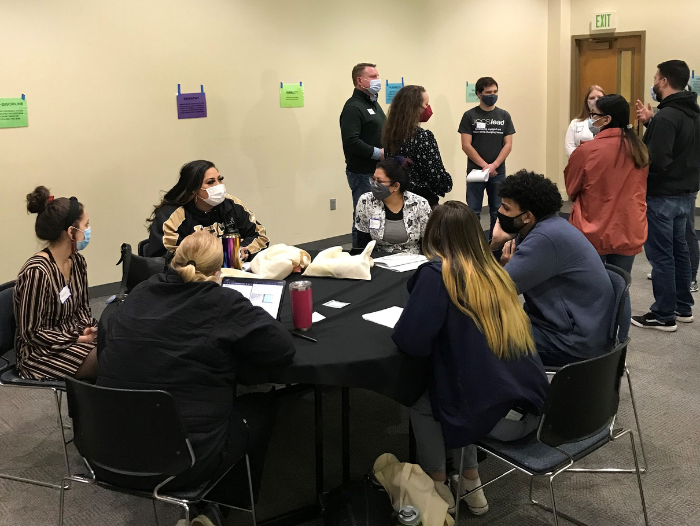 On Saturday, Feb. 19, nearly 50 military-affiliated students attended the first ever UCCSlead: Veteran & Military Affairs leadership session in Upper Lodge of Summit Village and online. This hybrid event was the first result of an ongoing partnership between UCCSlead, the premier student leadership program on campus, and the Office of Veteran and Military Affairs (VMA).
"I knew we needed to be intentional in reaching more military-affiliated students," said Sloan Gonzales, Director of UCCSlead. "I reached out to the VMA department last summer to see what it would look like to collaborate on a UCCSlead session. [They] were excited about the idea, and we began working together."
With five military institutions in the Colorado Springs area, along with a significant number of military retirees who return here following their service, UCCS serves a large amount of military-affiliated students — twenty percent of the overall student population.
Given how important this student population is to the UCCS community, UCCSlead recognized an opportunity to develop leadership programming tailored to the experiences that these students bring with them to campus.
"Our active duty and veteran students are no strangers to leadership," Gonzales explains. "They have years of leadership experience. We believe the UCCSlead program can honor and build upon that experience."
UCCSlead hosts general-themed leadership events called Game Changers each semester. Game Changers are large, highly interactive sessions that guide students through an introspective exploration of leadership fundamentals, such as identifying one's values and communicating through difference.
Themed events like UCCSlead: Veteran & Military Affairs deliver similar content for specific student populations. However, Gonzales and her team are careful not to assume the experiences of military-affiliated students, emphasizing the importance of their partnership with VMA staff.
"We realize that as a department we are not experts in the needs and experiences of military-affiliated students," Gonzales said. "This is why our partnership with VMA is so critical. They worked with us to customize our content in order to ensure we created an engaging and authentic program that not only affirmed the experiences of these students but also connected them to a community of peers who share similar experiences."
Mike Hamilton, Student Engagement & Programs Coordinator for VMA, believes community connection was one of the primary benefits of participating in the event. Moreover, Hamilton sees this partnership as a unique way to bridge the leadership gap between military and civilian life: "This VMA-themed session of UCCSlead helped our students build and define their own leadership style that will carry them into the civilian workforce," Hamilton said.
One student that attended the UCCSlead event said, "I'm happy that I came because it opened my eyes even more to the information which I love, and I also feel like I grew from the situation and concepts I learned."
While the next collaboration between UCCSlead and the VMA office is still being determined, UCCSlead will be hosting its last Game Changer of the spring semester on Saturday, March 5. This one-day hybrid event will take place from 10 a.m. to 3:30 p.m. both in-person at Berger Hall and virtually through Microsoft Teams. Undergraduate and graduate UCCS students may register for free through Mountain Lion Connect. There they can choose their preferred participation mode, note any dietary restrictions, and request special accommodations if needed.
The registration deadline for this Game Changer is Monday, Feb. 28. For more details or questions, contact Cody Parish, Coordinator of UCCSlead and Chancellor's Leadership Class, by email at [email protected] or by phone at (719) 255-3215.