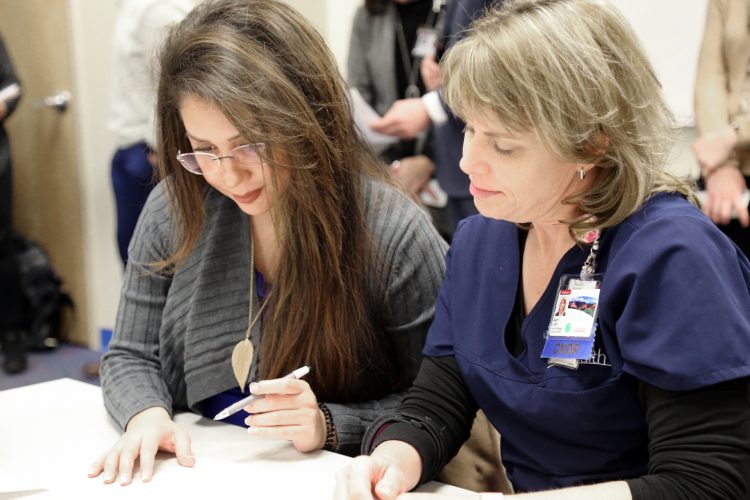 This January, the UCCS Helen and Arthur E. Johnson Beth-El College of Nursing and Health Sciences welcomed 19 registered nurses (RN) from UCHealth Memorial as the fifth cohort in the UCHealth Memorial RN to BSN Cohort Program.
Registered nurses in the program have their Associate Degree in Nursing (ADN) and are working at UCHealth southern region locations while attending UCCS to earn their BSN. Students complete online classes, a community health experience and capstone project over the course of five semesters. UCHealth Memorial provides a scholarship covering six credit hours of tuition per semester for program participants. UCHealth Memorial registered nurses in the southern region are eligible to apply to the program for the spring and fall semesters. The program offers two starts annually for registered nurses in the Southern Colorado region to earn their Bachelor of Science in Nursing (BSN) degree at UCCS.
Associate Dean for Academic Affairs and Operations and Nursing Department Chair Debbie Pollard said, "There's been a need for baccalaureate-prepared nurses to join the workforce across the nation; qualified, educated nurses are in high demand, especially because of the pandemic."
Dr. Pollard continued, "The expert faculty at UCCS guide the student's educational journey. They provide the resources and skills students need to lead initiatives to improve patient outcomes and health care policy."
The partnership between UCCS and UCHealth Memorial demonstrates the collaborative commitment to educating nurses to be better prepared to care for our citizens.
"The RN to BSN partnership that UCHealth has with UCCS is unique and one that greatly benefits our bedside nurses," stated Tamera Dunseth Rosenbaum, Chief Nursing Officer for UCHealth. "It shows the commitment both organizations have to continuing the education efforts for our nurses to advance the practice of nursing and to support our community."
"UCCS was a perfect fit for me," explained UCHealth Memorial RN to BSN Cohort Program alumnus Mary Jane Caltagirone. "I was looking for a local program that had a strong reputation for educating experienced RNs."
"My knowledge of my specialty expanded as well through my elective selections and my capstone project," Caltagirone continued. "This will further my career at UCHealth as I plan to take my advanced education in my specialty of Palliative Care to the new RNs at my hospital."
For program information, admission requirements and questions, please contact the UCCS RN to BSN Program at [email protected] or (719) 255-4400.
About the RN to BSN Program
The Helen and Arthur E. Johnson Beth-El College of Nursing and Health Sciences RN to BSN Program offers spring, summer and fall program starts for registered nurses (RN) interested in pursuing a Bachelor of Science in Nursing (BSN) degree. Classes are online and part-time so you may work full-time during the program. Learn more about UCCS's online RN to BSN program at CU Online.