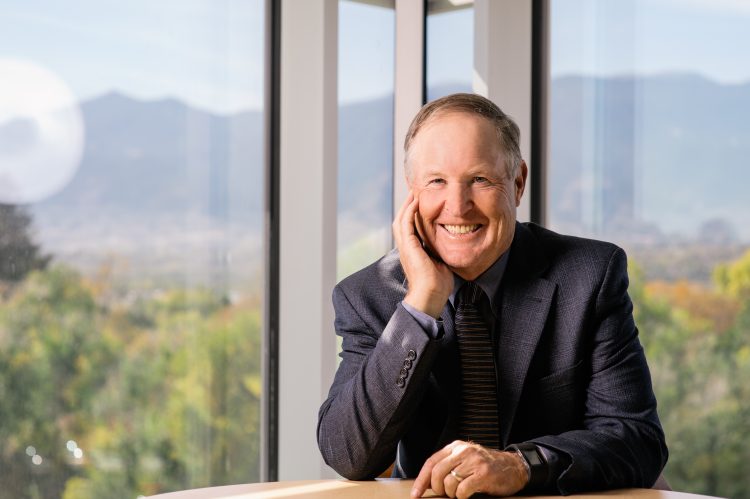 Colorado Springs business leader and entrepreneur Ray Nunn is the recipient of the 2022 UCCS College of Business Lifetime Entrepreneurship Award.
"The Lifetime Entrepreneurship Award honoree embodies so many of the qualities and characteristics with which we strive to empower our students and our community," said Karen Markel, Dean of the UCCS College of Business. "Each year we have the opportunity to celebrate a member of our community who has made significant economic impact on our city, who models the spirit of entrepreneurship, and who demonstrates all of the qualities of an inspirational leader."
The 13th annual Lifetime Entrepreneurship Award celebration will take place on June 1, 2022, in the Ent Center for the Arts on the UCCS campus, drawing hundreds of campus and community leaders.
"Ray Nunn and Nunn Construction have meant so much to UCCS, the College of Business and Colorado Springs," Markel continued. "His contributions can be felt across campus with his tireless efforts to support our programs, students and community. We look forward to celebrating Ray this June at one of our most meaningful events of the year. Congratulations, Ray!"
About Ray Nunn and Nunn Construction
It's quite possible that those who live in or have visited Colorado Springs have at one time set foot inside of a building constructed under the vision and execution of Nunn Construction. Since 1983, Nunn Construction has completed projects for non-profit organizations, churches and ministries, educational institutions and athletic organizations, local governments and municipalities, higher education institutions, hospitals and health care complexes — to name a few.
Having the heart of an entrepreneur, Nunn started Nunn Construction with just two employees, himself and his wife Nancy, and with occasional help from their children. Early projects consisted of smaller churches and educational additions. Even though they were small, Nunn knew the success of these projects was important to the owners, who had entrusted him to provide quality work and meet the demands of a timely completion.
Nunn believes that honesty is the key to being a successful business owner, reflected in the work he has completed throughout his successful 40+ year career. Nunn Construction is a positive contributor to the community of Colorado Springs and takes pride in delivering quality construction management while serving the needs of their city and their state.
Academy School District 20 recognized Nunn's strong commitment to his projects and extraordinary attention to detail and gave Nunn its first opportunity to build larger projects, including Rampart High School's indoor swimming pool complex and major additions to two elementary schools. Word spread among project architects that Nunn Construction could be depended upon to meet all the stringent requirements of building designs, and that Nunn was a team player committed to the success of new projects. This was the start of Nunn becoming a major educational facility builder, which Nunn has maintained and improved upon to this day.
Nunn grew in notoriety and began to be selected for major building projects in the greater Colorado Springs area. These projects included a new student center and the Taylor Hall project for Western State University, as well as new sanctuaries for Springs Community Church, Village Seven Presbyterian Church, and Woodmen Valley Chapel. Nunn also completed building projects for The Navigators, Focus on the Family, and renovations for several others.
More recently, Nunn construction has completed projects such as the Pikes Peak Regional Building Department, the Colorado Springs City Hall Renovation, The Center for Creative Leadership, and a project near and dear to UCCS: Dwire Hall, home of the UCCS College of Business.
As Nunn Construction celebrates nearly 40 years in business, the thread that ties together its work is the projects that serve its community. These projects continue building on the values Nunn established for the company and touch a variety of industry sectors, including many religious and non-profit buildings, civic buildings, healthcare facilities and commercial buildings: the Winslow BMW dealership and several educational facilities among them, including Legacy Peak Elementary and the recently completed Ed Robson Arena at Colorado College.
Nunn credits his family as instrumental in the success of Nunn Construction. He thanks his wife Nancy, who served as the accountant and heart of the company for the first 20 years, and his two children, of whom he is very proud: Tyson, who serves as the current President of Nunn Construction, and Lindsey, a veterinarian.
Over the years, Nunn has served on numerous local boards, including serving as the past Chairman of the Trustees Board for Pikes Peak Hospice and Palliative Care, the Colorado Springs Chamber and EDC Board of Directors and Government Affairs Council, UCCS College of Business Dean's Community Advisory Board, U.S. Bank, First Community Banks, Associated Builders and Contractors, as well as the Better Business Bureau of Southern Colorado. He is also a member of the Downtown Rotary Club.
Nunn is currently active on several boards, including Associated General Contractors (AGC) of Colorado, the AGC Legislation Committee, Salvation Army, and as the Vice Board Chairman of Peak Vista Community Health Centers.
Nunn joins a distinguished list of previous Lifetime Entrepreneurship Award recipients. The annual awards celebration is hosted by the UCCS College of Business Alumni Association, which supports students, alumni and community members. For more information on the award celebration, visit the Lifetime Entrepreneurship Award website.
The College of Business is seeking sponsorship for the 2022 Lifetime Entrepreneurship Award celebration. To learn more about sponsorship opportunities, contact Leslie Cook at [email protected] or call 719-255-5174.
About the UCCS College of Business
The UCCS College of Business was established in 1965 and has more than 1,300 undergraduates and 350 MBA students. The College of Business and Administration awards the Bachelor of Science in Business and Bachelor of Innovation degrees. The Graduate School of Business Administration awards the Master of Business Administration, Master of Science in Accounting and Executive Doctor of Business Administration degrees. More than 10,000 alumni of the College of Business live and work around the world. Find more information on the College of Business website.
The University of Colorado Colorado Springs offers 53 bachelor's, 24 master's and eight doctoral degree programs. UCCS enrolls about 12,000 students on campus annually. Find more information on the UCCS website.