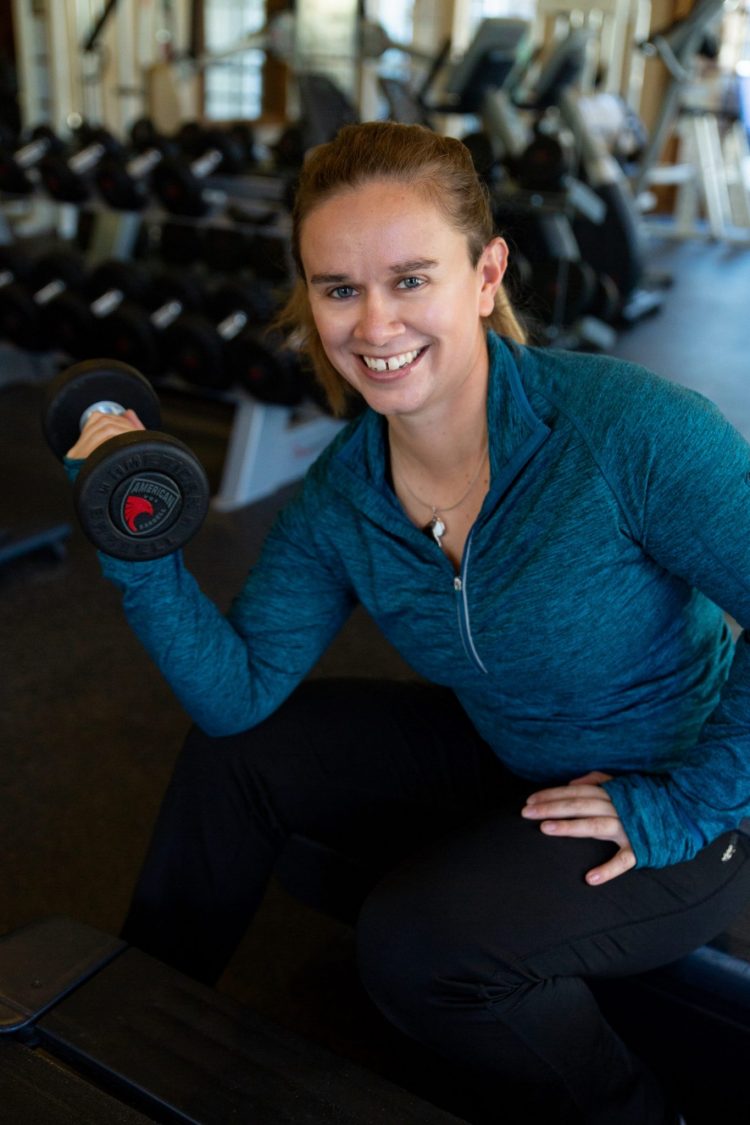 While we often associate a university education with thick textbooks and high-stakes exams, many students will tell you the real learning comes in the ability to manage stressful situations — to think quickly, persevere, and adapt.
It's an education that Stacy Davis '08, M.A. '12 employed in 2020, the beginning of the COVID-19 era, when her personal training business, Restore Fitness, came to a crossroads.
A New Take on Health Promotion
Before Davis opened her personal training business, she was gaining experience in the industry and piecing together a variety of jobs that paid the bills. But a lifetime of participating in sports had always inspired her to build a training-based business of her own. She thought a new graduate program at her alma mater could make all of the difference.
Davis earned her undergraduate degree in psychology in 2008. In 2010, she enrolled in UCCS' Master of Health Promotion degree, a program in the College of Nursing and Health Sciences that prepares students to design and lead health programs in a variety of professional settings.
"I've always been in the fitness industry and interested in a sports background," Davis said. "I was always in sports growing up, and it offered a new take on health promotion, especially in schools, and I figured I could put that to use either in personal training, which is what I'm doing now, or after school programs, especially in low-income areas."
Davis Finds Early Success
Davis graduated from the program in 2012, and in 2015, she landed her first full-time job as a personal trainer. Soon she was making plans to open her own business.
"It took 10 to 11 months of research to figure out what questions to even ask — where to start, the location, clientele, the logistics behind even a simple business card, phone number, all that stuff," Davis said. "So I started to pull all of that together before I transitioned from the training job I had to an actual business owner."
In 2018, Davis officially opened Restore Fitness in Centennial, Colorado, a personal training business that specializes in corrective exercise.
"I love working between the gap of physical therapy and 100-percent healthy, so I fill in the gap between those two," she explained. "It doesn't matter what age. It's anyone with shoulder pain, knee pain, back pain, anything along those lines. I love working with that and adding those specific corrective exercises and building a program based on that to get them to pain-free."
Her educational background in psychology, sociology, and health promotion had prepared her for managing a business. But a bigger test was coming.
Building a Foundation During a Pandemic
"It was smooth the first year, smoother than I thought it would be," Davis said. "The end of the second year was right about when we hit COVID."
As the COVID-19 pandemic took hold in the United States in early 2020, gyms closed, and many people were forced to stay in their homes. The early lockdowns of the pandemic were especially crippling for business owners like Davis, who relied on in-person appointments and large gathering spaces to conduct their business.
Davis had to decide how to proceed. While many fitness professionals hesitated or looked for opportunities outside the industry, Davis kept pushing.
"I didn't take any time off. It wasn't sitting back and relaxing during the lockdown," she said. "Given this shot at home, I thought about how I could improve the business and not let it falter to the point of nonexistence."
Her plan started with transitioning to at-home workouts and online training for her clients via Zoom. But the plan went beyond the practical concerns of designing and leading workouts. She saw this period as an opportunity to build the foundational pieces of her business, including marketing and community networking.
"I got more active on social media, more active in creating and revamping my entire website so that it was more user-friendly, easier to navigate, more SEO-friendly," Davis said. "I looked for more local partners to connect with, people in my field like chiropractors, massage therapists and acupuncture folks. I stayed connected with networking groups. And then I figured out how to go from in-person to online and asked for referrals from clients. It was a lot of groundwork."
A Need to Connect
Davis' action has been rewarded, allowing her to keep nearly all of the clients she had pre-pandemic while adding even more. She's optimistic that the fitness industry will continue to evolve and that clients will eventually come back to the gym.
"I think there's a split," she said. "I think there's a need to connect in-person at the gym. Not a lot of people have the space for those huge pieces of equipment that you need for strength training, and they want to be social. And then you have those who are seeing the benefits of at-home workouts, and we're still in that phase of feeling safe but not safe at the gym. I still see the tilt of, 'Let's do it at home.' I just don't see the sustainability of at-home workouts, especially with my clientele. It's more beneficial for them to come into the gym."
Passing the Test
When Davis reflects on her time at UCCS, she credits her graduate program for helping her connect with like-minded professionals and understand the research behind the health and fitness industry, including using pedometers to track student fitness levels at low-income schools. But she also points to the value of her undergrad education.
"One of the biggest surprises is actually using my psychology degree," Davis said. "I think that's the biggest piece that UCCS helped me with: having a well-grounded understanding of psychology in sports, one-on-one settings, and different aspects of what psychology is. It's not just a one-on-one counseling session. So using that has been the most rewarding piece to where I'm at right now."