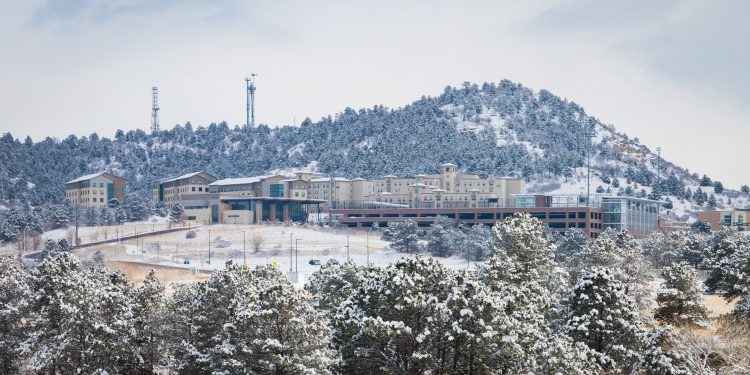 UCCS will begin the spring semester on time and in-person with increased COVID-19 precautions, the university announced on Jan. 4, 2022.
As the Omicron variant of COVID-19 spreads throughout the U.S., public health experts anticipate case counts will peak in the following weeks. Based on these projections, a strong campus response to the pandemic and guidance from local public health officials, UCCS will adhere to the following guidelines:
The spring semester will begin as planned, with in-person classes starting on Tuesday, Jan. 18.
A COVID-19 booster shot will be required for all eligible students, faculty, and staff beginning Jan. 18 through a revised attestation process. Boosters have been shown to significantly increase immunity against the Omicron variant. Over the next week, faculty, staff and students will receive further details on how to comply with the new booster requirement. Any campus community member who hasn't received a vaccination or booster shot yet should do so, unless seeking an exemption. If it has been less than six months since an individual's last COVID-19 vaccine, they will be required to get the booster within one month of eligibility.
Routine COVID-19 testing will continue for residential students. While UCCS does not have capacity to routinely test the entire campus population, there are many other testing options available. All Coloradans can sign up for the free Rapid At-Home COVID-19 testing program offered through the state of Colorado.
Surgical or KN95 masks are recommended for stronger protection against the virus. Due to the highly contagious nature of the Omicron variant, public health experts now say that individuals should upgrade from cloth face coverings. UCCS plans to provide surgical masks at locations across campus, just as the university did throughout the fall semester. The university will also evaluate the availability of KN95 masks. In the meantime, individuals are strongly encouraged to double mask while indoors.
Staff should work remotely through Jan. 14, if possible, to reduce the density of people on campus.
Residence halls and dining facilities will remain open as previously scheduled. Details about the move-in process will be communicated directly with residents.
Some campus events may change formats or capacities. UCCS will provide information on any restrictions or changes to our large campus events.
"Mountain Lions, I know we've had some hard years," Chancellor Reddy wrote in the communication to campus. "But I am hopeful that 2022 will bring us more stability, more connectedness and more joy. Please keep an eye out for more information in the coming days — and thank you for your continued efforts to keep our campus Mountain Lion Strong."
For further information on COVID-19 precautions on campus, visit the UCCS COVID-19 resource hub.