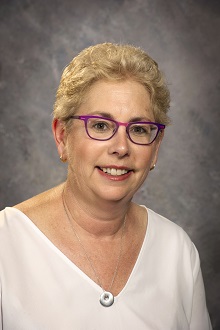 After a 25-year career spanning the University of Colorado system, Robin Margolin, Executive Director of Auxiliary Services, will retire from UCCS on Dec. 22, 2021.
Margolin spent more than a decade in director-level higher education roles, first at the University of Colorado Boulder, then the University of Northern Colorado. Her career has spanned catering, retail services, residential dining and concession. At UCCS, she has overseen not only Dining and Hospitality Services, but also the UCCS Bookstore, the Copy Center and the UCCS Farm.
No detail is too small to escape Margolin's notice. In fact, during a recent windstorm, Margolin was the first to express concern for the chickens housed outdoors at the UCCS Farm. On snowy days, she makes sure Roaring Fork dining hall and the Lodge are open to serve hot drinks and breakfast to the Facilities Services crews plowing snow on campus.
Yet Margolin has also tackled monumental tasks. Over the past two years, she led UCCS' largest auxiliary services through the COVID-19 pandemic. As UCCS shifted to remote learning in the spring of 2020 — and continued to offer hybrid learning in 2021 — many residential students stayed on campus. Margolin's job was to ensure that hungry students were fed, and that students who needed course materials from the UCCS Bookstore were able to learn, despite student quarantines and labor shortages.
In the spirit of higher education, Margolin has embodied a commitment to continued education throughout her career. She earned a bachelor's degree in Hotel and Restaurant Management from the University of Denver in 1984, and a master's degree in Organizational Management from the University Phoenix in 2001 while fully employed at CU Boulder. She also attended the California Culinary Institute in San Francisco, where she studied French culinary skills.
And even as she neared retirement, Margolin continued to demonstrate a commitment to excellence. This year, she was honored with the National Association of College & University Food Services Continental Region Ambassador Award in recognition of the impact of her work.
"I have had a wonderful career at CU, both in Boulder and UCCS," Margolin said. "I am proud of my work in Student Affairs. I hope I leave this campus with a better understanding of the value of Auxiliary Services and how it enriches student's experience on campus. I will truly miss the UCCS community."