UCCS conferred nearly 1,100 degrees to students during the first in-person Commencement ceremonies held since the beginning of the COVID-19 pandemic.
UCCS awarded 20 doctoral degrees, 256 master's degrees and 817 bachelor's degrees to graduates of the fall and summer 2021 semesters during the Dec. 17 event, hosted at the Broadmoor World Arena. More than 600 graduates and their families celebrated alongside UCCS faculty, staff and students, including more than 40 graduates from the Classes of 2020 and spring Class of 2021, who returned to walk across the Commencement stage after having celebrated their graduation virtually.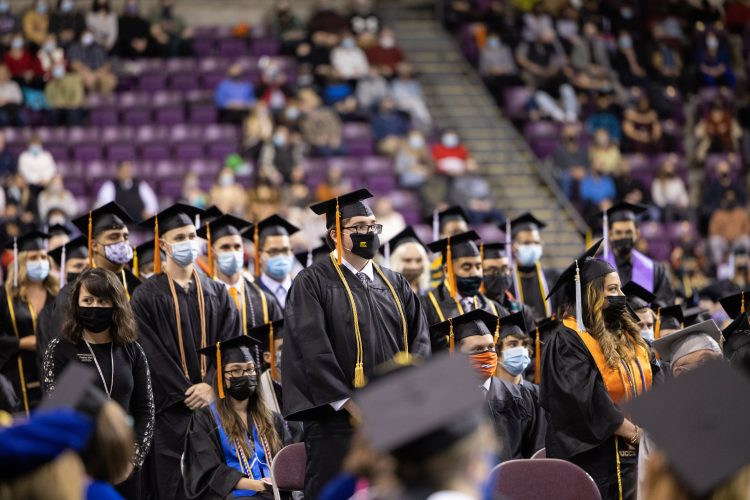 Venkat Reddy, Chancellor of UCCS, Todd Saliman, President of the University of Colorado system, and this year's distinguished alumna speaker, Jill Schramm '06, '09, each shared words of wisdom with the new graduates.
"We have assembled here today a microcosm of our entire world," said Reddy in his opening remarks. "Our graduates represent states from across our great nation and countries from across the globe. As you graduate today, you will go back out into the world – using the work of your minds and your hearts to make it a better place."
"Graduates, you rose above every single setback you faced," Reddy continued. "You demonstrated courage and resilience, and you did not give up on your dreams. Your triumph today is not just that you have succeeded in the face of difficulty — it is that you are stronger and better equipped to take on any obstacle that may come your way."
"Until now, so much of your life has been planned for you. But now, you have the reins," Saliman told graduates. "There's a great world waiting for you. And guess what? You're ready for it. I know the unknown can be daunting. It can also be spectacular."
In the ceremony's keynote speech, Schramm, a graduate of the inaugural Doctor of Nursing Practice program at UCCS and a nationally recognized diabetes and chronic disease specialist, told the story of a rural Midwestern upbringing that instilled in her the importance of hard work.
Her advice to graduates hinged on self-reflection.
"Life will get very busy in the next few years," Schramm said. "You may land your dream job right out of college. Others may move on to new jobs more quickly. As you venture into this next chapter of your life, reflect on your passion and what is important for you and create a vision statement for yourself."
"A personal vision statement will provide you a clear sense of direction when your path seems uncertain," Schramm said. "It can help you to decide what to say 'yes' to and what to say 'no' to. That vision statement should come from your heart center, where your passion and purpose lie."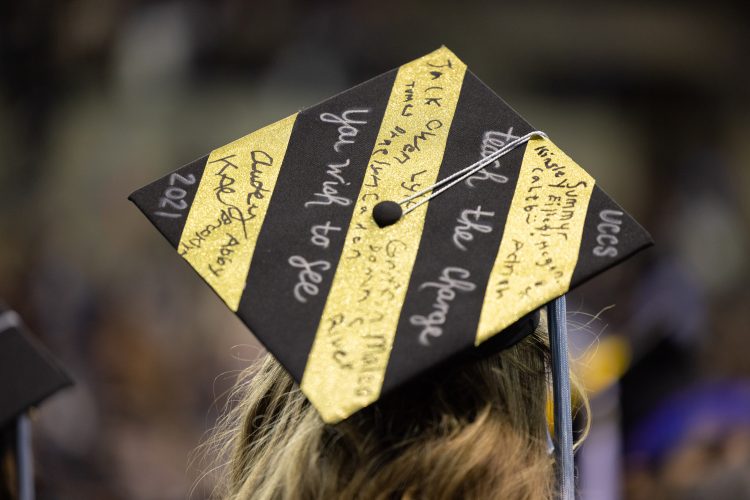 The ceremony included a celebration of nine Silver Graduates, members of the Class of 1996 who celebrated a 25-year milestone from their own UCCS graduation. It also recognized new inductees into the 1965 Main Hall Society: Kevin W. O'Neil '89 and Thomas and Nancy Arata. The Main Hall Society celebrates individuals whose lifetime giving has supported the campus in significant ways.
To close the ceremonies, Allen Schoffstall, Professor of Chemistry & Biochemistry and a 55-year veteran of the UCCS faculty, delivered the traditional Norlin Charge to graduates. The charge is steeped in CU's history, dating back to CU Boulder's June 1935 CU Boulder commencement ceremony, when president George Norlin delivered the speech to graduates. The words of the Norlin Charge are now read to the graduating class each year at each of the four CU campuses as a reminder that graduates will carry their experiences at the university with them forever.
"Commencement does not mean, as many wrongly think, the breaking of ties and the beginning of life apart," reads the charge. "Rather, it marks your initiation in the fullest sense into the fellowship of the university, as bearers of her torch, as centers of her influence, as promoters of her spirit."
"The university consists of all who come into and go forth from her halls, who are touched by her influence and who carry on her spirit. Wherever you go, the university goes with you. Wherever you are at work, there is the university at work."
About the UCCS Fall and Summer 2021 Commencement Ceremonies
The UCCS fall 2021 Commencement ceremonies celebrated 1,086 graduates of the summer and fall semesters. Nearly 600 graduates attended the ceremonies at the Broadmoor World Arena on Dec. 17, 2021, along with family and friends. More than 40 of those were graduates from the Classes of 2020 and spring Class of 2021, who returned to walk across the Commencement stage after having celebrated their graduation virtually. See the full Commencement program online. View the full livestream on YouTube.