Genia Olesnicky — a developmental biologist, part-time rock star and full-time mentor to dozens of undergraduate and graduate students at UCCS — has been named the winner of the third annual UCCS Outstanding Research Mentorship award.
Olesnicky, Associate Professor and Associate Chair of the Department of Biology at UCCS, is at the head of the Olesnicky research group, which conducts research focused on the development of the nervous system and on understanding the genetic and molecular basis of neurological disorders.
Widely published, she is also the recipient of multiple National Institutes of Health and National Science Foundation awards to study various aspects of development, ranging from evolution and cell migration to the generation of neural connections.
Yet Olesnicky might be best-known for her deep commitment to mentorship — and preparing the next generation of scientists for their future careers.
Since joining UCCS in 2011, Olesnicky has trained more than 40 undergraduate and graduate students, providing hands-on mentorship and intensive laboratory experience. More than half of her mentees have been women, and nearly a third come from first-generation and underrepresented backgrounds. The majority have gone on to achieve co-authorships on peer-reviewed publications, and at least a quarter pursued Ph.D.s in the field.
Olesnicky has also devoted significant time towards expanding mentorship on a university-wide level. From 2015–2018, she served as the Director of the Undergraduate Research Academy, a UCCS initiative that pairs undergraduate students with faculty mentors in pursuit of year-long research projects.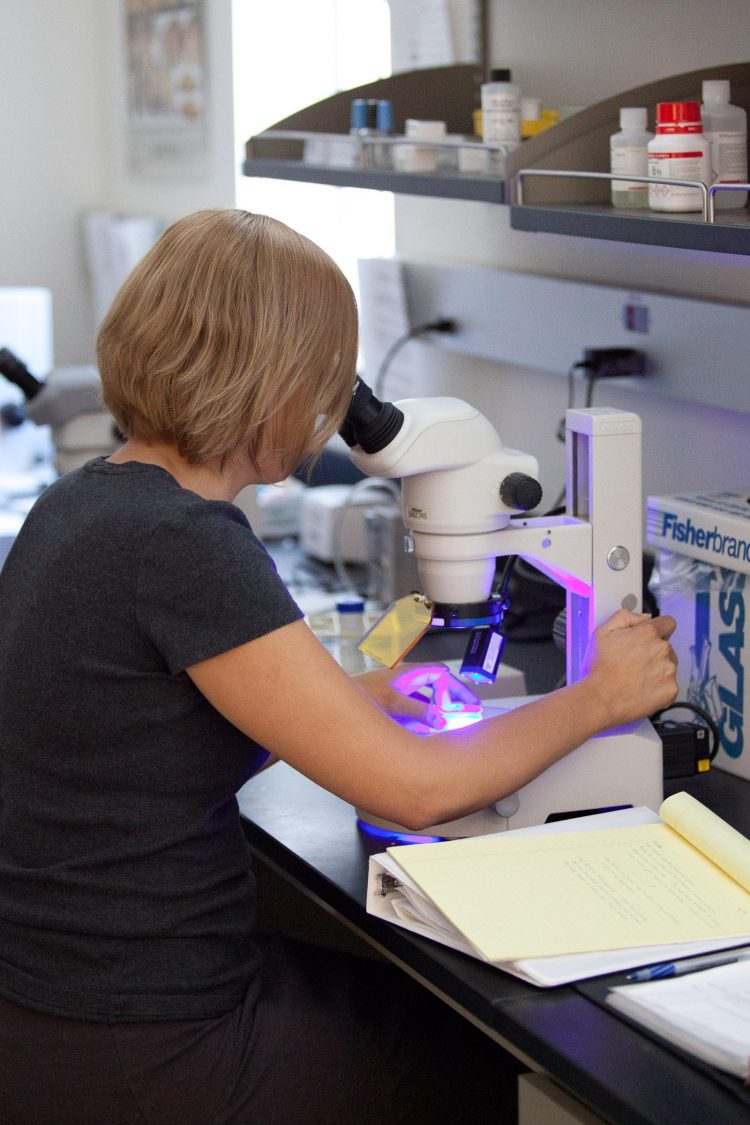 Olesnicky's focus on training and guiding students is intentional. Indeed, she cites mentorship as the very reason she pursued a career in higher education.
"Throughout my career, I have been fortunate to have had very encouraging and supportive mentors," said Olesnicky. "It is for this precise reason that I wanted to pursue a career in academia, where I could also help guide students along their academic and career paths."
"I particularly enjoy watching students evolve their critical thinking skills and start thinking 'like a scientist,'" she continued. "There is no greater sense of accomplishment for a mentor than seeing students attain their career and academic goals."
In turn, Olesnicky's former mentees cite her commitment to mentorship as a foundational support.
"Great mentorship often goes beyond professional training," said Hannah Lawson '14, who spent two years of her undergraduate studies at UCCS working in Olesnicky's research group, and is now a postdoctoral researcher at Brandeis University. "As a first-generation student, I knew nothing about how to pursue a career in research. Dr. Olesnicky was the first person to discuss with me how to develop such a career."
"My journey to graduate school was at times difficult, and in those moments, she met me with compassion, understanding, and encouragement," Lawson continued. "If it were not for Dr. Olesnicky, I would not have pursued graduate school, let alone earned a Ph.D."
Olesnicky's commitment to the success of her mentees doesn't end when they graduate from UCCS. And the impact of her mentorship, Olesnicky's mentees say, continues to reverberate throughout their careers.
"During my time at UCCS, I continually observed that the students in Dr. Olesnicky's lab were looked to as leaders and often took on mentorship roles of their own," said Laura Bell '16, now a Ph.D candidate in neuroscience at the University of Utah. "Her dedication to mentorship continues to influence the mentoring relationships I build with students in the lab today."
"While her door remains open to me for advice along my career path, the independence and leadership she instilled in me have been essential to finding my way and overcoming obstacles along the difficult path of graduate school," Bell continued. "I hope that one day my mentorship will be as inspiring and meaningful to student mentees as hers has been to me."
About the Outstanding Research Mentor Award
The Outstanding Research Mentor Award is awarded by the Office of Research at UCCS and recognizes the extraordinary efforts by a faculty and/or staff member for providing outstanding research mentoring to UCCS students, staff, research associates, and/or faculty.
Olesnicky will be formally recognized during the 2021 Mountain Lion Research Week award ceremony, held on Dec. 4. You can learn more about her research on the Department of Biology website, details on the Olesnicky Lab online, and videos of her rock band on YouTube.