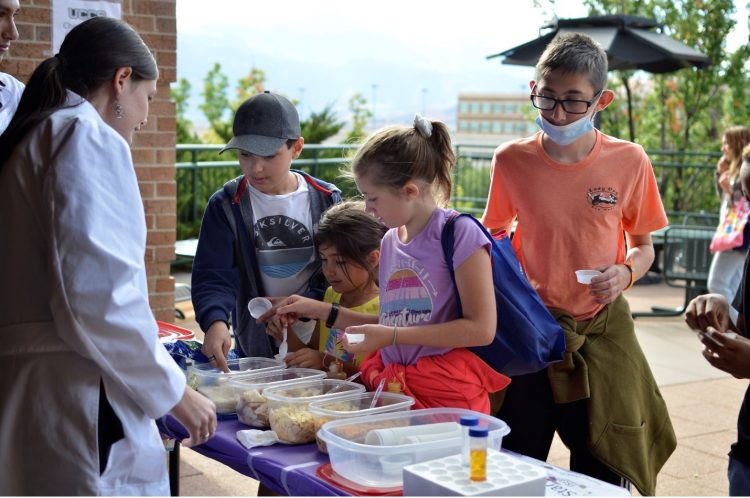 In support of STEAM — science, technology, engineering, arts and math education — UCCS and Cool Science paired together for several exciting events during the 2021 Colorado Springs Cool Science Festival, held Oct. 9–17 across Colorado Springs.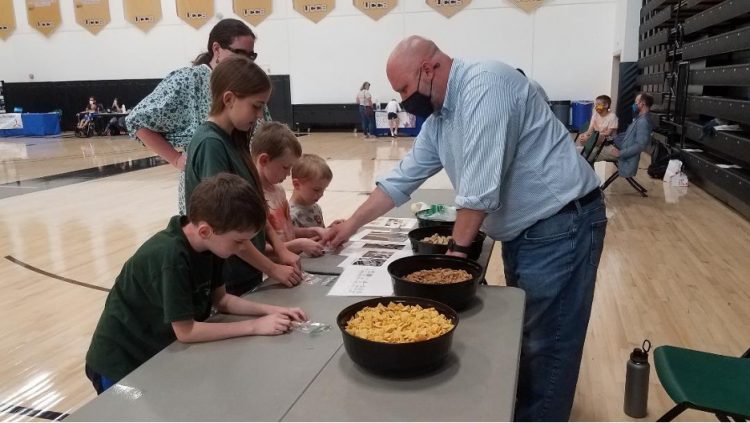 Cool Science is a local nonprofit all about making science cool for kids, just like music, art or sports. Cool Science volunteers support the nonprofit's goals by bringing a wide variety of fun and engaging hands-on science activities year-round to schools, libraries, and other public venues throughout eastern Colorado.
Since the UCCS core values include a commitment to education, collaboration and teamwork, involvement in the Cool Science Festival was a perfect opportunity for both organizations.
As always, the festival kicked off on Saturday, Oct. 9 with the Cool Science Carnival Day for Kids at UCCS. Numerous demonstration shows, laboratory tours and demos, rockets, drones, animals, and lots of other hands-on STEAM activities and exhibits for kids and their families took place across the campus. UCCS Event Services' Shannon Rogers and her staff were key in ensuring the events at UCCS were organized and went smoothly.
Several UCCS departments and student groups participated in the event, listed below.
College of Engineering and Applied Science
Topics and activities included:
Cybersecurity

Learn binary code and cybersecurity

Electrical and Computer Engineering

Introduction to self-driving cars
Student robotics projects

Mechanical and Aerospace Engineering

Aerodynamics with paper airplanes and flight simulators
Foucault Pendulum — What does this giant pendulum do?
Musculoskeletal biomechanics — Biomechanics of bone fractures
Machine Shop — Tours of the shop, 3D printers and a penny catapult activity
College of Letters, Arts & Sciences
Biology Mooney Lab

Insectapalooza! — A celebration of all things creepy-crawly

Chemistry and Biochemistry

Experiments with enzymes from saliva that help break down your food

Cognitive Development Lab
Natural History Museum

Skulls, skeletons and preserved animals
Owl pellet dissection

Physics
Technical Communication and Information Design

Why are some phone apps great and others terrible?
College of Nursing and Health Sciences
Beth-El Johnson Simulation Learning Center

Giving lifelike robotic manikins a shot
Driving a telepresence robot through a hospital room
Pre-Collegiate Support and Success Center
Food activities

Ice cream in a bag and makey-makey veggies
Student clubs
American Institute of Aeronautics and Astronautics

Rockets, rockets, rockets!

American Society of Mechanical Engineers

Introduction to computer-aided design

Drone Club

Learn what makes drones fly

High Altitude Race Engineering

UCCS students' own electric race car

Hyperfalcos
National Society of Leadership and Success

Spaghetti tower marshmallow design

oSTEM at UCCS
The festival also included over 50 additional events hosted throughout southern Colorado. UCCS also hosted two of those events on campus.
Kraemer Family Library and Department of English
The UCCS Kraemer Family Library co-sponsored an event in which Helen Davies, Assistant Professor of Digital Humanities, presented on using multispectral imaging to recover old, lost and illegible texts. She had a small collection of old documents on hand to show the before and after of the physical vs digital objects. A group of students presented their own projects in which they recovered a diary showing the journey from Ireland to Ellis Island, one of the earliest law codes in Colorado and some medieval manuscripts.
Cybersecurity Programs
Cybersecurity touches many aspects of our daily lives, so we should start learning about cybersecurity at any age. Cybersecurity Programs at UCCS provided an opportunity for both parents and students to learn about programs, online training, cyber games and opportunities available for K-12 students. Attendees learned how to support their student in learning more about cybersecurity while also increasing own their awareness and knowledge.
If you would like to learn more about Cool Science and volunteer opportunities, contact Lynnane George, Senior Instructor, Department of Mechanical and Aerospace Engineering at UCCS.
About the Author
Lynnane George is a Senior Instructor in the Department of Mechanical and Aerospace Engineering at UCCS.