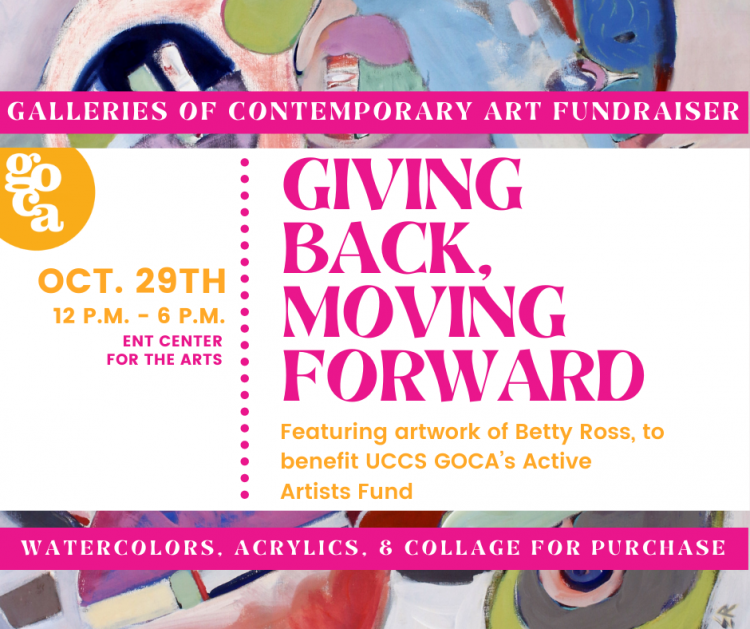 A one-day pop-up exhibition will give Colorado Springs community members the opportunity to purchase works of art by Betty Ross, beloved artist and patron of the arts in Colorado Springs.
The exhibition will take place Friday, Oct. 29 from 12–6 p.m. in the Sheppard Arts Studio at the Ent Center for the Arts at UCCS.
Proceeds of the art sale will benefit the UCCS Galleries of Contemporary Art's Active Artists & Exhibitions Fund. Works available in this very special event include Betty Ross's signature watercolors, acrylics, collages including a myriad of fabrics, fibers, and papers collected on her travels.
Betty Ross is a pillar of the Colorado Springs arts community and was the subject of a major exhibition at the UCCS Galleries of Contemporary Art in late 2017. She has lived and worked in the Pikes Peak region since 1976, working as UCCS Theatreworks' Costume Designer for many of the past decades alongside her robust practice as a studio artist.
Ross has travelled extensively and has used ideas for painting and costumes from places as remote as Iran and Romania. She often works onsite in watercolor, using the information for larger acrylic works in the studio, sometimes adding collage elements such as torn paper fragments, antique laces, leather or shreds of wool.
The exhibition is free, but registration is required as all guests will have timed entry. Learn more about the artist or view a catalog of art available before the show. You can also see select works from the exhibition below.
About the UCCS Galleries of Contemporary Art (GOCA)
UCCS Galleries of Contemporary Art (GOCA) is a regional hub of contemporary art, culture, and conversation. By featuring world-class artists, hosting artist and expert talks, and independently producing and offering meaningful events, GOCA engages UCCS students, faculty, staff and Pikes Peak Region community members in discussions about contemporary culture and life. GOCA is a contemporary arts organization with two galleries, at the Ent Center for the Arts and a satellite downtown location in the Plaza of the Rockies building, as well as an outdoor art program, Art WithOut Limits. Learn more about GOCA online.