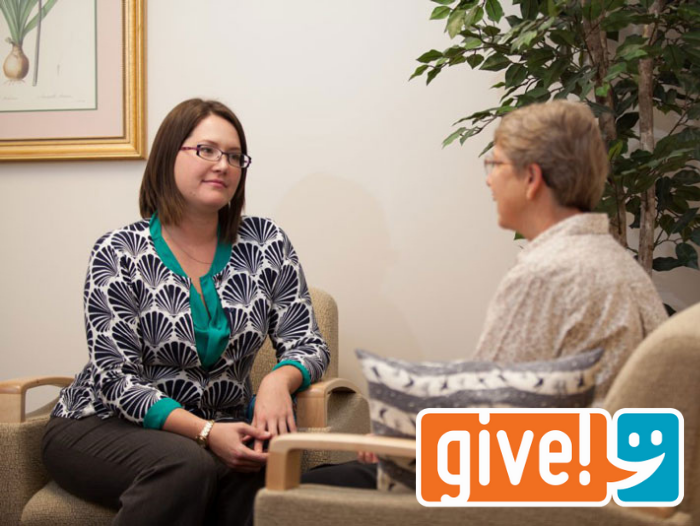 Described by Colorado Springs community members as a "lifeline" and "hidden gem," the UCCS Aging Center is the Pikes Peak region's only community mental health clinic exclusively for older adults, their families and caregivers. One of the few university-affiliated training clinics in the nation with a specialty in geropsychology, the Center also serves as a premier regional training site that prepares the next generation of clinical psychologists to meet the needs of older persons and their families.
Now, in recognition of its critically important mission, the Aging Center is taking part in the 2021 Indy Give! campaign, which runs from Nov. 1–Dec. 31, 2021.
"Mental health has never mattered more to the vulnerable older adults we serve," said Lori Rossi, Project Director of the Aging Center.
"The UCCS Aging Center is the only mental health clinic in the Pikes Peak region exclusively serving older adults and their families, particularly those with few resources. We help seniors navigate late-life psychosocial challenges with diagnostic assessments and treatments for memory, depression, anxiety and many other difficulties that make it harder to age well. On behalf of all the older adults we serve, thank you for your support."
Donations to the UCCS Aging Center can be made through the Indy Give! website. Donors who do not wish to donate online may mail donations to:
Give!
235 S. Nevada Ave,
Colorado Springs, CO
80903.
Donors should make their checks payable to INDYGIVE. Be sure to specify what organization you are donating to and include your address, phone and email address. If donating to multiple organizations, please combine the donations into one check and include a list of the individual amounts you'd like applied to each organization.
About the UCCS Aging Center
The Aging Center's Aging Families and Caregiver Program, funded by PPACG, offers counseling and education for distressed caregiver families and referrals for supportive community services. The Center's Memory Clinic provides screenings for adults 55+ who might wonder whether their "senior moments" are normal or cause for concern.
Located in the Lane Center for Academic Health Sciences, 4863 N. Nevada Ave. across from University Village Center, the UCCS Aging Center is the only mental health center in El Paso County serving older adults 55 and older, families and caregivers with services on a sliding payment scale or for Medicare reimbursement. Learn more on the UCCS Aging Center website. 
About the Give! Campaign
As a catalyst for change and growth, Give! specializes in raising awareness of smaller organizations whose messages need to be heard. Additionally, Give! builds future philanthropists by focusing on donors aged 36 and younger.
Since its inception in 2009, Give! has enabled 230 local nonprofits to raise more than $14.6 million through more than 10,000 donations while helping these organizations access matching grants, media exposure and capacity-building training from local and regional experts. Give! is the nonprofit civic arm of the Colorado Publishing House and receives support from the Colorado Springs Independent, Colorado Springs Business Journal, the Southeast Express and the Pikes Peak Bulletin. Learn more on the Give! website.