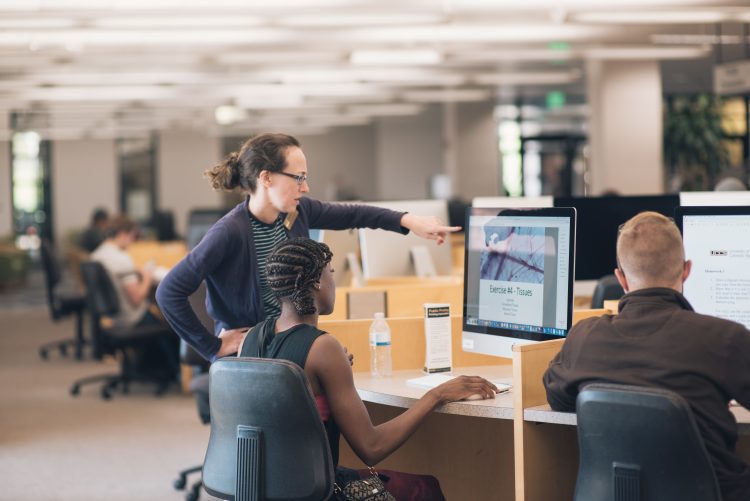 "There are different ways to interpret the statement 'The library never closes,'" write Matthew Jabaily and Tabatha Farney, co-investigators of a new study examining the changed nature of university library usage in the pandemic era.
"One interpretation is that the library as a place and a building is so vital to a university that it cannot close under any circumstances," they write. "A second interpretation of 'the library never closes' is that the library is more than a place or building. The library is a collection of resources, a set of services, and a group of people who can operate independently of the building. As long as it continues to serve its users, the library remains open even when its doors are closed."
The study, titled "The Library Never Closes: Assessing Resources and Services After a Crisis," examined the impact of the COVID-19 pandemic on use of library resources across three R2 universities: UCCS, the University of Memphis and Illinois State University. The study's co-authors included Rachel Scott, Associate Dean for Information Assets at Illinois State University and Caitlin Harrington, Head of Technical Services and Electronic Resources Librarian for the University of Memphis.
The study's data show usage trends over 2018 and 2019, to establish pre-pandemic averages, contrasted with trends from 2020, to illustrate the effects of the pandemic on library usage.
"At the start of the pandemic, academic librarians were scrambling to meet user needs and helping users adapt to remote teaching, learning and research," said Jabaily, Electronic Resources and Serials Librarian and Farney, Director of Web Services and Emerging Technologies at the UCCS Kraemer Family Library.
"We had a lot of questions about whether resource use would be up — compensating for the loss of physical materials — or down, because of cancelled assignments and decreased time for research. At the time, we didn't have the time or space to look at the evidence that would support or rebut our anecdotal observations."
That changed when Jabaily and Farney teamed up to bring visibility to the changed nature of pandemic-era library needs. They found that the work of the past decades helped libraries to respond to unprecedented challenges.
While print and physical media use fell as the study's three institutions closed physical spaces and constrained hours and services, e-book and video streaming use accelerated. Online searches and journal article use dropped precipitously during the early months of the pandemic, but largely recovered in fall 2020. Remarkably, online resource usage at UCCS grew more quickly and recovered more robustly than at the other two institutions involved in the study.
"Our findings suggest that the transitions to online materials over the past decades allowed libraries to continue to meet many user needs," Jabaily and Farney write. "If this pandemic had happened a decade or two ago, libraries would have not been able to deliver resources and value the way they have this year."
The study closes with a central question. As library and institutional restrictions are lifted, will university libraries recreate traditional services as they were, or leverage data to reimagine them?
"Libraries made decisions a year ago without time for planning or knowledge of what the repercussions would be," Jabaily and Farney concluded.
"Now that they know more about COVID, how libraries can respond to it, and how users are affected, it may be time to revisit those decisions. Librarians would benefit from using their data to craft a succinct, accurate story about how they responded to the pandemic, what they did to mitigate its effect on users, and how they will continue to change as a result."
Jabaily, Farney, Scott and Harrington presented the study's results at the Association of College and Research Libraries Conference. Access the full study online. Learn more about Matthew Jabaily and Tabatha Farney on the Kraemer Family Library website.