In his Oct. 7 State of the Campus address, Chancellor Venkat Reddy demonstrated that — in the midst of an extraordinary year, full of challenges and triumphs alike — the UCCS community found success because it stayed true to the university's spirit.
The annual State of the Campus address highlights successes of the past academic year and speaks to obstacles the campus may face in the future. This year, a live audience attended the event in Berger Hall in addition to a livestream broadcast to campus.
Reddy opened the address by sharing the story of Mirai Nagasu '20, a two-time Olympian and graduate of the College of Business.
"Mirai knew she wanted a lot from life," Reddy said. "She wanted to be an elite athlete. She wanted to earn a college degree. She wanted to build a successful future. She didn't want to choose just one path. So Mirai chose them all."
"Mirai's story teaches us that we can do extraordinary things — no matter how difficult — if we are true to ourselves," Reddy continued. "In the face of challenges, we have succeeded because we've stayed true to who we are."
Over the course of the address, Reddy charted the past year's successes by demonstrating how each is linked to one of UCCS' seven core values.
Balanced Teaching and Research
In alignment with UCCS' value of Balanced Teaching and Research, Reddy cited a record year for sponsored research funding. Despite the impacts of the pandemic, the university witnessed an exceptional year for research activity, with each faculty member producing an average of three peer-reviewed works.
Student Success, Inclusive Diversity
In alignment with the values of Student Success and Inclusive Diversity, the university made significant investments in physical spaces and support services. This includes the newly-expanded MOSAIC and LGBTQIA+ Resource Centers, the reimagined T. Rowe Price Career and Innovation Center, the expanded Office of Diversity, Equity and Inclusion, and additional mental health counselors and mental health support for all students, faculty and staff.
Dynamic Responsible Growth, Innovation
In alignment with the value of Dynamic Responsible Growth and Innovation, Reddy spoke about two upcoming initiatives: a new annex for UCCS' Engineering and Applied Science Building, and the Kevin W. O'Neal Cybersecurity Education and Research Center, which will expand the university's cyberspace education capacity. Additional successes included those of distinctive academic programs, such as strong enrollment within the William J. Hybl Sports Medicine and Performance Center, resilience research and training programs from the Lyda Hill Institute for Human Resilience and integration of cyberspace education within all six of UCCS' colleges.
Collaboration
Finally, Reddy showcased the synergy between UCCS and Colorado Springs as he discussed the university's core value of Collaboration. Collaborative initiatives with the community allowed for a new partnership with the U.S. Space Force, efforts to bring new business to Colorado Springs through UCCS' EPIIC Venture Attractor and artistic performances, resilience trainings, workforce development and more to enhance quality of life in the Pikes Peak region.
Integration
It was integrity, the university's final core value, that allowed the university to navigate the challenges and successes of the past year, Reddy noted.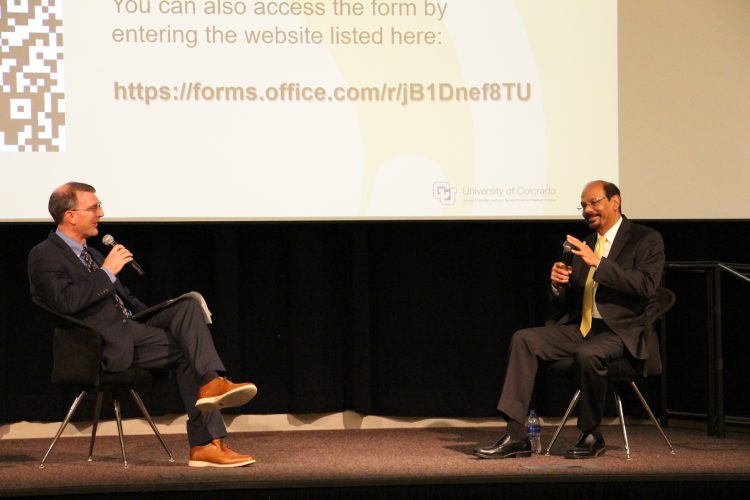 "In the midst of a challenging year, our community has achieved phenomenal things," Reddy said. "Whether we are navigating challenges, or determining our next step, we are successful, because we know who we are. Our commitment and belief in our core values has created positive impact for the entire university."
Reddy closed his remarks by finishing the story of Nagasu, who shared that her business classes at UCCS taught her to consider the legacy she is building for the future.
"Mirai shared that she wants to create a legacy of courage, staying true to herself, and never giving up," Reddy said. "She wants to inspire future generations of women, athletes and students to chase their dreams, no matter how big, and never take 'no' for an answer."
"Mirai learned this lesson here, at UCCS," Reddy concluded. "So I hope you will always remember the importance of our work. When we teach students, they listen. When we stand up for our values, they notice. We are shaping our future generations. And when we hold true to the UCCS spirit, we can be certain, we are shaping them for the better."
The State of the Campus included a live Q&A with Chancellor Reddy, moderated by Chris Valentine, Assistant Vice Chancellor for Marketing and Communications.
To listen to the Chancellor's remarks and Q&A, listen to the 2021 UCCS State of the Campus Address online.